Circuit Protection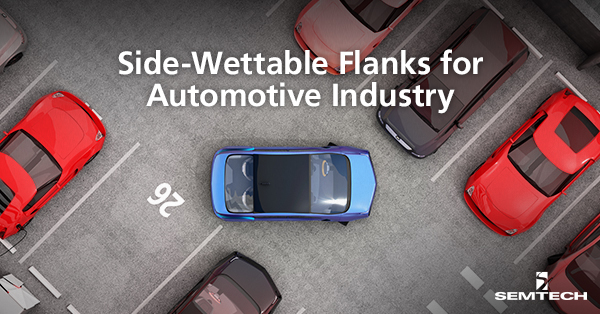 Since its initiation in the early 20th century, the automotive industry has evolved significantly, adopting many innovations, changes and adaptations. Modern cars feature sophisticated capabilities such as the backup camera, a full-featured infotainment system, smartphone docks, GPS navigation, Bluetooth connectivity, and several other advanced features. Not only that, some of the recent car models are capable of autonomous driving, forward and rear collision detection, and autonomous parking. It is easily imaginable that the numbers of electronic components used in a vehicle are proliferating. At the same time, the requirement for miniaturization of the electronic components is becoming critical to make space for new components.

The semiconductor industry is producing leadless packages of integrated circuits (ICs) to make room for the enormous number of electronic components and meet modern-day vehicles' safety and reliability requirements. A big challenge is the lack of visibility of the solder joints on the printed circuit boards (PCBs) during the post package assembly process. The connections are beneath the package and are not visible from the top and the side. So you cannot say for sure if the IC is adequately bonded to the PCB or not. Original equipment manufacturers (OEMs) have been using X-ray machines to detect unreliable solder joints. It is expensive and time-consuming to do so.

Moreover, this has not proven effective with multilayer boards or boards with complex layouts and routing procedures. Each vehicle PCB has to go through a strict automatic visual inspection (AVI) post assembly to comply with safety and reliability standards. The goal is to ensure that every electrical joint is adequately soldered and connections are reliable.
Read More
Tags: Circuit Protection, Automotive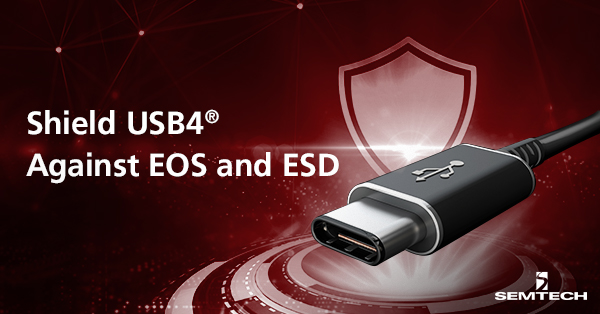 One single connecting port's name that is ingrained in our life is Universal Serial Bus or USB in short. It doesn't matter if I am a tech-savvy person or a Luddite, I have to use USB in every aspect of my life. Forget about me; my mom, who doesn't even know it is called USB, uses this port several times a day to charge her mobile devices. USB became very popular due to its ease of use and fast data transfer rate. Within a little over two decades, almost all consumer electronics gadgets come with one or more USB interfaces, from laptops and cameras to smartphones and wearables. However, things have changed a lot since the introduction. USB specification has evolved over 25 years from USB 1.0 in 1996 to the most recent version, USB4®. Figure 1 below shows the evolution of USB standards with the corresponding data transmission rates.
Read More
Tags: Circuit Protection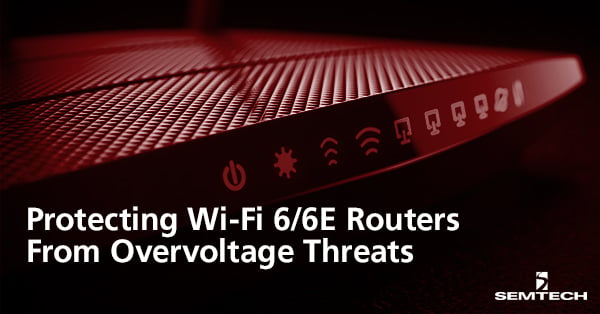 Wi-Fi technology has become ubiquitous in our highly connected society. Since standardization in 1997, the Wi-Fi protocol has evolved, resulting in faster data rates and high throughput.
Read More
Tags: Circuit Protection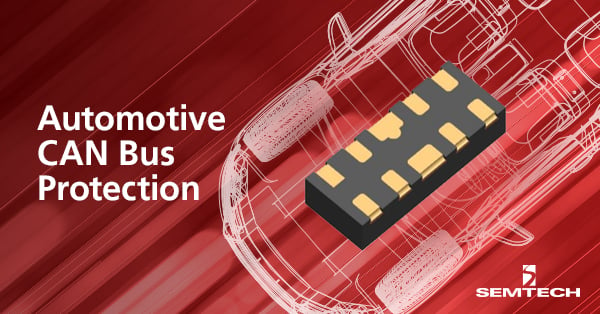 Motor vehicles have gone through much progress since their inception. Modern cars include autonomous and semi-autonomous driving, anti-lock braking systems, electric power steering, forward and rear collision warning, lane assistant, autonomous parking assistant, and automatic emergency braking. Advanced features such as GPS navigation, interior mood lighting, surround-view camera, advanced infotainment system, active antenna are standard in most modern vehicles.
Read More
Tags: Circuit Protection, Automotive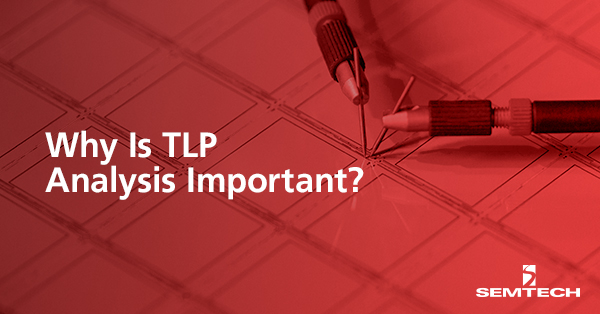 Over the past nine years since I have been with Semtech, Transmission Line Pulse (TLP) basics have always been one of the most important training topics for our new hires and customers. We have received many questions on why we emphasize and extensively rely on TLP analysis to provide the best solution to our customers. TLP testing doesn't deliver the exact same waveforms as specified by industry standards like IEC 61000-4-2 or ESDA/JEDEC JS-001. It doesn't guarantee that the IC or the system will pass testing for immunity to required electrostatic discharge (ESD) test levels. It is always recommended to verify all the results with the ESD generator after the TLP test is completed. So, why don't we just simply test everything with our ESD generator, which is more familiar to most engineers and universally accepted? To answer that, I think it's important to understand that TLP is not a replacement or an upgrade to the IEC tests, but it is complimentary to the ESD gun tests as an analysis tool. ESD gun test tells us YES or NO, but TLP can help us to understand WHY and HOW.
Read More
Tags: Circuit Protection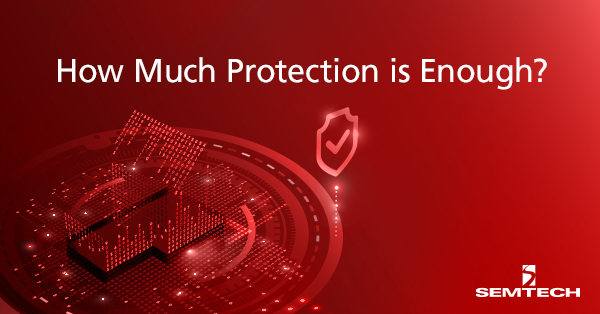 When designing an electronic system, the often overlooked and underestimated subject of protection must be considered. In some cases, the designer may be working to meet a certain standard such as IEC 61000-4-2 for electrostatic discharge (ESD) immunity. Equipment which is installed in harsh operating environments, such as remote meters, robotics and telecommunications systems, will require higher levels of lightning protection. These are somewhat obvious requirements. Other protection concerns include short circuits, voltage spikes, dirty power, cable discharge events, and so on. With all these transient threats, a designer may become overwhelmed and ask: how much protection is enough to ensure a reliable system?
Read More
Tags: Circuit Protection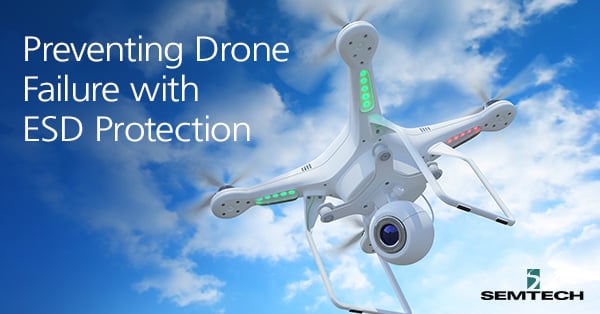 A spectacular light show using 3,051 Unmanned Aerial Vehicles (UAVs), or drones, went viral in September 2020, breaking the world record for the most simultaneous airborne UAVs. Not only are drones providing dramatic light shows, but drones are emerging in many useful applications. Industrial manufacturing inspection, agricultural crop inspection, construction site inspection, search and rescue operation, real estate photography, and forest fire management are some examples where drones are utilized and provide invaluable services to humanity.
Read More
Tags: Circuit Protection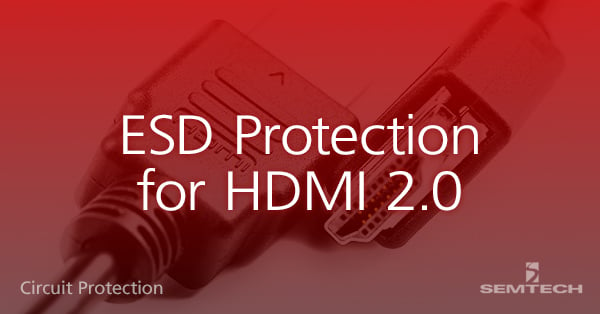 During the ongoing Coronavirus pandemic when we are mostly confined to our homes, we are spending an increased amount of time in front of screens. This includes attending online meetings, taking video calls, playing video games, watching television, and also working longer hours on our computers. A high quality audiovisual (AV) experience is a must these days and thanks to the high definition digital displays and high definition multimedia interfaces (HDMI), we are able to experience high speed, high resolution AV with higher pixel depths and greater aspect ratios.
Read More
Tags: Circuit Protection