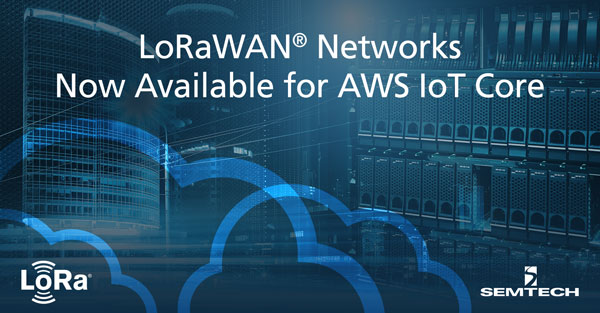 Building upon Semtech's previous collaboration with Amazon on its network, Amazon Sidewalk, Semtech has today announced a collaboration with Amazon Web Services (AWS) to enable LoRaWAN® network connectivity on AWS IoT Core, its managed Cloud service that lets connected devices easily and securely interact with Cloud applications and other devices.

The LoRaWAN open specification is a widely adopted low power, wide area networking (LPWAN) protocol based on Semtech's LoRa® chipsets, leveraging the unlicensed radio spectrum in the Industrial, Scientific and Medical (ISM) band. The LoRa Alliance®, a non-profit association, drives the standardization and global harmonization of the LoRaWAN protocol.

At Semtech we are focused on enabling developers to rapidly innovate by delivering products and tools that make it easy for Cloud-first, mobile and embedded developers to develop Internet of Things (IoT) solutions. AWS IoT Core for LoRaWAN delivers a deep integration of devices featuring the LoRaWAN protocol with AWS IoT Core to provide developers with a "plug & play" way to combine the strengths of the LoRaWAN protocol with the deep capabilities of AWS IoT services.

Once gateways are provisioned and connected, this built-in integration automatically and securely routes device data to AWS IoT Core Rules Engine and AWS IoT Analytics, accelerating developers' ability to build rich, data-driven IoT applications.