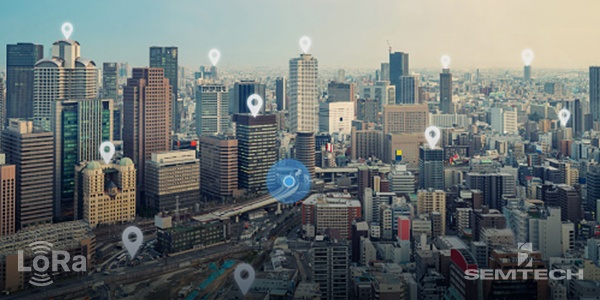 As I've discussed in a previous blog post, the ability to locate assets, understand the context they are in and what is happening to them in a given moment, is in many ways the "killer app" in the internet of things (IoT). This is particularly true of many of the assets that leverage low power wide area network (LPWAN) technologies to enable end-to-end IoT solutions today for which the long range and low power of Semtech's LoRa® devices and wireless radio frequency technology (LoRa Technology) is a key enabler of customer value.
LoRa Technology offers a unique set of localization capabilities tailored to meet the needs of low power connected devices, leveraging encrypted network metadata to provide the best combination of power consumption and accuracy of any technology available today. As part of Semtech's commitment to support the LoRa Technology ecosystem in developing new and compelling IoT solutions, we have focused on driving innovation in the development of these localization capabilities over the LoRaWAN® protocol while supporting the maintenance of the consistency and interoperability that customers demand.
Our first step down this path dates back to June 2016 with the launch of the first LoRaWAN-based gateways supporting high resolution time-stamping which spurred innovation in the way LoRaWAN-based network operators and solutions providers could leverage time of arrival (TOA), signal to noise ratio (SNR) and received signal strength indication (RSSI) along with other methods to provide a geolocation solution.
Customer and partner feedback on this initial step was that, while access to LoRa-based location clearly provides new sources of customer value for IoT solution providers and customers, the complexity and technical challenge created by the need for solution providers to create their own method of developing accurate location algorithms to interpret raw TOA, SNR and RSSI data created unnecessary lags in adoption. In response Semtech piloted a simple, free API Cloud-based location service (the beta "Collos" service) earlier this year which provided a Cloud-based solution and turned the process of calculating a location into a simple API call, with the goal of providing a simple building block to support rapid prototyping and development.
Uptake of this service has been rapid and the range of solutions that have been created using this simple toolkit has expanded quickly, including a growing range of production-grade solutions for which the lack of a commercial, SLA-driven service has become an issue. With the Collos service now counting over 500 registered users and supporting peaks of several million location queries per day, it is now time to take the next step in our evolution and share the news that we have announced today at the LoRa Alliance® All Members Meeting in Tokyo.
Firstly, to enable ecosystem partners to continue to invest in developing innovative solutions to the specific challenges faced by their customers, and to provide broader access to raw TOA, SNR and RSSI data at the end of this calendar year, Semtech will open access to high-resolution timestamps and will include this in future licensed firmware versions of our gateway reference designs. Given the volume of existing LoRa-enabled gateways already deployed across the world, Semtech will also provide decryption keys for existing gateways to enable gateway owners to decrypt the timestamps either within the gateway itself or the network.
Secondly, based on the success of the Collos service to date and the clear dem
and from ecosystem partners for a simple, free service that supports the development of POC, pilots and non-commercial applications, Semtech will continue to offer a free Cloud-based geolocation service to support rapid development and prototyping.
Thirdly, to meet the need of customers for support and service level agreements as they scale their location-enabled services, in the coming months Semtech will launch a simple, easy-to-use and cost-efficient commercial geolocation service backed by support and service level agreement options to meet the needs of the growing number of commercial LoRaWAN-based deployments that have location as a critical ingredient.
We will be sharing more details on the above in the coming weeks, but in the meantime, we're excited to share these developments as part of our goal of supporting the LoRa Technology ecosystem by providing hardware, tools and services which simplify and accelerate the process of building IoT solutions.
We are always in awe of our ecosystem partners and the innovation they drive, and we look forward to continuing to support our ecosystem partners as they turn the promise of the IoT into a reality with LoRa Technology.
Semtech, the Semtech logo and LoRa are registered trademarks or service marks of Semtech Corporation.