LoRa® Devices for Safe and Secure Workplaces: Q&A with Microshare
25 August 2020 / by Byron BeMiller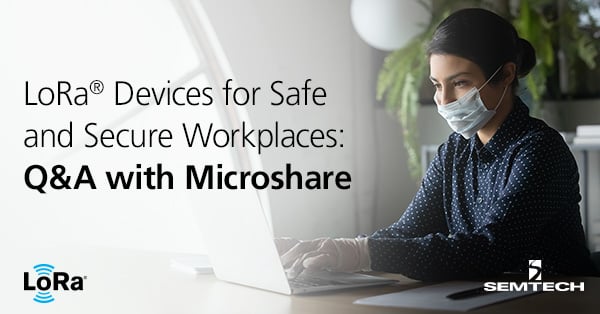 The low power, affordable and reliable performance of today's leading Internet of Things (IoT) solutions make them ideal for critical workplace safety applications, including contact tracing, facility hygiene, room and desk usage, and social distancing enforcement. Amid the ongoing COVID-19 pandemic, many governments, organizations and institutions are relying on Semtech's LoRa® devices and LoRaWAN® protocol to combat the disease's spread in workspaces.
IoT solutions comprised of LoRa-based sensors and gateways offer the capabilities that human resources departments and facility managers demand to protect their employees. These solutions deploy simply and quickly, are readily available and connect a nearly endless range of use cases to enable smarter safety and health practices, both today and for the future.
Since its founding seven years ago, Microshare has established itself as a leader in IoT solutions. The company name, Microshare, comes from the idea that data is more valuable when shared between various parties to facilitate data-driven decisions. Through its smart building solutions, Microshare transforms inert brick-and-mortar structures into safer, more efficient and sustainable environments – with many designed specifically for the COVID-19 pandemic.
Semtech recently spoke with Charles Paumelle, Co-Founder and Chief Product Officer at Microshare, to discuss how LoRa helps the company address workplace safety in the COVID-19 era.
What advantages has Microshare experienced when deploying IoT solutions using LoRa devices and the LoRaWAN protocol?
Microshare provides comprehensive IoT expertise to create value in solutions including a sensing-as-a-service that we call the macro smart network. We know how to select the LoRa-based sensors, how to set up a LoRaWAN network, how to make it all work, how to secure data through the device and into the Cloud, and how to handle big data. We bring the sensors, the connectivity and data management into a single solution that our systems integrator partners can embed in their clients' processes and systems.
To do this, we leverage the wealth of LoRa-based sensors available to us. One of the great benefits of using the open LoRaWAN standard is that while we are not a sensor manufacturer, we have access to hundreds of sensor manufacturers with devices that all operate on the same LoRaWAN protocol architecture. Another advantage is that we have many customers that operate across multiple countries. We can say, "No problem. Let's deploy this LoRa-based solution for occupancy sensing or contact tracing throughout your organization worldwide," and we know it will operate seamlessly wherever deployed because of the global LoRaWAN standard.
What solutions are available to deliver safe and healthy workplaces in the age of COVID-19?
We have been working for many years with the biggest facilities management companies in Europe, the U.S. and in Asia. Some of the solutions we developed have been established in the market for quite some time, while others have recently been introduced. The six pillars of applications that we provide to assist with the reoccupation of facilities are: occupancy monitoring, predictive cleaning, indoor air quality monitoring, touch-free feedback, asset zoning, and universal contact tracing.
All solutions in each of these areas have been designed to be plug-and-play, can be easily self-installed and provide immediate value to our customers. Also, I want to note that our digital contact tracing solution captures only device information such as MAC addresses or other unique identifiers. There is no personal information whatsoever stored in the application, because we are very conscious that for companies and employees to adopt these solutions - even though they work extremely well - privacy needs to be ensured and everyone must know that they are not being tracked on a personal basis. Hence, our solution is both GDPR and CCPA compliant.
Can you provide a real life example where LoRa capabilities were surprising?
We are actively involved with the LoRa Alliance® and have benefited from its collective knowledge as all member companies share our experiences within the ecosystem. It's great to hear everyone's stories. One that I have told my colleagues is that we often deploy solutions in hospitals which are notoriously horrible for radio penetration. This is probably the most challenging place to install wireless devices, because you have X-ray areas and solid walls in a very spread out area.
A general hospital in the Northeast of England we work with has about 1,000 beds and covers everything from maternity and cancer treatment to emergency rooms with different types of buildings at various ages of construction. Prior to our solution, the hospital had covered their entire site with Wi-Fi, which took 135 access points. For us to cover the entire site with LoRaWAN, we installed only eight gateways! So, LoRa really impressed our client as to its coverage and how well it works indoors, penetrating walls, concrete and basements. We have proven this time and time again, both at Microshare and within the wider ecosystem.
To learn about Microshare's portfolio of LoRa-based solutions designed to enable health and safety compliance, watch the webinar on demand, "Deploying Smart IoT Solutions for Workplace Safety in the Age of COVID-19."
Semtech, the Semtech logo and LoRa are registered trademarks or service marks of Semtech Corporation or its affiliates.