LoRa Core™ Is Creating a Smarter Planet
25 January 2021 / by Tuofu Lu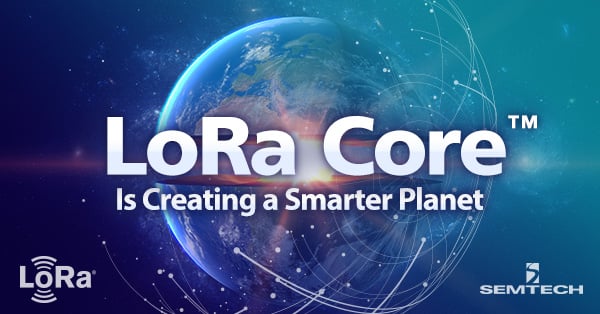 In just six years, Semtech's LoRa Core™ portfolio has driven global economic and environmental change. This innovative technology has facilitated new opportunities for innovation – enabling businesses and citizens to make the world a better place.
LoRa Core is empowering advancements across an array of vertical industries, such as utilities, agriculture, healthcare, factory automation, and city services. Internet of Things (IoT) applications utilizing LoRa Core modules are producing streamlined operations and significant savings of time and cost for enterprises and municipalities.
What Is LoRa Core?
Simply put, LoRa Core represents the essential capability of Semtech's LoRa® devices to achieve long range, low power and end-to-end communication in the sub-GHz band. The LoRa Core portfolio consists of transceiver chips, gateway chips and reference designs including SX126x series, SX127x series and LLCC68 transceiver chips, as well as the SX130x series gateway chips, legacy gateway reference designs and the new LoRa Corecell gateway reference designs.
LoRa Core provides the building blocks for LoRaWAN® network coverage deployed around the globe. The success of the widely adopted LoRa Core technology and the LoRaWAN protocol in Low Power Wide Area Network (LPWAN) IoT applications speaks for itself:
148 network operators in more than 99 countries, and growing

Over 180 million end-nodes connected worldwide expected by the end of fiscal year '21
Key Benefits of IoT applications Based on LoRa Core
LoRa Core, in combination with Semtech's LoRa Basics™ software building blocks, enables sensors to connect to a LoRaWAN network, allowing real-time communication of data and analytics. LoRaWAN network ease of deployment, scalability and cost-savings benefits have made it a leading connectivity choice for IoT solutions.
The combination makes it possible for this type of network to securely connect many thousands or hundreds of thousands of sensor devices collecting and sending data at a lower cost, over a longer range, and with significantly extended battery life than Cellular, Bluetooth or Wi-Fi options.
How Is LoRa Core used?
This proven technology has amassed several hundred known use cases for smart cities, homes and buildings, communities, agriculture, supply chain, and more. Here are some examples:
Smart Metering – Acquire usage data remotely replacing manual processes. Advanced Metering Infrastructure (AMI) helps water, gas and electric utility customers and municipalities boost efficiencies and accelerate sustainability efforts.
Asset Tracking – Long range, low power wireless tracking of valuable assets - from fleets to cows and everything in between - with automated anomaly detection, geofencing and alerting capabilities.
Temperature & Humidity – Monitor critical levels for HVAC systems, food cold chain and workplaces. Receive notifications when pre-configured thresholds have been compromised.
Leak Detection – Connected sensors immediately and detect unnoticed leaks and send notifications with actionable information for quick response and resolution.
Precision Irrigation – Plug and play soil moisture probes deployed across large fields provide accurate soil condition data for optimized irrigation scheduling to increase yield while reducing water consumption.
COVID-19 – Applications for automated temperature checks, social distancing monitoring, contact tracing, and facility hygiene are contributing to safe and secure workplaces.
What Is the Future of LoRa Core?
Semtech's founding principal of delivering advanced technology that has a social and environmental impact is fully being realized. IoT applications leveraging LoRa devices and the LoRaWAN protocol are helping to solve some of the biggest challenges facing our planet, such as energy management, natural resource reduction, pollution control, and infrastructure efficiency.
Semtech will continue to develop and introduce innovative technology to its LoRa Core portfolio. For instance, recent additions improve network capabilities, relieve congestion and make geolocation tracking more affordable.
The LoRa Core gateway baseband processor SX1303 and an associated LoRa Corecell gateway reference design that supports the 'fine timestamp' feature was announced in January 2021. It enables gateways to perform network-centric geolocation based on Time Difference of Arrival (TDOA). Another example is a new LoRa Corecell gateway reference design (SX1302) featuring 'Listen Before Talk' and Spectral Scan capabilities.
Semtech, the Semtech logo and LoRa are registered trademarks or service marks, and LoRa Basics and LoRa Core are trademarks or service marks, of Semtech Corporation or its affiliates.