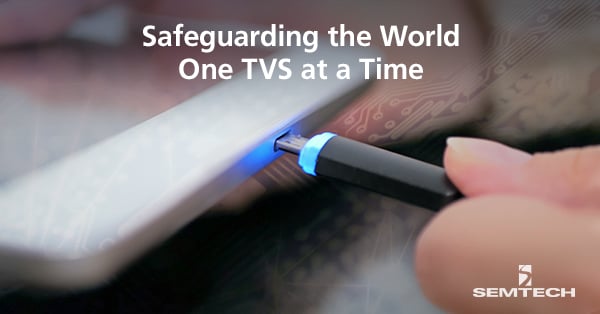 I remember riding in the back of a taxi – I was half asleep and nearly half way around the world. I was just outside of Hangzhou, China, near the picturesque and iconic Xi Hu (Westlake) when a colleague nudged me and said, "Hey isn't it crazy that you can travel the world selling a diode?" I thought, wow, that is crazy! It's amazing actually.
When I think about the reach the Semtech Protection Products line has had, it is truly astonishing. Consider this: every day, members of the sales team are zooming down the Autobahn, riding trains along the Korean peninsula, whizzing along in the Shinkansen through Japan, winding through mountain roads all over Italy, treading through snow in Scandinavia, zigzagging on rickshaws in Southeast Asia, and cramming onto crowded subways in China. Why? Because the world increasingly needs our electrostatic discharge (ESD) protection.
Modern Electronics Require Stronger Circuit Protection
I have been at Semtech nearly 15 years, and amazingly, the need for transient voltage suppression (TVS) devices has only accelerated. In fact, the reach of our protection products across the globe stretches further and into more diverse applications and unique systems than ever before. As time has progressed, I have seen more of the world and have seen customers in new locations on multiple continents – all eager to design with our products.
Notably, the fervor for "off-chip" ESD protection feels a bit different today than it did nearly a decade ago. Back then, an intrepid system designer might try to design a system to pass ESD immunity testing without external system-level protection components. He or she might have used layout techniques or even relied upon a more legacy transceiver's internal protection circuitry. Today, such designers are few and far between. Indeed, there is little debate from the design community as to if ESD circuit protection is needed at the system-level. It is almost a given that data circuits need to be augmented with a generous use of TVS protection diodes. Moreover, the design community understands that with current IC technology trends, sophisticated, highly engineered protection solutions are critical.
The current market trajectory for greater ESD protection is not really an accident and has been a trend we have been expecting. The need for high performance "off-chip" circuit protection is a direct result of the physics of semiconductor processing and the scaling in IC process geometries. Chipmakers strive to make their data transceiver devices smaller, faster, and more efficient. First, to drive profits, chip manufacturers need more die per wafer. Secondly, the systems these chips power are driving this trend. Consumers are demanding faster processing in smaller form factors. Think about your own personal experience with smart electronics. Each generation of products released into the market is faster, more efficient and smaller. In the rare case where a device does not scale smaller from the previous generation, there is still more functionality, including faster interface ports, packed into that product. As chips get faster and smaller, the level of sensitivity to real world ESD and transient voltage scales exponentially.
I recently had a key customer tell me that his team had experienced more ESD and electromagnetic compatibility (EMC) "headaches" than they could imagine as their transceiver ICs migrated from 22 to 16nm technology. The engineer I was conversing with was essentially pleading for help.
Semtech Protects the Smart Electronics of Tomorrow
I love working at Semtech, and I love that Semtech is at the forefront of solving real-world EMC challenges. I love the brand the Protection Products Group has built over the decades in leading the circuit protection market. We just recently reached a milestone of shipping our 20 billionth Z-Pak™ device, and it will not be long before we double that number. The numbers and reach of this business unit are truly staggering, and no company is better poised at packing robust surge handling into smaller footprints. Learn more about Z-Platform on our website.
Protecting today's IC technology from overvoltage threats is not a trivial task. It requires highly engineered protection components tailored for emerging high-speed applications. At Semtech, creating these solutions is a full-scale effort from sales, applications, marketing, design, product engineering, and operations. As time progresses, we are increasingly seeing the need for deeper, more specific customer engagement to develop truly tailored solutions for specific physical layer (PHY) families and sensitivities in the microelectronics chip industry.
Semtech is one of the few companies in the world with the history, technology and reach to address the multifaceted and emerging needs of the protection market. If we go back to that taxi in Hangzhou, in one sense my friend was exactly right and in another sense quite wrong. It is truly amazing that the Semtech ESD protection touch reaches worldwide and continues to accelerate, and yet, it is far more than simple diodes that Semtech is engineering. Indeed, we are providing highly sophisticated, cutting-edge transient protection solutions on a staggering scale, and there are a very small list of players in the market capable of supplying such solutions. As the years roll on and as the reach of these products grows even deeper and broader, there is no doubt in my mind that Semtech will continue to lead the way and provide the world's finest transient voltage protection products.
For over three decades, Semtech has been a market leader in providing high-performance ESD and transient voltage protection solutions to safeguard the most advanced data interfaces on the market for industrial, telecommunication and automotive applications. Learn more about our leading circuit protection portfolio on the Semtech website.
Timothy Puls is a product marketing engineer for transient voltage protection products at Semtech. Previously, he worked for National Semiconductor and Texas Instruments. He holds a Bachelor's degree in electrical engineering from Texas A&M University.
Semtech and the Semtech logo are registered trademarks or service marks, and Z-Pak is a trademark or service mark, of Semtech Corporation or its affiliates.