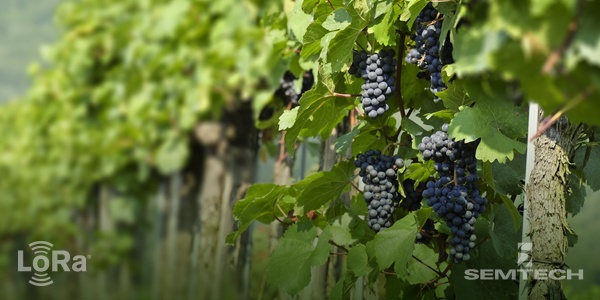 With temperatures around the globe forecasted to rise, unpredictable and dynamic weather patterns like droughts and heat waves present new challenges for winemakers. As a result, growers work harder for less product and wine prices increase for consumers. Using sensors for irrigation management is still not common practice in many vineyards. Often growers rely on field observations for their irrigation decisions. As a result, damage is often detected too late for farmers to prevent significant yield loss.
Reinier van der Lee, a Temecula, California-based winegrower, set out to create an Internet of Things (IoT) solution to the problems faced by himself and other members of the wine growing community. In 2017, he founded Vinduino with the goal of developing an Internet-powered irrigation management system. Initially, Vinduino used a Wi-Fi-based smart solution to monitor soil irrigation, but this soon proved ineffective at covering the vast vineyards. Vinduino then turned to Semtech's LoRa® devices and wireless radio frequency technology (LoRa Technology) with its proven, flexible and easy-to-deploy capabilities.
Vinduino: An IoT Success Story
Since turning to LoRa Technology, Vinduino has expanded to offer its precision irrigation system to other farms, including orchards. A few advantages of the Vinduino smart agriculture LoRa-based solution include:
Easy & flexible deployment: LoRa-enabled applications are self-provisioning; this simplifies deployment and installation.
High capacity: Each LoRa-equipped gateway can handle millions of messages daily. This is incredibly important when used on complicated sprawling farmland.
Security: LoRa Technology encrypts all communication end-to-end, so data remains secure and irrigation can be safely operated.

LoRa Technology: A Flexible & Efficient Solution for Smart Agriculture
Creating a smart vineyard with LoRa Technology begins with deploying high-accuracy, LoRa-enabled sensors in each irrigation zone. Sensors are buried at two, three and four feet to ensure that water is only supplied to areas where there is an active root system, so no water goes to waste. Sensors communicate with a LoRa-enabled gateway, which can each handle up to 1,000 sensors and can cover a six-mile radius (or more, depending on line-of-sight). Each gateway communicates with a network – either a private network or an existing low-power wide-area network (LPWAN) - which share the soil's moisture data to applications based in the Cloud. This application pushes the information to farmers who can then enable automated irrigation valves to release water at intervals to accurately meet desired moisture levels for optimal plant growth. LoRaWAN®-connected water meters provide accurate feedback about the volume of distributed water, and the condition (leak detection) of the irrigation system.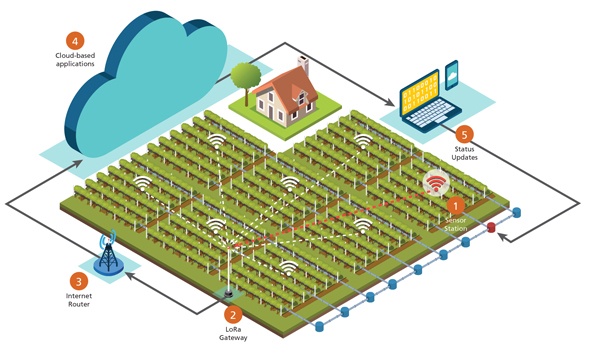 LoRa Technology makes it easy for growers to manage their vineyards. Implementing a LoRa-based Vinduino solution in the vineyard means growers have access to real-time soil moisture levels. Growers can manage their crops' water levels independently and respond quickly if levels get below a certain threshold. Additionally, growers can automate the irrigation process. LoRa-enabled sensors detect which plants need water at what intervals, and optimize an irrigation schedule. An optimized schedule means more efficient water management, increased crop yields and cost savings on the water bill.
Learn more about LoRa-based use cases for Smart Agriculture.
Download the Vinduino App Brief now!
Semtech, the Semtech logo, LoRa and LoRaWAN are registered trademarks or service marks of Semtech Corporation or its affiliates.