LoRaWAN®-based Livestock Innovations Awarded at SPACE
12 November 2019 / by Emmanuel Mounier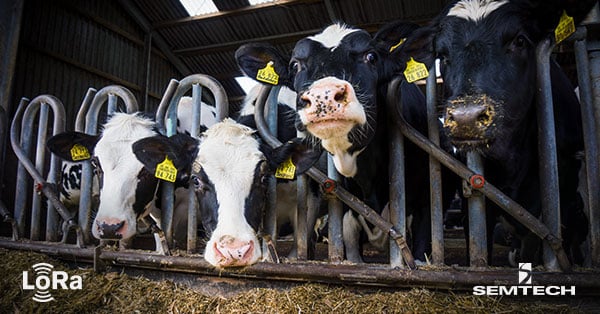 The SPACE 2019 agriculture exhibition recently concluded in Rennes, France. The four-day event, highlighting today's innovative precision agriculture technologies, brought together industry experts from around the world for a series of conferences, workshops and exhibitions. Approximately 1,400 booths occupied the exhibition floor at the Parc Expo Rennes convention center, and the exhibition provided educational and networking opportunities for more than 100,000 registered attendees.
As the Business Development Director for Smart Agriculture in Semtech's Wireless and Sensing Products Group, and lead of the LoRa Alliance® Smart Agriculture Working Group, I had the unique opportunity to attend SPACE this year. At each new agriculture conference, Internet of Things (IoT) solution exhibitors display more and more innovative technology for farms and ranches to capitalize on accurate sensor data. Leading members of the LoRaWAN® ecosystem joined me in attending the exhibition, and presented their smart applications leveraging Semtech's LoRa® devices and LoRaWAN protocol on the exhibition floor.
LoRaWAN Networks, De Facto Connectivity for Smart Farms and Ranches
It was a pleasure to witness first-hand the momentum of the LoRaWAN ecosystem, with LoRa-based solutions prominent in many applications on the exhibit floor. The long range connectivity capabilities and ultra-low power consumption of the technology are essential characteristics for smart agriculture devices. To be successful in this competitive market, devices must collect information and send alerts effortlessly to the farmer or rancher. A great example of the LoRaWAN protocol's flexibility exists in smart ranching applications, where ranchers utilize data analytics and the Cloud to keep animals safe and healthy.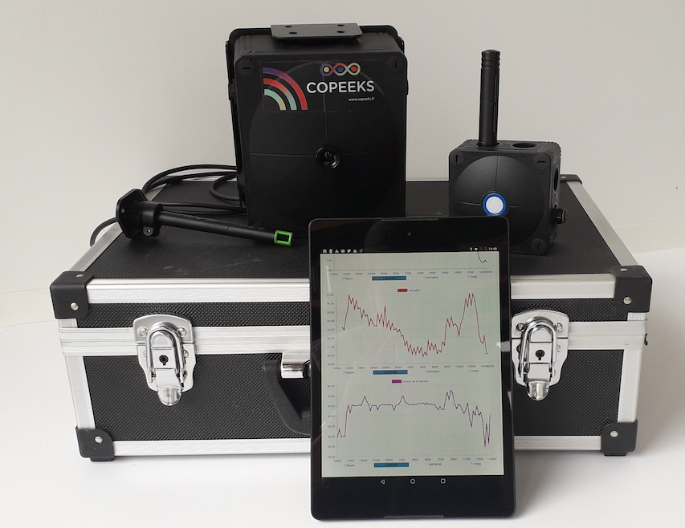 Figure 1 - Copeeks Connected Box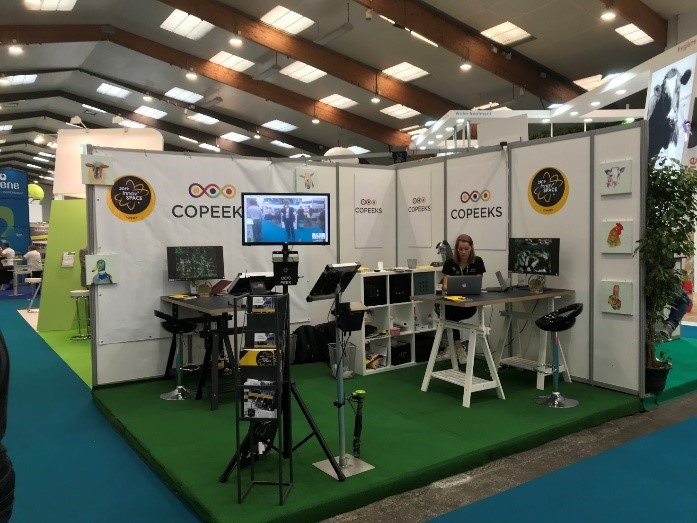 Figure 2 - Copeeks booth, early in the morning
Copeeks displayed its intelligent connected box for smart ranching, with several sensors for measuring atmospheres in cattle barns. The connected box uses a LoRaWAN network to continuously collect data from sensors, e.g., CO2, NH3, H2S, temperature, humidity rate, and air speed. The tool allows a precise monitoring of the breeding over flexible time periods to follow the evolution of conditions in different cattle barns.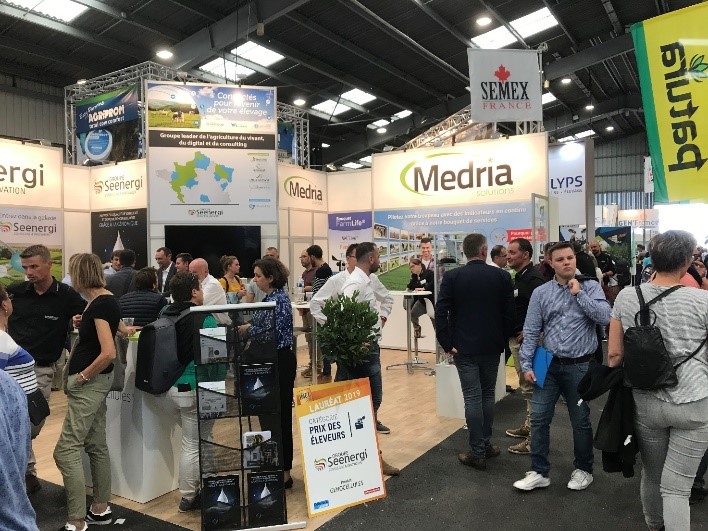 Figure 3 - Medria Solutions booth
Medria Solutions, a monitoring solutions specialist company for smart farms, announced its new Vel'Live solution with itk. Vel'Live uses LoRa-based collar tags with the capability to detect changes in a cow's body to alert breeders of the beginning of calving. Semtech and itk recently announced their collaboration on itk's LoRa-based FarmLife® service. The service includes Vel'Live tracking capability for cattle heat detection, nutrition optimization, animal welfare monitoring, and for calving detection. Learn more in the press release.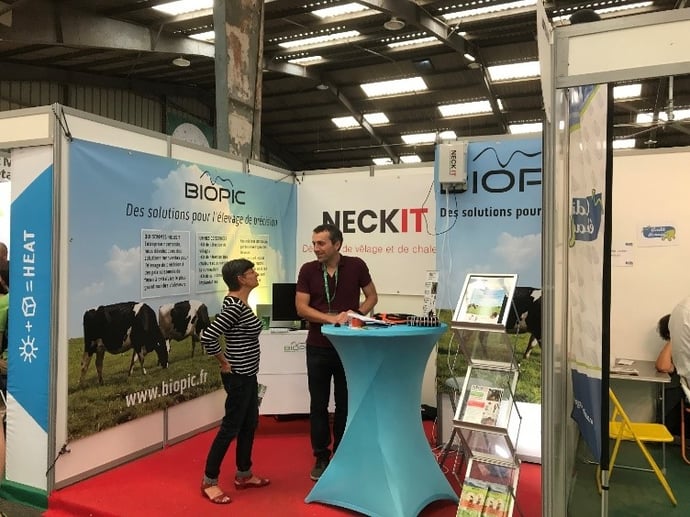 Figure 4 - Biopic booth
Biopic presented a low cost cattle monitoring solution, Neck IT. Neck IT is a LoRa-based collar tag that monitors the activity of the cow and detects heats and rumination issues. The Neck IT Vêlage version attaches to the tails of cows and allows breeders to receive alerts in real time at the imminence of calving or foaling.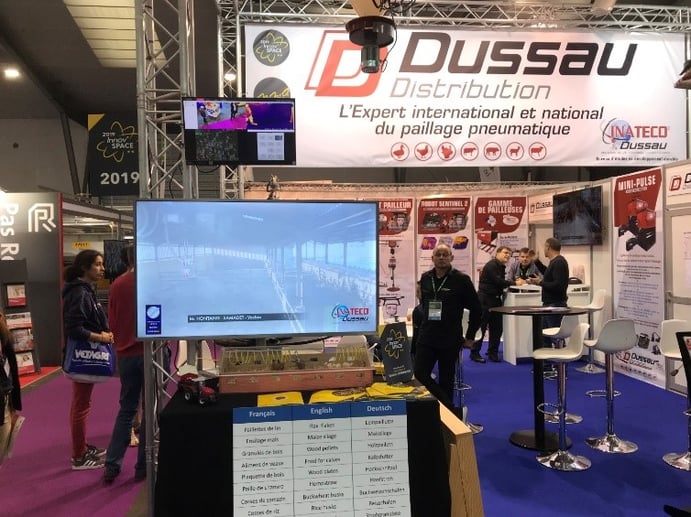 Figure 5 - Dussau booth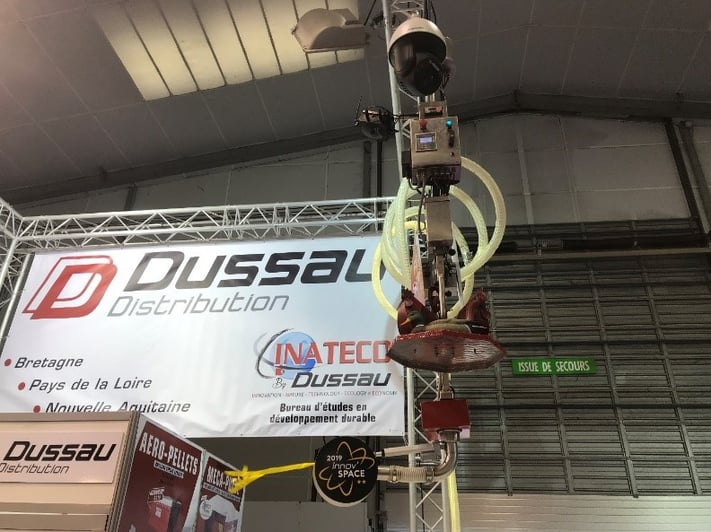 Figure 6 - Dussau Sentinel Robot 2
Dussau Distribution demonstrated its Sentinel Robot 2. This device's primary function is the automated spreading of all types of stall bedding in breeding rooms. The device also collects information with visual and heat sensors to establish diagnostics and optimize the spreading of bedding. This evolved version of the Sentinel Robot with LoRaWAN-enabled connectivity sets itself apart from the first generation solution with new innovative and important functions. Sentinel Robot 2's new functions as presented in-booth are:
Enhanced human safety, with the detection of individuals in the stall or barn
Additional savings on bedding due to the system's optimized smart bedding monitoring and spreading technique
Automatic changes to the cycle depending on the density of the product and the quantity to be spread
Monitoring of ambient parameters like temperature, air moisture, air pressure, CO2, CO, Ammonium
A connected scale with a tray which passively determines an average weight of animals
LoRa-based Solutions Awarded for Agricultural Innovation
Attending the annual event, I was fortunate to witness the presentation of the Innov'SPACE award for the exhibition's most innovative solutions. Of the 135 applications submitted for Innov'SPACE, four of the winning innovations were LoRa-based. Two applications, each from Copeeks and Dussau, were awarded for their innovation and potential to transform agriculture.
From the conference to the exhibit hall and the Innov'SPACE award, the LoRaWAN ecosystem continues to demonstrate that LoRaWAN is the de facto standard for smart agriculture LPWAN solutions.
The next edition of SPACE 2020 will be held at the Parc Expo Rennes on September 15-18, 2020. Learn more about our upcoming conferences and speaking appearances.
Discover more real world LoRa-based applications for smart agriculture.
Semtech, the Semtech logo and LoRa are registered trademarks or service marks of Semtech Corporation or its affiliates