5G, LoRaWAN and Smart Cities at MWC
06 March 2019 / by Olivier Beaujard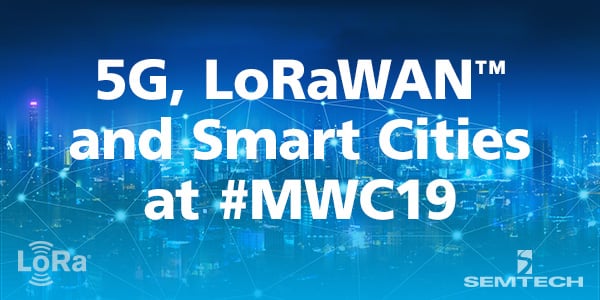 I have just returned from Mobile World Congress (MWC), the most anticipated mobile industry event of the year with 109,000 visitors from 198 countries, and I'm in awe of the pace of innovation in the Internet of Things (IoT) market, as well as the speed at which technologies are rapidly evolving to market-ready solutions. This observation could not be more true for Semtech's LoRa® devices and wireless radio frequency technology (LoRa Technology).
Earlier this year, the LoRa Alliance® announced record growth with over 100 network operators running LoRaWAN®-based networks, a three-fold increase from the beginning of 2018. Semtech also announced that deployments of LoRa-based sensors cumulatively reached 80 million at the end of 2018, a 60% year over year increase and the volume of LoRa-based devices available on the market grows larger every day. A list of online catalogs featuring LoRa-based products and services can be found in this blog. While my responsibilities as Senior Director of the LoRa Alliance kept me on the run from meeting to meeting, a few major trends prevailed over the week which I have shared below.
Major Topics at MWC
In my last blog post, in which I reflected on MWC Americas, I acknowledged the growing excitement for 5G. At this global event, for the first time, attendees were able to learn more from LoRa Alliance CEO and Chairwoman Donna Moore about how LoRaWAN-based technology complements the global roll-out of 5G. In her presentation, "Today's Smart Cities Use LoRaWAN," Ms. Moore presented the wide range of benefits that LoRaWAN-based networks offer for real world smart city use cases: flexible deployment options (public/private), geolocation, security, energy efficiency, wide coverage, and deep penetration.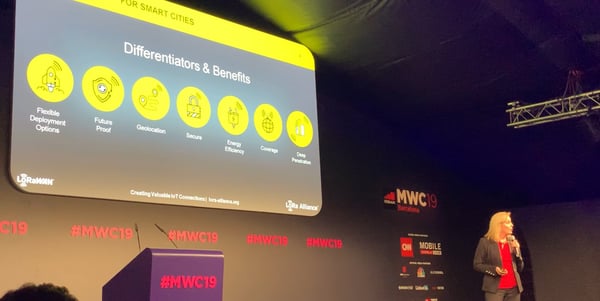 LoRa Alliance CEO and Chairwoman Donna Moore presenting at MWC
Among the LoRa Alliance's 500+ members are many of the industry's leading network operators: ER Telecom, KPN, NTT, Objenious, Orange, SK Telecom, STC, and Swisscom, to name a few. See a complete coverage map on the LoRa Alliance's website. In addition to the networks offered by global telecoms, private LoRaWAN-based networks can also be leveraged for LoRa-based IoT applications. In either case, the open LoRaWAN protocol can support smart city infrastructure use cases in transportation, utilities, waste management, asset tracking, environmental monitoring, street lighting, and smart parking. Find a sample of real world smart city use cases here.
As discussed among the panel after Ms. Moore's presentation, LoRaWAN is seen as a complementary technology to 5G, enabling IoT applications for smart cities and beyond. Many applications for machine-to-machine (M2M) communications, such as smart agriculture or utilities, do not need the extreme bandwidth or the ultra-low latency of 5G networks. While 5G will most certainly transform the telecommunication industry, there is wide acknowledgement of the complementary role of low power wide area networks (LPWANs), and specifically LoRaWAN-based networks to enable the growth of IoT solutions. In addition, LoRaWAN is available now and ready to deploy today. As many real-world challenges need immediate solutions, enterprises are able to develop their LoRaWAN-based solution and expand with 5G coverage when it becomes available in the future.
LoRaWAN and NB-IoT Demonstration
Speaking of the licensed spectrum, Semtech's demonstration in the LoRa Alliance booth at MWC provided a side-by-side comparison of LoRaWAN and Narrow-band IoT (NB-IoT). In the demonstration, the performance of a typical smart metering application is measured for power consumption and latency. The results of the test demonstrated lower power consumption and reduced latency by the LoRaWAN-based network compared to the NB-IoT network. In general, LoRaWAN is three to five times more power efficient than NB-IoT, with the ability to sustain more than twice the battery life of NB-IoT-connected devices. In addition to the measured power efficiency benefit, LoRaWAN-based networks support flexible deployment models and can penetrate deep indoor and dense urban environments where licensed spectrum connectivity is limited or inaccessible. The open nature of the LoRaWAN protocol enables interoperability, adding even more flexibility and ease of deployment, reducing infrastructure costs, and enabling use cases in numerous vertical markets. For more information, we've shared a technical comparison of NB-IoT and LoRaWAN in a previous blog.


Network operators have demonstrated the harmony of LoRaWAN and NB-IoT as complementary technologies. In fact, dozens of operators have chosen to offer both technologies to increase coverage and provide the necessary platforms for real use cases, delivering business efficiencies and return on investment based on customers' needs.

Semtech demonstrates LoRaWAN and NB-IoT side by side at MWC
Recently Announced LoRaWAN-based Use Cases of Note
Announced by French network operator Orange, Veolia will leverage a LoRaWAN-based network to remotely read more than 70 percent of its water meters, over 3 million in total by 2027. While Orange business services provides a variety of technologies to its customers including LoRaWAN, 2G, 3G, 4G, and LTE-M, Orange's LoRaWAN-based network covers 30,000 municipalities and 95% of the population of metropolitan France. With its long range, low power consumption and availability on the unlicensed spectrum, LoRa Technology was the platform of choice for Veolia's smart metering application.
Objenious was recently chosen by Airbus to deploy and operate a LoRaWAN-based network for the aerospace giant's connected IoT devices. One of the first in Europe, Objenious' hybrid network is at the crossroads of public and private, allowing Airbus to have its own infrastructure while still benefiting from connection to the national network. This major device roll-out has taken place over the last four months at various Airbus plants, and includes some 700 sensors to monitor Airbus' many assets.

The LoRa Alliance booth at MWC displayed available solutions and the vast ecosystem of companies supporting LoRa Technology
Additional News from the Ecosystem
The LoRa Technology ecosystem had no lack of exciting news at MWC. A few of those announcements include:

Presenting the range of vertical market deployments in the LoRa Alliance in-booth theater
If we didn't get the chance to meet at MWC this year, I welcome you to visit the events calendar for 2019 and make plans to meet Semtech, the LoRa Alliance and the LoRa Technology ecosystem in the near future. See events from the LoRa Alliance events calendar.
For more industry insights from Semtech's leadership, subscribe to the blog. Our monthly digest is delivered straight to your inbox so you'll never miss a post.
Semtech, the Semtech logo, LoRa, and LoRaWAN are registered trademarks of Semtech Corporation.