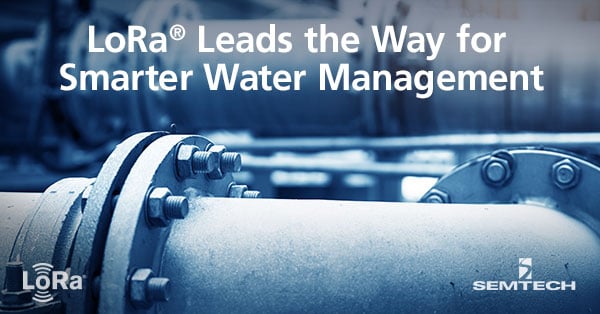 In Paris this November, Semtech will be again exhibiting at European Utility Week, the world's foremost annual smart utilities and metering conference. Last year in Vienna, the conference drew more than 12,000 visitors and this year's attendance is expected to increase by half. We will be among the over 800 exhibiting companies at the Paris event, and will be showcasing Semtech's LoRa® devices and the LoRaWAN® protocol for innovative utility metering applications. This blog is part one of a three-part series on the benefits of LoRa for utilities leading up to the event.
Birdz: France's Leader for Smart Water Metering
Several members of the LoRaWAN-based ecosystem, including the LoRa Alliance®, will be joining Semtech on the exhibition floor at European Utility Week and demonstrating their latest LoRa-based innovations for the metering industry. In this blog, we will be promoting one of these companies – France's Birdz, a subsidiary of Nova Veolia and leading solution provider for the smart water metering market.
Birdz leverages its 19 years' experience in the metering industry to help cities utilize their water resources more efficiently. Birdz's millions of LoRa-enabled water meters across France gather hundreds of millions of data points daily to help utility providers, cities, buildings, and tertiary sector companies accurately monitor their water and energy bills, and improve their services. Birdz's innovative solutions rely on LoRaWAN-based networking infrastructure from leading French telecom operator Orange, a member of the LoRa Alliance. Orange's LoRaWAN-based network covers more than 30,000 municipalities and 95% of the French population. With nationwide coverage at their disposal, Birdz plans to expand their metering deployments throughout France and add an additional 3 million LoRa-based smart water meters in the years to come. In fact, Veolia, France's leading utility provider and Birdz's parent company, aims to leverage Orange's network to read more than 70% of its installed water meters via LoRa by 2027.
Preventing Waste and Saving Money with LoRa
Between the water plant and the end consumer, supply grids lose a significant portion of the water produced due to undetected leaks in piping. According to Birdz, this loss may represent as much as 25% of production in some cases. In France, this would mean that out of 6 billion cubic meters of drinking water produced annually, 1.5 billion would be wasted. This represents significant losses for the supplier, largely due to the cost of production and the energy needed to manage and treat the water. Birdz's water grid management solutions aim to reduce the impact of leaks and save customers money.
In 2015, Eau du Grand Lyon implemented a smart water network using Birdz's smart water sensors (meters and noise correlators) with LoRa devices. The new water management approach generated significant benefits, a strong use case for LoRa:
Identification, geolocation and faster repair of 1,200 water leaks in the distribution network
1 million cubic meters of water saved annually in production due to improved performance of the distribution network
Overall 8% increase of water network efficiency in four years, from 77% in 2014 to 85.2% in 2018
By implementing a smart metering infrastructure comprised of sensors and gateways with LoRa devices, utility companies can more efficiently collect data and streamline operations to cut cost. Interested in learning more about LoRa for smart utilities? Visit the smart metering applications page of the Semtech website!
European Utility Week will take place November 12-14, 2019 at the Paris Expo Porte de Versailles in Paris, France. Visit their website to learn more about the conference, its exhibitors and ticket information.
Semtech, the Semtech logo, LoRa, and LoRaWAN are registered trademarks or service marks of Semtech Corporation or its affiliates.