Part 3: Creating a Smart and Efficient Energy Grid with LoRa®
07 November 2019 / by Rémi Demerlé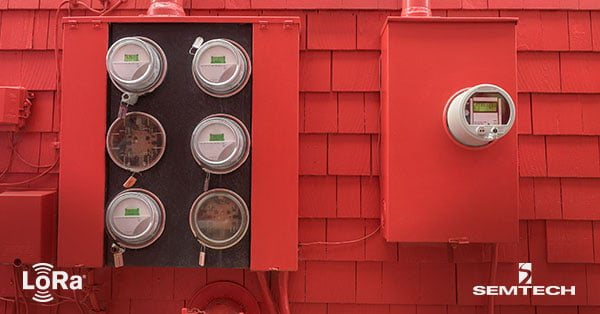 In 2019, smart electricity meters will account for 63 percent of the nearly 200 million electricity meter shipments expected around the world, according to a 2018 IHS report. This volume of smart electricity meter shipments is forecasted to increase in size over the next five years. With the rise of low-power wide-area networking (LPWAN) technologies, such as Semtech's LoRa® devices and the LoRaWAN® open protocol, new "smarter" metering solutions are proving to be a compelling alternative to other connectivity options for both Internet of Things (IoT) networks and smart grid applications. With several hundred known use cases (and growing), LoRa-based devices and LoRaWAN networks represent the leading choice for IoT solutions today.
LoRa-based Solutions for the Energy Monitoring
Lowan, a LPWAN solution provider in Hangzhou, China, leverages LoRa devices in its smart meters and provides one of the largest IoT networks for smart energy in China. Utility usage data is collected in real time over large urban areas, enabling remote monitoring and automated control of power consumption. By negating human error and optimizing efficiency with a LoRa-based solution, Lowan provides a sustainable energy management platform for its customers and protects China's energy resources. Furthermore, due to the interoperable nature of LoRa-enabled devices, Lowan's IoT network offers compatibility with other solutions, such as locks or alarms for smart homes.
With a public LoRaWAN network operator, a nationwide offering allows any end user in a country to leverage a LoRaWAN connected device to monitor its own electricity consumption, helping to improve energy usage habits and optimize energy bills. České Radiokomunikace (CRA), a Czech telecommunications company providing commercial IoT services to businesses, has deployed a nationwide LoRaWAN network in the Czech Republic. The network operator already provides connectivity to over 75 percent of the population with plans for coverage expansion. With its partners, CRA has already deployed 8,000 active metering devices across the country and aims to increase this number to 20,000 by the end of 2019. With this solution, energy consumption of end users has been reduced by up to 30 percent.
LoRa-based Solutions for Automatic Meter Reading
Lar.Tech, an operator in the market of data transmission services in the IoT industry, offers a LoRa-based module compatible with electricity meters that remotely collects data in large urban areas. In October 2016, Lar.Tech created an automatic meter reading (AMR) solution for the electricity grid market using single and three-phase meters with a LoRa-based module built in. Following a successful pilot in 2017, Lar.Tech rolled out 50,000 units, with a goal of deploying one million smart electricity meters by the end of 2023.
Lar.Tech integrated Semtech's LoRa devices and the LoRaWAN protocol into its solutions for several reasons:
The wireless radio technology utilizes the unlicensed spectrum in industrial, scientific and medical (ISM) band
The low power consumption of LoRa-based sensors is ideal for smart metering applications where battery operated meters are deployed throughout a region
LoRa devices support the broadcast and multicast services defined in the LoRaWAN protocol, which are key aspects for smart utility metering
LoRa-based Solutions for Micro-grids
In rural or isolated areas, the deployment of small "remote" systems, like micro-grids, are a cost-effective approach for bringing electricity to urban areas, and can be easily connected at a later date to a national or regional infrastructure. Many countries are beginning to use LoRa-based devices and LoRaWAN networks for micro-grids due to the advantages for ease of deployment.
IHM Pacific's EAGLE/1500 (80) is a single phase DIN rail intelligent, LoRa-enabled meter. EAGLE measures the remote consumption index, import and export data (to allow measure of renewable energy produced by solar panels), active and reactive power, and offers a relay that can operate remotely. As an open protocol, a LoRaWAN network can be deployed very easily to fit with the micro-grid with flexible network models including public and private operators, and hybrid models with roaming capabilities. The bi-directionality and the flexibility offered by LoRaWAN fits well with requirements of micro-grids. EAGLE offers the key features of a compact, easy to install and very smart meter for the micro-grid applications.
LoRa-based Solutions in the Retrofit Market
Utility companies frequently leverage the ease of deployment of LoRa-based sensors and LoRaWAN networks to existing metering systems. Orion System LLC (OrionM2M), one of the first Kazakhstan developers and manufacturers of LoRaWAN-based wireless data transmission systems for IoT, leveraged a LoRa-based smart metering system to connect to the Cloud via public LoRaWAN networks and Orion LoRaWAN-based gateways. Reliable data transmission from the LoRa-connected meters and luminaire controllers allow utility companies access to consumer usage data and trends without needing to check each device manually. Reliability reduces overhead cost and creates a more efficient system of utility and city light management. OrionM2M's solutions bring operations management and service reliability, with an up to 30 percent reduction of technical losses, higher SLA and more accurate billing.
This blog is the final installment of a three-part smart utilities series. Read part one, LoRa Leads the Way for Smarter Water Management, and two, The Global Rise of Smart Gas Metering. For more information about smart utilities and other vertical markets, subscribe to Semtech's blog, Inside Out.
Semtech, the Semtech logo and LoRa are registered trademarks or service marks of Semtech Corporation or its affiliates.