10 Things About LoRaWAN & NB-IoT
21 March 2022 / by Remi Lorrain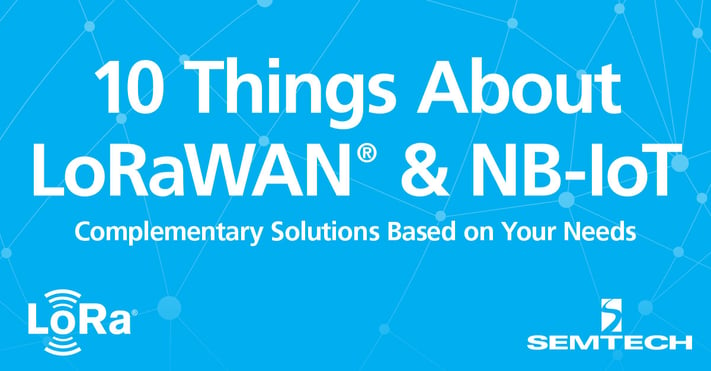 As the Internet of Things (IoT) continues to revolutionize the way we connect and interact with our devices, there are a number of network options on which to build smart solutions. The leading low power wide area networks (LPWANs) are LoRaWAN® and narrow band IoT (NB-IoT).
Developed for long range communication between devices and the Cloud using cellular infrastructure, NB-IoT is compatible with LTE mobile networks. LoRaWAN utilizes the sub-gigahertz unlicensed radio spectrum bands to enable LPWAN communication between end nodes and gateways connected to a network and application servers in the Cloud. Today, Semtech's LoRa® technology is the de facto wireless platform of IoT and enables a wide variety of solutions in many verticals through a compelling mix of long range and low power. LoRa technology provides the communication layer for the LoRaWAN standard, which has been ratified as an International Telecommunications Union (ITU) standard.
IoT is all about solving real world problems – improving the quality of life, developing local economies and better protecting the planet – and improving efficiencies using the right technology. When creating an IoT application of your own, there are several factors to consider including LPWAN connectivity. Below we've compared LoRaWAN and NB-IoT side by side.
1. Ecosystem
LoRaWAN is supported by the LoRa Alliance®, an open, non-profit recognized by the Telecommunication Standardization Sector of the International Telecommunications Union (ITU-T). Its members from all regions of the world closely collaborate and share experiences to promote and drive the success of the LoRaWAN standard, which is recognized by the ITU-T as an open global standard for secure, carrier-grade IoT LPWAN connectivity.

NB-IoT is supported by the 3rd Generation Partnership Project (3GPP) and GSMA, two telecommunications standards associations that have the shared goal of advancing the interests of cellular networks and devices. NB-IoT has mainly been rolled out in China and is beginning to emerge in other regions.
2. Spectrum
LoRaWAN is optimized for ultra-low power and long-range applications. LoRaWAN networks operate in the Industrial, Scientific and Medical (ISM) sub-GHz spectrum which is unlicensed and free to access for both network operators and device manufacturers.

NB-IoT operates in spectrum licensed for cellular (LTE) networks and is optimized for spectrum efficiency over everything else. License fees paid by cellular operators to use these frequency bands are very high, limiting the number of licensees that can afford to pay to operate NB-IoT services.
3. Deployment Status
As of March 2022, 166 network operators offer LoRaWAN connectivity, and we see LoRaWAN private and public network deployments in 181 countries, with over 240 million end nodes and 3.2 million gateways in service.

GSMA, the organization representing the interests of NB-IoT, LTE and other mobile networks, claims that 62 countries have rolled out NB-IoT as of February 2022.
4. Deployment Options
LoRaWAN networks offer highly flexible deployment options. This means they can be installed in public, private, open communities or hybrid networks, indoors or outdoors. LoRaWAN provides strong signal propagation capabilities, enabling use cases in urban settings that require deep in-building or underground connectivity as well as enabling networks to cover up to 30 miles per gateway in rural, open environments.

NB-IoT utilizes LTE cellular infrastructure. This means the networks are outdoor public networks where there are 4G/LTE cellular towers. Base stations cannot be easily located elsewhere even if sensors are out of range of the base station. The cost to expand LTE network for IoT use cases is high.
5. Protocol
The LoRaWAN standard allows data to be sent asynchronously, meaning data is only sent when necessary. This extends battery life of sensor devices in the field by as much as 10 years, keeping battery replacement costs low. LoRaWAN has been designed ground up to reach very device low energy consumption.

NB-IoT maintains a synchronous connection to the cellular network regardless if there is data present to send. This consumes considerable battery life for sensor devices, resulting in high battery replacement costs, which can be cost prohibitive in many applications. High precision electronics, heavy devices stacks, multi-band spectrum design, and end-to-end synchronized protocol participate in increasing energy consumption.
6. Transmit Current
LoRaWAN offers a transmit current of 18mA at 10dBm and 84mA at 20dBm. Differences in modulation allow LoRaWAN to be supported by very low cost batteries, including coin cells.

NB-IoT sensors consume approximately 220mA at 23dBm and 100mA at 13dBm, meaning it requires more power to operate and needs more frequent battery replacements or larger batteries.
7. Receive Current
LoRaWAN provides lower sensor bill of material (BOM) costs and battery life for remote sensors. A receive current of approximately 5mA means LoRaWAN operates at 3-5 times lower power overall.

NB-IoT operates a receive current at approximately 40mA. Communication between the cellular network and device consumes over 110mA on average, lasting tens of seconds at a time. Protocol overhead has significant impact on battery life for devices that require 3, 5 or 10+ years of operation.
8. Data Rates
LoRaWAN features a data rate of 293 to 50kbps. The LoRaWAN standard adapts data rate dynamically depending on how far the sensor is from the gateway thus optimizing time-on-air (reducing power budget) of the signal and reducing collisions.

NB-IoT runs a peak data rate of ~20kbps in the lower power single tone usage.
9. Link Budget
The maximum coupling loss (MCL) signal of LoRaWAN varies depending on regional regulatory limits. Link budget falls between 155dB and 170dB best case.

NB-IoT requires significant repetition for remote sensors at a low bit rate to be able to support remote sensors (increasing power budget). Link budget rests at 164dB best case.
10. Mobility & Satellite
Mobility
LoRaWAN can support mobile sensors and track them as assets move from one location to another. This can be done even without GPS with good enough accuracy for many applications.

NB-IoT is limited to idle mode cell reselection which is not well optimized for mobile asset tracking.
Satellite
LoRaWAN (which supports LR-FHSS data rates) is perfectly adapted to direct device-to-satellite communications limiting downlink communications to prevent interferences with terrestrial devices, optimizing battery lifetime and reaching high link budget under harsh radio conditions.

NB-IoT frequent downlink communications, high-energy consumption due to message repetitions under harsh radio conditions, are challenges for device-to-satellite communications.
Download an infographic summarizing the information in this blog.
LoRaWAN offers state-of-the-art battery life and applications into nearly any vertical market. Are you interested in utilizing LoRa devices in your IoT application?
Learn more about the IoT applications using LoRaWAN, and discover a market forecast for cellular and non-cellular LPWA connections, including 5G NR, LoRa®, LTE-M, NB-IoT, and Sigfox, in the white paper from ABI Research, "LoRaWAN® and Multi-RAN Architecture, Connecting the Next Billion IoT Devices."
Semtech, the Semtech logo and LoRa are registered trademarks or service marks of Semtech Corporation or its affiliates.