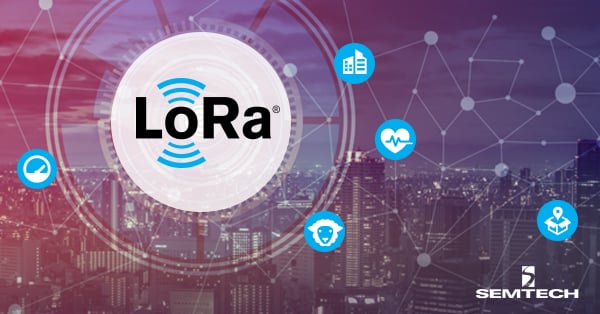 Cities are getting smarter, making a significant difference in how we all live and work.
It's finally possible to say goodbye to tedious tasks like physical asset tracking and manual equipment inspections. Smart city Internet of Things (IoT) solutions are also improving energy efficiency, food safety, healthcare, and so much more.
New IoT solutions are introduced daily, dominating business, city and technology news. These smart solutions empower municipalities and businesses with automated systems to effortlessly track and manage a nearly unlimited range of processes.
Of course, smart solutions are only as good as the technological infrastructure supporting them. LoRa® devices and the LoRaWAN® protocol has become the solution of choice for IoT transformation due to its ability to transmit information across long ranges, in dense city centers and through heavy walls.
LoRa-based IoT systems are improving the way we meter utilities, maintain safe food temperatures during transport and delivery, and even how farmers manage their cattle and crops.
Below are just a few of the ways real cities are applying IoT with LoRa-based solutions.
Reducing Energy Consumption
As populations grow, so do energy demands. Smart city IoT solutions provide real-time data to remotely track electricity consumption and pinpoint energy drains.
By installing LoRa devices throughout city systems, managers and technicians can see where energy is used the most and make adjustments to improve efficiency. For example, some smart cities use this data to schedule energy-dependent tasks to take place at night, outside of peak usage hours. This smart scheduling both saves money and improves citywide energy efficiency.
LoRa-based sensors have been installed to manage indoor climate control, watering, cleaning, system updates, and more. Devices have even been installed in parking meters to alert attendants to the exact location of vehicles that have overstayed their welcome, to more efficiently ticket and control city parking.
LoRa devices have become the leading choice for its reliability in wide-area data transmission for dense urban areas.
Learn More About Improving Energy Efficiency >>
Smart Metering and Asset Tracking
Many city managers know the value of IoT, but simply don't know how to successfully adopt smart solutions into their existing infrastructure. That's where LoRa devices really shine.
Battery-operated LoRa-based sensors are easy to install in any city and provide reliability both indoors and out. These cost-saving smart devices can be added to buildings, farms, vehicles, and supply chains to automate and improve day-to-day operations.
As cities work to go green, smart metering is one of the most popular IoT adoptions. LoRa devices empower energy companies to track electricity consumption, enhance conservation efforts and roll out new sustainable programs.
Applied to refrigeration and the supply chain, companies like Axino are using LoRa devices to remotely manage the temperature of refrigerated trucks and food storage facilities to reduce waste, increase ROI and ensure food safety.
Read More About Smart Metering and Tracking >>
Enhancing Operational Efficiency
When a traditional system goes down, it can take city technicians days to pinpoint the broken link. Delays impact operational efficiency and significantly impact the public. Some systems, like air quality management in hospital buildings, simply can't wait for a system reboot without compromising patient health.
A LoRa-based solution provides both the advanced sensors to alert technicians of changes and the network coverage to connect these devices to the Cloud. If a system were to go down, technicians could quickly identify the source of the problem, helping employees work faster and more efficiently, significantly reducing maintenance costs and improving building operations.
When applied to commercial and residential applications, cities report savings of up to 83 percent in waste management alone and a 50 percent increase in recycling.
See How Smart Cities Are Improving Operations >>
Simplifying and Improving Life in Cities Worldwide
IoT has transformed city living in an incredibly short time. Both city residents and municipal employees have come to expect reliable connectivity and an ease in accomplishing routine tasks provided by these technological improvements.
For example, smart parking lots and garages now display exactly how many spaces are available to make finding parking easier. Paying for parking has also been simplified with remote app payments.
City healthcare facilities are applying that same technology to improve patient care, enhance efficiency and reduce operating costs. LoRa-based devices have been used in healthcare applications ranging from dementia patient tracking to low power hearing aids.
IoT solutions are being applied throughout cities and across a nearly-endless list of vertical markets. Even farming has been improved with LoRa devices to track soil conditions and farm health to improve quality control and maximize output.
Read More About IoT Solutions >>
Smart City Solutions are Here to Stay
LoRa-based applications are changing the way cities operate for the better.
Gone are the days of manual maintenance checks and wasted energy. IoT solutions systematically reduce the effects of human error and provide real-time data to help city managers accurately plan and predict. By streamlining and automating whole systems, cities have improved energy efficiency, operations and more.
The reliable wide-area coverage and functionality in densely populated areas has enabled hundreds of cities to transform and create smarter processes. Is your city next?
Semtech, the Semtech logo and LoRa are registered trademarks or service marks of Semtech Corporation or its affiliates.