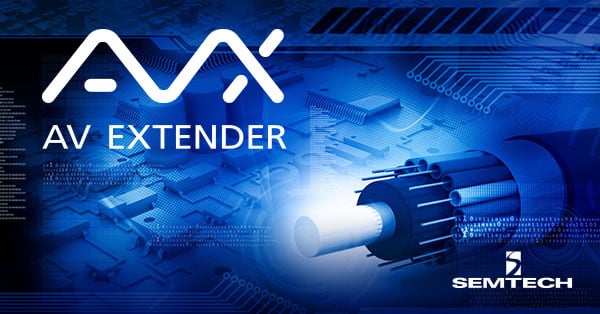 For most of my career at Semtech, I've been responsible for SDI-based products and technology, often extolling the features and benefits of copper-based, long-reaching audio and video (AV) signals. While SDI product lines matured into a meaningful business for the Signal Integrity Products (SIP) group at Semtech, there has been significant investment and record growth in optical fiber transmission technology for enterprise computing and communications. Fiber connectivity is now the backbone of worldwide communications with SIP optical products at the heart of this fiber revolution.
When it comes to the transmission of AV signals, whether it be across a campus, or from floor to floor within a building, why does using optical fiber infrastructure make the most sense? Well, most new buildings come pre-wired with optical fiber in order to meet the networking requirements, both present and future (most enterprise core networks are using 10G Ethernet at a minimum). Fiber is lightweight and takes up less space – a fiber bundle containing 100 fibers fit in roughly the same diameter as single video coax cable. Copper transmission at 10 Gigabits per second (10Gbps) is possible up to 100m, where by contrast, even the lowest-cost fiber can run over 500m. For very long distance transmission, single-mode fiber technology supports many kilometers over a single fiber. Fiber is completely immune to the effects of electromagnetic interference (EMI) and can be run alongside electrically noisy appliances, such as air conditioning units, completely impervious to any EMI. Finally, the cost of fiber is often on par with copper cabling, if not cheaper, giving AV installers much more bang for their buck.
New AVX Chipset for AV Extension
Semtech recently launched the AVX ASIC chipset for multimedia connectivity between AV equipment and remote displays, which simultaneously transmits uncompressed-quality 4K video, multi-channel audio, Gigabit Ethernet, USB, and other control signals over copper category cabling or optical fiber. The AVX200T flagship part offers unprecedented levels of performance for AV extension applications, such as standalone point-to-point cable extenders, matrix switches and KVM extension. With more applications taking advantage of optical fiber infrastructure, the AVX200T uniquely targets long reach extension, providing transport over fiber from distances of 300m to over 40km.
Read the AVX for AV extension over fiber press release here.
The AVX ASIC is a perfect replacement for existing AV extension technologies with a new generation of fiber-based products for true long reach performance at cost points lower than existing copper-based solutions. Unique to the AVX200T, the chip supports true bidirectional HDMI connectivity, providing simultaneous transmission of AV signals in both directions over a single fiber pair. These features enable manufacturers to develop a new class of point-to-point AV extension products which can dramatically reduce both material costs and the cost of installation.

Powerful Features & Flexible Form Factors
The AVX200T also includes a powerful AV processing engine that provides broadcast quality scaling, allowing receive end-points to match the source video resolution to that of the connected display. The chipset lowers product costs by requiring fewer components and removing the need to use costly FPGAs or image scaling devices. The AVX200T ASIC consumes less than 2.5W using fiber connectivity. Compared to existing copper-based technologies that can consume up to 10W - significant power savings for larger installations requiring many AV extenders! Form factor is also very important for AV extenders, with the need to be mounted under tables, inside wall plates, or concealed behind displays and projectors. The AVX chipset can be incorporated into designs as small as a credit card.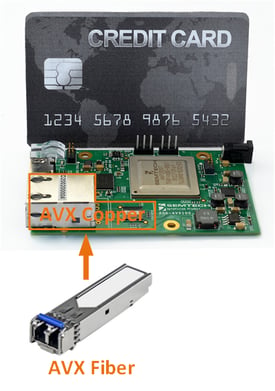 © Semtech Corporation 2020
For cost-effective HDMI extension without compromise, look for products carrying the AVX logo. All AVX branded products provide guaranteed interoperability and industry-leading reach performance over copper category cable or optical fiber. Products utilizing the AVX200T provide the industry's first true bidirectional HDMI connectivity over fiber. This enables a new class of products which dramatically reduce both product and system costs.
Semtech and the Semtech logo are registered trademarks or services marks of Semtech Corporation or its affiliates.