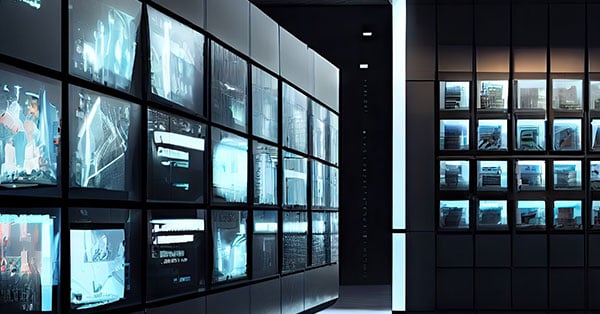 Unleash the Full Features and Power of BlueRiver® With Pro AV 2.0
25 May 2023 / by Gareth Heywood
Since the successful launch of the BlueRiver ASIC for Pro AV in December 2019, Semtech has continued to add new features and functionality to both the ASIC firmware and the Software Defined Video over Ethernet (SDVoE™) API that's at the heart of all SDVoE-based systems. This has culminated with the firmware version 2.0 release in February 2023, which enables the full potential of the platform. So, what's Pro AV 2.0 and what does that mean with respect to Semtech's Pro AV ASIC product lines?
The Evolution of BlueRiver Technology in Pro AV 2.0
With Pro AV 2.0, BlueRiver is now the core technology for both SDVoE (AV-over-IP) and point-to-point AV extension. Prior to 2.0, there were dedicated point-to-point extension chips - the AVX100 and AVX200T. Essentially, Pro AV 2.0 folds the AVXT product line under the BlueRiver Pro AV portfolio. We'll take a look at what this means for each of the BlueRiver part numbers later.

The Journey to Pro AV 2.0: Enhancements in BlueRiver ASIC Platform
The BlueRiver ASIC platform is firmware-based, meaning that the functionality of the device can be determined by the firmware that runs on the embedded microprocessor that controls every aspect of the ASIC's behavior. Since the ASIC launch, Semtech has issued six comprehensive production firmware releases, incorporating more than 75 new features, plus many performance enhancements and improvements, showcasing our ongoing commitment to improving our product capabilities and feature sets.
Here are just a few highlights of the features and functionality that we have added over the last three years:
USB HID stream encryption and secure communication between the API and ASIC

10G copper PHY cable diagnostic mode for testing and debugging Cat cable connectivity

HDMI HPD and 5V mirroring in point-to-point mode

Dynamic switching between device modes, including configuration of the Transceiver to Transmitter or Receiver with a single firmware build

Advanced USB HID connectivity for touchscreens, fast mouse, cascaded hubs and On-The-Go (OTG) support
On top of new features and improved performance, firmware 2.0 also ensures maximum interoperability between all ASIC-powered products along with consistent supply (we'll talk about this in more detail below). Semtech will continue to innovate upon the 2.0 platform, with a commitment to adding even more functionality via future firmware releases. To really unleash the power and flexibility of BlueRiver, it's essential that the latest and greatest BlueRiver-enabled products start with 2.0 as their base.
Unlocking New Features with Firmware 2.0 in BlueRiver Products
Going forward there are three products as shown in the table below, all of which are already available and shipping today: the AVP1000, the AVP2000 and finally, the AVP2000T. All three products support both AV-over-IP and point-to-point AV extension. As of firmware 2.0, the AVP1000 will now support both copper and fiber connectivity. The AVP1000 remains Semtech's lowest priced offering, with the 2000-series parts adding the video processing – scaling for video wall and multiview support – and the AVP2000T providing bidirectional HDMI: that's HDMI in and out simultaneously over a single 10G Ethernet link. The AVP1000, AVP2000 and AVP2000T, all providing both copper and fiber network connectivity, are now more versatile than ever, offering both AV-over-IP and point-to-point AV extension.
BlueRiver provides a single technology platform for all AV extension and distribution applications, whether that's fully featured AV-over-IP or simple HDMI extenders, the three products cover it all and everything in between.
The Future of AVXT Products with Firmware 2.0
With firmware 2.0, here's what happens to the existing AVXT products:
The AVX100 can be replaced with the AVP1000, which is fully drop-in compatible: no change to existing hardware designs

The AVX200T will be replaced with the AVP2000T, which again, is fully drop-in compatible: simply swap out the parts in your bill of materials
Now, here's the cool part. Existing AVXT-based designs are now upgradable to have full network capability, meaning they can be connected to a network switch and be used for advanced AV-over-IP applications. Even if the existing product has the AVX100 chip populated, upgrading to firmware 2.0 will unlock that networking capability. Imagine what that means for your simple extender product line. It's now networkable, fully discoverable by the SDVoE API, and ready to start streaming or subscribing to video and audio over IP! The AVX100 and AVX200T, once limited to point-to-point connectivity, now have the potential to be part of advanced AV-over-IP applications, thanks to the full Ethernet networking capability unlocked by firmware 2.0.
As already mentioned above, with firmware 2.0 fiber capability has been unlocked on the entry level AVP1000 part – no more fiber tax! That means AVX100 and AVP1000 designs can be reworked to offer fiber connectivity, enabling low-cost fiber AV extension and distribution over much greater distances than copper, without the premium.
Understanding BlueRiver: Dispelling Myths and Providing Guidance
With a single product family for all Pro AV applications moving forward, let's take some time to dispel some myths, and provide guidance around marketing Semtech's BlueRiver-powered products. Since the launch of the ASIC platform, some customers have expressed confusion around how each brand name or acronym should be used, how products should be labeled, how should the connector that carries the AV traffic be labeled, and what that IP traffic should be called. It has also been observed that some people think the point-to-point products that were branded as AVXT use a proprietary interface that won't work with BlueRiver-based or SDVoE products. Unlike HDBaseT that only works with HDBaseT, both BlueRiver and AVXT were always fully interoperable.
First, BlueRiver technology uses standard 10 Gigabit Ethernet for both network and point-to-point connectivity since Ethernet was always designed to work this way. Whether an endpoint is connected to an Ethernet switch, or two endpoints are connected directly together, it's 10G Ethernet. The AVXT parts (AVX100 and AVX200T) still use 10G Ethernet, where network functionality was disabled by the device firmware, so they simply wouldn't work when connected to a network switch. And from the outset, SDVoE products have been used for AV networking and point-to-point extension interchangeably. BlueRiver and AVXT, unlike HDBaseT, have always been fully interoperable, utilizing 10G Ethernet for both network and point-to-point connectivity, making them ideal for both AV extensions and distribution applications.
So, the AV network interface should be labeled exactly as what it is: 10Gb Ethernet, just as shown in the figure below. The AV and control protocol used is SDVoE – Software Defined Video over Ethernet. And finally, SDVoE endpoints are powered by Semtech's BlueRiver product family.

SDVoE Endpoint Labeling

To summarize:
BlueRiver uses 10G Ethernet for both network and point-to-point connectivity

Interface signal name: 10G Ethernet

Protocol/standard: SDVoE

Semtech products and technology brand: BlueRiver
The Three Pillars of SDVoE Reinforced by BlueRiver Pro AV 2.0
Let's now take a look at how BlueRiver Pro AV 2.0 reinforces the three pillars of SDVoE. As shown in the table above, with Pro AV 2.0, BlueRiver is the single product line that can service all your AV extension and distribution needs: from simple HDMI extension to fully flexible software defined AV-over-IP at lower cost points than before. Why should AV-over-IP be a premium technology? With ASIC-based products, systems can be deployed at much lower costs points. With BlueRiver at its core, SDVoE is the only AV-over-IP ecosystem that offers sustainable, flexible, and available solutions for the professional AV industry.

BlueRiver Enables "Sustainable. Flexible. Available" SDVoE
Sustainable: SDVoE is the only AV-over-IP ecosystem that's powered by an ASIC. Compared to FPGA based AV-over-IP products, we're talking up to an 80% power savings, and up to 30% cost reduction in bill of materials. That means it's better for the environment and better for your budget. Consuming less power means ASIC designs dissipate less heat so can be fanless. Fans are noisy, prone to failure and blow dust around – this means the lifetime of an SDVoE product is not limited by the lifetime of the fan. And with just three, core BlueRiver products, manufacturers can develop a single platform, enabling features and functionality just through software, which means they can carry fewer SKUs and reduce inventory.
Flexible: SDVoE goes beyond just AV switching and distribution. The SDVoE API provides a standard configuration and control interface that's common across all SDVoE devices from all manufacturers. This is what drives interoperability since every device responds to the API in the same way, whether that's simply routing an Apple TV 4K to the living room TV or sending commands to crop and scale the image across four receivers to make a video wall, all the commands are in the API to allow flexible software control, regardless of who's manufacturing the hardware. Hybrid BlueRiver-based systems where a mix of both AV-over-IP and simple point-to-point AV extenders can benefit from the fact that they are fully compatible with the SDVoE API, allowing software to discover devices both on the network or connected point-to-point, plus any BlueRiver-powered extender can be upgraded to "over IP" in the future by simply plugging it into a network switch.
Available: With more than 50 members and 700 products, system designers can easily swap out SDVoE products to manufacturers that meet their lead times, avoiding stocking issues and delivering late. The BlueRiver ASIC is designed just for SDVoE, so Semtech only supplies to SDVoE members and partners. Unlike FPGAs which are used across many industries, such as automotive, data centers, communications – all areas that are struggling to meet demand due to component shortages. The BlueRiver ASIC is available today, globally, and with a healthy supply chain. Existing inventory of AVXT parts can be repurposed with firmware 2.0 to be used as BlueRiver devices, thus further increasing the available supply. And of course, existing AVXT-based products can be upgraded with firmware 2.0 and now be made available as part of the SDVoE product ecosystem.
Embracing the Future with BlueRiver Pro AV 2.0
In summary, BlueRiver is the single technology for all your AV extension and distribution applications. BlueRiver uses standard Ethernet technology, whether designed for AV-over-IP or simple HDMI extension over both copper and fiber cabling. Only SDVoE powered by Semtech's BlueRiver technology can meet the needs of all Pro AV signal distribution applications, with BlueRiver Pro AV 2.0 truly enabling the next generation of sustainable, flexible, and available AV-over-IP solutions for SDVoE.
So, what are you waiting for? Upgrade your new and existing SDVoE products to BlueRiver ASIC firmware 2.0, available for download via the mySemtech customer support portal.
Learn more about the features and benefits of BlueRiver solutions at the BlueRiver product pages on Semtech.com, watch the BlueRiver Pro AV 2.0 webinar, and see why key Pro AV applications, from matrix switch replacement to full end-point integration require the power and flexibility of SDVoE at the Semtech Professional AV Applications webpages.
Semtech, the Semtech logo and BlueRiver are registered trademarks or service marks of Semtech Corporation or its subsidiaries. SDVoE is a trademark or service mark of the SDVoE Alliance.