Discovering the BlueRiver® ASIC: Webinar Q&A
15 July 2020 / by Gareth Heywood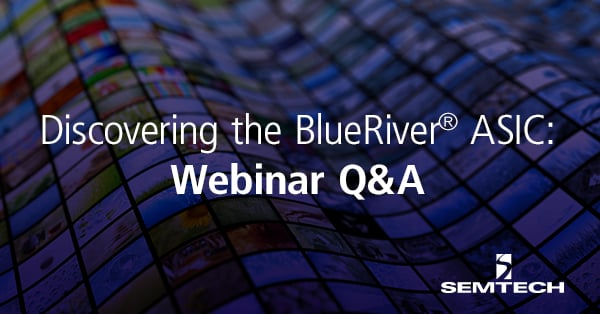 With the launch of the BlueRiver® ASIC at the beginning of 2020, the AV over IP landscape is being redefined by products offering new levels of cost, performance and interoperability. As the core technology for Software Defined Video over Ethernet (SDVoE™), BlueRiver is recognized as the only IP-based technology capable of providing true video matrix-level performance, with pixel-perfect image quality and ultra-low latency. Supporting a broad range of markets and end-applications, such as live events, esports, medical, high-end residential, and command and control, system designers can take advantage of the powerful SDVoE Applications Programming Interface (API) to develop application-specific software running on a common BlueRiver-powered hardware platform.
To understand how BlueRiver is transforming the matrix, and how the features of the new ASIC are expanding the SDVoE ecosystem, Semtech hosted a recent webinar, which is now available to watch on-demand on the Semtech video page.
Highlights from the Webinar Q&A Session
Below are highlights from the Q&A portion of the webinar, including answers to questions we did not have time to address during the event. I have organized the questions into three groups; firstly addressing questions around system-level features, networking and standards. The next section addresses questions around specific ASIC features, such as power, latency and peripheral support. Finally, the last set of questions focus on the end product and ASIC availability, as well as where to find additional information.
We hope you enjoyed the webinar and discovered some of the truly amazing benefits the BlueRiver ASIC brings to the SDVoE ecosystem!
System-level Q&A
Is there a plan to add support for Society of Motion Picture and Television Engineers (SMPTE) 2110?
Firstly, let me clarify: SDVoE is designed for Pro AV from the ground up, and is a full stack solution. SMPTE 2110 is just part of the solution to AV over IP, and only covers up to Layer 4 of the OSI stack. Registration, discovery and control – all things that are already fully baked into the SDVoE API – are defined elsewhere, and are heavily focused towards broadcast workflows with little to no definition of flows required for Pro AV, such as Infrared, USB, RS232, HDCP, or other panel or image formats.
You can read more about the difference between Broadcast and Pro AV here.
What compression format and ratio do you use for 4KP60 or 1080P60 over 10G? Is the compression adjustable, i.e., can I increase it?
The philosophy behind BlueRiver technology is only to use as much as needed, when needed. As a result, the enabling of the compression engine is a function of source signal requirement and is only applied when the bandwidth of the image format exceeds 10G. For 1080P60, no compression is applied since it fits well within 10G. When compression is applied (for example, with 4KP60), the compression ratio is fixed at 1.4:1. BlueRiver uses a unique low latency pixel pipeline compression to provide pristine, artefact-free image quality.
You mentioned BlueRiver is standards-based. Which standards?
SDVoE uses standard Ethernet technologies, primarily defined by the IEEE and IETF, and is further standardized through participation in the SDVoE Alliance® technical committees.
What are the switch requirements for SDVoE?
Very simple: 10G per port with support for IGMP. The rest comes down to how easy the switch manufacturer has made it to set up its products!
Are there any specific features developed for healthcare applications?
Since BlueRiver is a very low latency and high image quality solution, it is well suited to medical applications where these are key requirements. It also supports a number of modes and peripherals, such as Multiview and USB, which can be used to implement touchscreen applications for operating room staff to bring up custom interactive live cameras, patient records and MRI scans.
Read my blog about medical applications.
Is there any kind of FEC built in the Ethernet 10G?
FEC introduces significant overhead and reduces overall available bandwidth, so we do not support FEC. However, since BlueRiver is based on 10G networking and used with Local Area Network topologies, it is very robust and FEC is not required. Also, using fiber-based connectivity provides even more reliability, especially in high EMI environments.
When switching between multiple hosts/screens with one mouse, are there any security issues of note?
Security must always be a consideration. BlueRiver offers a number of ways to support network security, including encryption and MAC address bonding to the secured API.
What platforms do you support for the SDVoE server?
All common platforms are supported, including Windows, Mac and Linux.
ASIC-level Q&A
Does BlueRiver support HDR?
Absolutely! This is a key capability of BlueRiver. All HDR InfoFrame data is preserved from the input to the output of the BlueRiver-based system, including all HDR metadata.
What would the compression level be in 10G when using the bi-directional usage of inputs and outputs concurrently?
To clarify, compression is only used when needed and fixed at 1.4:1. Since 10G connectivity is full duplex (10G traffic in and out), the AVP2000T transceiver device fully supports up to 4K60 in both directions.
What is the maximum power for which the user should design?
The ASIC data sheets provide a detailed breakdown of the current requirements of the various voltage rails. With all features and functions enabled in transceiver mode, the typical total power is 2.6W.
How much DDR is needed around the ASIC?
The ASIC requires two 128Mx16 DDR3 devices to support full AV processing (DDR is not required by the AVP1000).
What is the latency when the image is being compressed and then decompressed?
The maximum end-to-end latency when compression is applied is 120 µs. That's microseconds!
Is the 10GbE PHY integrated into ASIC?
BlueRiver chipsets are paired with a fully IEEE-compliant 10G Ethernet copper PHY which guarantees 100m reach performance over Cat-6a unshielded twisted pair (UTP) cables, and also takes advantage of the crosstalk and alien noise rejection developed over many years by 10G PHY manufacturers.
Is it only the AVP2000T that would provide an audio back channel?
No, all BlueRiver devices support both multichannel digital audio inputs and outputs, which can be used to implement bi-directional audio for intercom or an Audio Return Channel (ARC), for example.
Does the ASIC handle HDCP or is it handled with separate HDMI transceiver?
It is handled by the external HDMI transceiver device. However, the BlueRiver solution enables encrypted content to remain encrypted throughout the network, and receive endpoints must support HDCP in order to output HDCP encrypted content.
What prevents AVP1000 from supporting 10G optical ports?
The AVP1000 is designed to only recognize the signalling required between the 10GBaseT PHY and the device itself.
Will native Ethernet-enabled endpoints using the BlueRiver ASIC be supported using PoE?
Yes. Since the 10G PHY is external to the ASIC, this is a system-level choice, by using components (power supplies and RJ45 connectors) that support PoE or PoE+. Semtech can provide reference schematics which illustrate a typical PoE implementation.
Do you support HDMI 2.1?
At this time, we do not support the full feature set of HDMI 2.1. However, any HDMI 2.1 feature that can be optionally supported by an HDMI 2.0 interface is fully supported (for example, Auto Low Latency Mode).
What about the AVXT product, is it compatible?
Great question! Yes. When a BlueRiver-enabled device is connected directly to an AVXT-powered device, it will automatically switch into "point-to-point mode."
For more details on AVXT, check the Semtech website here, or book a session with your business development contact to discuss.
End Product & Availability Q&A
What BlueRiver-based end products are available today? What manufacturers are supporting SDVoE?
A very good resource is the SDVoE product catalog on the SDVoE Alliance web page.
Are there display products with SDVoE inputs?
Yes, of course. As already highlighted, Christie supports native SDVoE connectivity on their projectors, and since the launch of ASIC, we expect many more display manufacturers to follow suit.
Can I decode an SDVoE/BlueRiver source on a PC? Does SDVoE support recording functions?
Yes, there are SDVoE vendors offering capture cards with an SDK to record, transcode, stream, and more.
Where can I go to get more information on BlueRiver products and technology?
Visit the Semtech blog Pro AV section, and a great in-depth resource is the SDVoE Academy. We highly recommend signing up – it's free!
What is the availability of the ASIC?
All variants have been in mass production since the beginning of 2020 and are available for both sampling and quantity orders.
What options are provided for implementation, especially for small scale custom AV projects? Demo boards? Development kits? Application notes?
All these are available today. Contact your local Semtech representative or the business development contacts on the last slide of the webinar presentation.
BlueRiver ASIC Available Now
The BlueRiver ASIC product line is comprised of three devices, all available for sampling and in full production today. The AVP1000 provides high-performance switching and distribution of AV content up to true 4K60. Exceeding the performance required by a traditional Pro AV matrix switch or KVM system, the AVP1000 includes the ability to transport HDMI signals with HDR, stereo or multichannel audio, and control signals including Infrared, RS-232 and USB. The AVP2000 includes all of the functionality of AVP1000 and adds the BlueRiver AV Processor, which provides broadcast-quality image scaling, video compositing for Multiviewer applications and video wall processing with bezel correction. Rounding out the ASIC product family is the flagship AVP2000T, which provides true transceiver functionality for bidirectional HDMI in a single chip.
To learn more about the game-changing capabilities BlueRiver can bring to your design, visit the BlueRiver page.
BlueRiver is a registered trademark or service mark of Semtech Corporation or its affiliates. SDVoE is a trademark or service mark of the SDVoE Alliance.