Meet Semtech's New BlueRiver® ASIC Family
27 January 2020 / by Gareth Heywood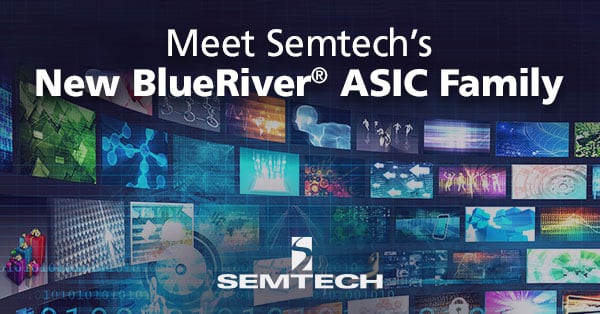 In my 20 years at Semtech, I have been fortunate to have worked on many interesting products and experienced many market successes along the way. However, being a part of the first BlueRiver® ASIC development was certainly a career highlight in many ways. First, it was a treat to be immersed in the amazing and innovative technologies that are the backbone of BlueRiver: 10G Ethernet, IP networking, advanced video processing, and high speed video to name but a few! Second, I was able to explore the broad applications and plethora of use cases in the exciting Professional AV market that will be enabled by, and benefit from, the BlueRiver ASIC. And finally, I had the pleasure of working with a world class team of engineers and professionals dedicated to growing the video business in Semtech's Signal Integrity Products Group.
Read the BlueRiver ASIC press release here.
Semtech's award winning BlueRiver platform has already had a significant impact on the burgeoning AV over IP market, is the core technology for Software Defined Video over Ethernet (SDVoE™) and is recognized as the only true replacement for legacy matrix switching applications. BlueRiver enables the transport of video signals up to 4K resolution with sub-millisecond latency, pristine artefact-free image quality, plus audio and control signals, over standard 10G Ethernet networks using a common API. So, what exactly does the new ASIC line of products bring to the table?
New Levels of Performance
The ASIC essentially migrates existing FPGA-based BlueRiver solutions into a highly integrated, lower power form factor, while significantly reducing the overall system cost of implementing BlueRiver-based products. Power can be reduced to a third of what is required for FPGA, with cost reduced to almost a half depending on required feature set. With support for both copper and fiber network connectivity, the ASIC can target both existing copper-based infrastructure or take advantage of the rapid progression to fiber, future proofing investments for the next generation of video resolutions.
The BlueRiver product line is comprised of three devices: the entry level AVP1000 provides high-performance switching and distribution of AV content up to true 4K60. Exceeding the performance required by a traditional Pro AV matrix switch or KVM system, BlueRiver AVP1000 includes the ability to transport HDMI signals with HDR, stereo or multichannel audio and control signals including Infrared, RS-232 and USB. The AVP2000 includes all of the functionality of AVP1000, and adds the BlueRiver AV Processor, which provides broadcast-quality image scaling, multi-source video compositing, video wall processing with bezel correction, and audio down-mixing. Unique to the ASIC product family is the AVP2000T, which provides true transceiver functionality for bidirectional HDMI in a single chip. This enables products such as media servers, which require both HDMI inputs and outputs, to connect to the SDVoE network using only one Ethernet connection, as shown in the following diagram.

© Semtech Corporation 2020
With this new technology, designers can dream up a whole new class of products to take advantage of BlueRiver transceiver functionality combined with lower power; for example, wall plates for room to room resource sharing over the SDVoE network. Another unique feature of the BlueRiver ASIC is the integration of USB-HID to support keyboard, video and mouse (KVM) applications. Fully networked KVM switches allow applications such as single operator control of multiple computers with one set of USB peripherals.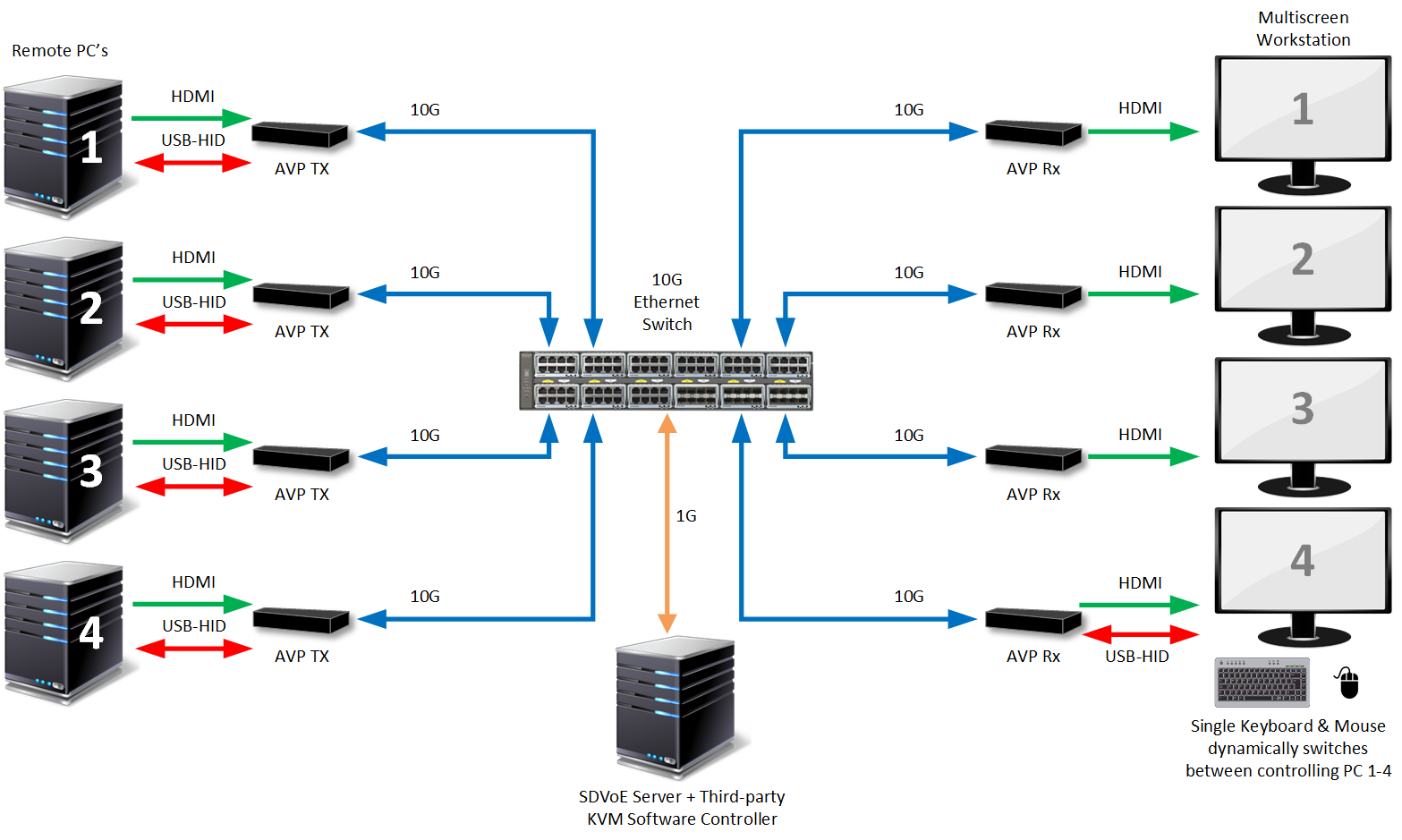 © Semtech Corporation 2020
Enabling a New Class of SDVoE Products
As we see from the media server example above, the ASIC can be fully integrated into the end equipment allowing for native SDVoE connectivity on both AV sources and displays. The low power and cost of the ASIC footprint not only enables a whole new class of SDVoE products, it helps to grow the wider SDVoE ecosystem. With end equipment integration, system costs and complexity are greatly reduced, allowing for better interoperability between manufacturers. Manufacturers can migrate to fully integrated solutions while still providing full backwards compatibility with existing SDVoE product offerings.

© Semtech Corporation 2020
The ASIC is fully compatible with existing SDVoE products due to the commonality of the SDVoE API: the control protocol that is the heart of SDVoE. SDVoE-based installations can be augmented and upgraded with ASIC-based equipment while continuing to use the existing software control systems, saving on installation cost and downtime. This allows software developers to focus on new and exciting applications, knowing that both current and new SDVoE products are fully interoperable.
In summary, the new BlueRiver AVP chipset enables a new generation of lower cost SDVoE products and peripherals, targeting direct integration into AV end-products, such as sources and displays. This drives significant growth of the SDVoE ecosystem.
Stay tuned for my next BlueRiver blog featuring Semtech's new AVXT chipset for point-to-point AV extension applications and the benefits of fiber connectivity.
BlueRiver is a registered trademark of Semtech Corporation or its affiliates, and SDVoE is a trademark or service mark of the SDVoE Alliance.