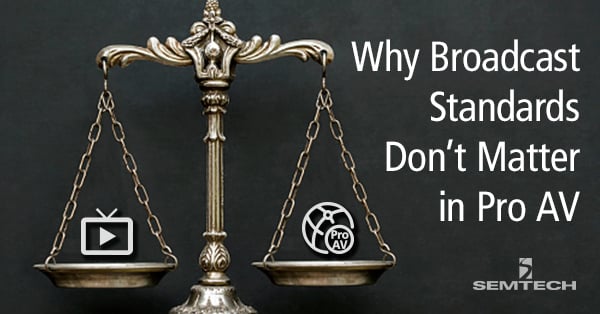 The Pro AV market continues to show strong growth with AV over IP and the move to replace traditional matrix switch technology with standard, off the shelf Ethernet infrastructure set to revolutionize the industry across multiple applications and verticals. By contrast, the broadcast equipment market has shown single-digit growth for a number of years as broadcasters are slow to adopt IP-based technology and the new workflows required to meet the changing demands of content consumers. Uncertainty remains around the cost and complexity of the switch from SDI-based systems to all-IP switching, along with slow adoption of over-the-air standards for 4K video.
Broadcast Standards Abound
A video broadcast studio is a tightly controlled environment, where operational parameters are strictly defined by global standards from organizations such as SMPTE and the ITU. Studio operators are typically highly-trained professionals, with the equipment and infrastructure defined and maintained by skilled professionals. Broadcast studios operate with a constrained set of video image formats, such as 720p and 1080i for HD and 2160p for 4K, with an SDI infrastructure providing reliable and robust connectivity. The SDI infrastructure is also designed to carry AES/EBU digital audio and other ancillary data, such as closed captioning and time code, again, well defined by industry standards.
The video broadcast industry is slowly moving towards replacing legacy circuit switched SDI-based distribution within the studio to IP using common of the shelf (COTS) Ethernet equipment. The SMPTE 2110 suite of standards defines the carriage of video, audio and ancillary data over IP as individual streams, with tightly controlled system timing based on the Precision Timing Protocol (PTP), specified by SMPTE 2059. However, this is only a partial stack solution, with specifications and protocols for network management and control being defined by the Advanced Media Workflow Association (AMWA) and the Networked Media Open Specifications (NMOS). In order to fully address the dedicated workflows required by broadcasters, the Alliance for IP Media Solutions (AIMS) has been formed to help the industry choose the best practices from multiple standards bodies and organizations, including SMPTE, EBU, AES, AMWA and the VSF. Still with me?!
While early HD systems are built around cost effective 10G Ethernet switches, and with no consensus on whether or not and what flavor of compression is used, the move to 4K uncompressed workflows requires 25G Ethernet or beyond. In parallel, UHD-SDI standards are evolving at a faster pace to allow 4K video transmission over legacy infrastructure at lower cost points.
Unconstrained Pro AV in Contrast
Pro AV installations vary dramatically from home theater and corporate AV to mission critical control centers and medical systems. Within this broad array of Pro AV applications, the choice of equipment and connectivity, video and audio formats, and user-control systems is just as varied. While Pro AV installations may be designed by a skilled professional, users and operators are typically untrained, uninterested consumers. The most common Pro AV source is an end user's laptop, with the potential for unpredictable behavior, subject to IT restrictions and even full of malware.
Pro AV connectivity is virtually unconstrained with VGA, DisplayPort, HDMI and even wireless connectivity widely used. While standards exist, conformance is nowhere nearly as tightly controlled as it is in broadcast. Practically, Pro AV distribution systems are closed and from a single manufacturer, so the need for standardization and interoperability is often overlooked. With the Pro AV industry now looking to take advantage of IP-based distribution, using COTS Ethernet switches, there is some movement towards standardization, with the SDVoE Alliance™ making clear steps in this direction.
To further contrast Pro AV with broadcast video, supported video formats may similarly include HD and 4K, with the addition of any VESA graphics or flat panel screen format ever built. This may require an equipment manufacturer to support upwards of 40 screen resolutions and video formats. Audio in Pro AV can be anything from analog mono to stereo, or multichannel PCM to all the latest Dolby and DTS formats, potentially requiring distribution of the multichannel feed along with the ability to create and distribute a stereo downmix. While mechanisms such as EDID help to identify supported video formats, additional signal management and control is required to ensure the best user experience across the broad range of AV infrastructures.
In broadcast, content protection is provided by the very nature of the closed and tightly controlled environment of the broadcast studio, rather than over the physical connectivity itself. SDI systems carry AV content unprotected throughout the equipment chain. The Pro AV industry, however, expects content protection on almost all digital content, even originating from user's laptops. The behavior of Pro AV systems when handling content protection tends to be very unpredictable. For example, connecting an HDCP-enabled consumer laptop to a video conferencing encoder should be simple and straightforward, but often results in a blank screen!
Ultimately, the requirements in broadcast and Pro AV are the same at the lowest levels: to move AV content from sources to end-points in the most cost effective and reliable manner. As illustrated above, each market's requirements and expectations are quite different. Organizations such as SMPTE, AMWA and AIMS are focused on broadcast workflows and "just getting it all to work" in their end applications, leaving little benefit to using this approach for the Pro AV industry. In order to address the Pro AV market, a full stack solution is required which considers all the requirements, from basic IR and RS232 control to HDCP management and 4K HDR, via a simple control API.
Enabling AV Over IP
Semtech's BlueRiver® platform is the most efficient and versatile approach to enabling AV over IP systems for Pro AV, and the core technology behind Software Defined Video over Ethernet (SDVoE™). SDVoE not only manages any HDMI-supported video and audio format, but offers scaling and other processing features to ensure compatibility between sources and displays. SDVoE provides simple EDID management, allowing seamless set up and control of the signal flow through the AV system, in addition to handling HDCP content protection where needed. Leveraging the powerful BlueRiver hardware platform, the SDVoE API provides easy access to all of this power through a single system-level interface. Developers and equipment makers can focus on building applications that solve real world problems, while ensuring interoperability across multiple vendors in the rapidly expanding SDVoE-based ecosystem.
Explore Semtech's products for broadcast and Pro AV, and learn more about Semtech's BlueRiver Platform for SDVoE.
BlueRiver is a registered trademark of Semtech Corporation or its affiliates, and SDVoE is a trademark or service mark of the SDVoE Alliance.