SDI Is Dead: Long Live SDI!
15 April 2021 / by Gareth Heywood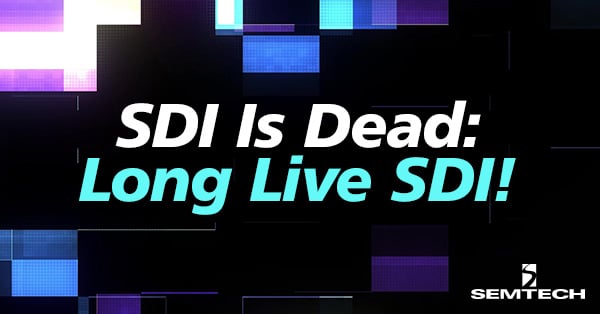 I designed my first product using the Serial Digital Interface (SDI) back in 1996, and little did I know that this fledgling coax-based video interface standard would dominate my career for the next 20+ years. Back then, SDI was limited to carrying Standard Definition (SD) digital video at 270 Megabits per second (Mbps), but would evolve to higher and higher data rates to carry High Definition 720p, 1080i and 1080p, and most recently 4K Ultra High Definition (UHD) video, at cable lengths that were not thought possible. The convenience of a low cost single conductor coaxial copper cable, capable of carrying 4K video up to 100m has meant that SDI has become the de facto AV connectivity of choice in markets such as broadcast, Pro AV, medical and surveillance.
However, for at least the last 10 years, with the rapid adoption of Ethernet and IP to distribute Audio and Video (AV) content, many in the industry have predicted the demise of SDI. I can recall attending several major broadcast tradeshows where the underlying messaging was "SDI is dead," with one exhibitor handing out bumper stickers announcing just that! All the while, Semtech's video products R&D team continued to innovate, delivering a range of industry-leading UHD-SDI products which operate up to 12Gbps, including the GS12341 cable equalizer which provides robust performance over 80m of commonly installed Belden 1694A cable. While the HD broadcast build-out of the last two decades truly was the pinnacle of SDI adoption, the rugged and reliable performance of SDI using low cost coax cabling has seen the adoption of UHD-SDI for 4K applications where these levels of performance are critical.
The 4K Challenge
With the advent of 4K UHD video, which requires four times the amount of pixel data than 1080p full HD, the challenge of passing these large amounts of data between electronic components inside equipment has led many chip makers to use HDMI 2.0 as the only solution for 4K connectivity. Many 4K devices such as video processors for displays and image signal processors in cameras, provide only HDMI interfaces to get 4K video in and out of the device. By way of example, adding a UHD-SDI input to a 4K monitor would require a significant number of devices, illustrated in the following diagram. This leads to increased cost and complexity to the monitor design.

Implementation of UHD-SDI Input for 4K Monitor
Introducing the GS12170 SDI/HDMI Bridge
Semtech's new GS12170 SDI/HDMI Bridge is the first ASIC solution that is uniquely designed to convert between SDI and HDMI 2.0 interface standards. The device fully supports SDI interface standards from HD-SDI (ST 292) to UHD-SDI at 12Gbps (ST 2082-1), including all multilink SDI standards at these rates. The GS12170 fully supports the HDMI 2.0 standard up to 4K60 4:2:2 format and is the ideal solution for chip-to-chip connectivity using TMDS signalling for 4K products requiring a 12Gbps UHD-SDI interface. Using the 4K monitor example again, the following diagram illustrates how the design of the UHD-SDI input is greatly simplified, removing the need for costly and power-hungry FPGA devices, and resulting in much lower implementation costs.

UHD-SDI Input on 4K Monitor Using the GS12170
The GS12170 can operate in both SDI to HDMI bridging mode, or HDMI to SDI bridging mode, ideal for end-to-end HDMI extension over coax, with cable reach well in excess of what is capable with HDMI cables, as shown in the following diagram.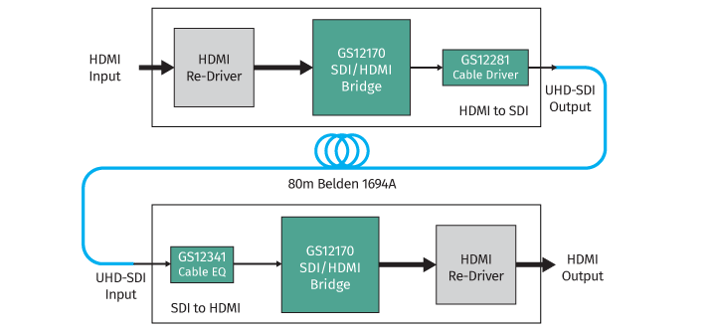 Low Cost HDMI Extender Using the GS12170
With only a handful of major components, simple and cost effective 4K/UHD-capable SDI to HDMI and HDMI to SDI converters can be designed, where again, the reliance on expensive, high power FPGA's is removed. Enclosures can be smaller, permitting form factors for SDI to HDMI converter boxes that can be easily concealed behind low cost consumer TV's.
BlueRiver® with UHD-SDI
Semtech's BlueRiver® solution for AV over IP and Software Defined Video Over Ethernet (SDVoE™) network-based applications is designed to transport uncompressed, zero latency UHD/4K video over standard Ethernet. BlueRiver ASIC's such as the AVP2000 take HDMI 2.0 signals, multichannel audio and other control signals, such as USB, RS323 and Infrared, and convert to 10 Gigabit (10G) Ethernet over copper category cabling or optical fiber, for routing and distribution using standard IP networks.
With SDVoE being adopted for medical imaging and video distribution in the operating room (OR), there's often a need to interface to both legacy SDI and the latest 4K UHD-SDI cameras used in surgical equipment such as endoscopes. Medical equipment makers highly value the thin, lightweight coaxial cables, extended reach, and the robust fully locking BNC connectors used by SDI, while requiring the flexibility and performance of a network-based AV distribution system.
Marrying the GS12170 with the BlueRiver ASIC allows medical equipment manufacturers to deliver SDVoE endpoints with UHD-SDI interfaces for direct connection of SDI endoscope camera control units and 4K medical displays, illustrated in the following system diagram.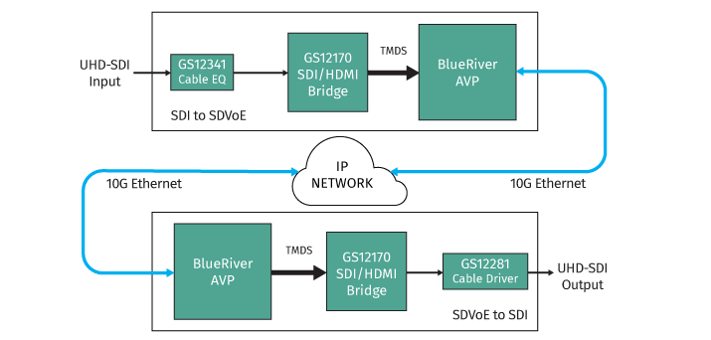 BlueRiver With UHD-SDI Using the GS12170
The GS12170 supports both insertion and extraction of multichannel digital audio, which can be directly interfaced to the BlueRiver chipset, enabling distribution of OR audio feeds, such as surgeon talk-through for remote learning, over the IP network. The GS12170 also automatically converts critical metadata between SDI and HDMI formats, ensuring seamless end to end connectivity between the SDI source and display.
You can learn more about the power and flexibility of BlueRiver solutions for AV over IP in the webinar, "BlueRiver ASIC: Enabling a New Class of SDVoE Products," and the benefits to medical OR applications in the "BlueRiver Technology: Enabling Medical AV Solutions" blog.
Long Live SDI
As a proud recipient of the prestigious Society of Motion Picture and Television Engineers (SMPTE) Journal Award for co-authoring the 2009 white paper on 12Gbps SDI, it's thrilling to see the evolution of this technology and the continued adoption across a wide array of markets and applications. The launch of the GS12170 brings SDI into markets where HDMI dominates, such as Pro AV, giving equipment makers more AV connectivity options and support for applications where UHD-SDI performance is essential. With the BlueRiver and GS12170 ASICs, Semtech truly delivers the best of both worlds: high performance UHD-SDI connectivity with best in class AV over IP for SDVoE.
Semtech, the Semtech logo and BlueRiver are registered trademarks or service marks of Semtech Corporation or its affiliates. SDVoE is a trademark or service mark of the SDVoE Alliance.