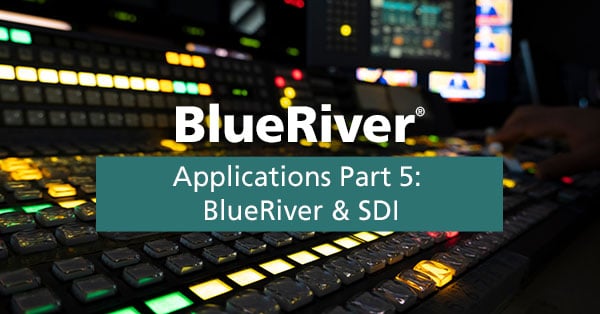 BlueRiver® Applications Part 5: BlueRiver & SDI
04 January 2023 / by Gareth Heywood
In this fifth and final installment of the BlueRiver applications blog series, we'll look at how two Semtech products lines – Semtech's BlueRiver® ASIC platform for Pro AV and SDVoE™, and broadcast Serial Digital Interface (SDI) – can enable a unique set of "SDI-over-IP" products and applications.
Semtech has been a leading provider of SDI chips for over three decades, from its humble beginnings carrying uncompressed standard definition video at 270Mbps to defining the standard for carriage of UHD and 4K video formats at up to 12 Gbps all over a single coaxial cable at distances in excess of 100m. With its robust BNC locking connector, SDI is popular in applications from medical endoscopy to video conferencing cameras, along with the typical broadcast and video production applications for which SDI was originally developed.
As we've seen so far in this blog series, BlueRiver is designed to switch and distribute HDMI, with native HDMI connectivity on every BlueRiver device. However, applications such as live stage productions or concerts often use SDI pan-tilt-zoom (PTZ) cameras that are located on stage, or on a drum riser, for example. In medical, many endoscope cameras take advantage of SDI's ability to use thin, lightweight coax cables, so as not to impede or restrict movement during delicate procedures.
By pairing the BlueRiver chipset with the GS12170 SDI/HDMI Bridge chip, SDI carrying up to 4K60 video can seamlessly connect to the BlueRiver HDMI interface, which is also designed to work up to 4K60. This provides powerful, flexible, easy to use, out of the box SDI distribution over IP without requiring the traditional SDI matrix switch or an expensive broadcast-centric SMPTE ST 2110-based AV network.
4K Video Production over Software Defined Video Over Ethernet (SDVoE™)
The following diagram illustrates a remote video production using a remote 4K PTZ camera connected via SDI to the SDVoE transmitter, for distribution over the 10G Ethernet network, converted back to 12G UHD-SDI at the SDVoE receiver, and connected to a typical SDI-based AV switcher, enabling remote production for live events using the best of both worlds — standard SDI interfacing and AV-over-IP. While this is showing only a single remote camera, it can be easily scaled to multiple cameras connected via the Ethernet switch.

4K SDI Production over an SDVoE Network
With the flexibility and scalability of AV networking, multimedia productions can quickly scale from simple four camera shoots to hundreds of cameras, both SDI and HDMI, all controlled using the power of the SDVoE Application Programming Interface (API). With device discovery and control provided via the centralized API server, software-defined video and audio (see "BlueRiver and Audio over IP" for a deeper dive) distribution systems enable operators to add remote AV sources with a simple mouse click, including the PTZ control of remote cameras via networked RS232 protocols.
The freely available BlueRiver AV Manager software tool controls and manages AV distribution systems and endpoints that utilize Semtech's BlueRiver technology platform, providing an intuitive user interface with quick and simple system set up and configuration windows. This tool provides AV software developers with the building blocks needed to create customizable software for the BlueRiver-based SDVoE platforms across a range of solutions and devices, including tablets and touchscreens.
Inside the Box
Inside the SDVoE transmitter on the camera side, there's an SDI input to a Semtech 12G UHD-SDI adaptive cable equalizer, such as the GS12341, connected to the GS12170 SDI/HDMI Bridge configured to convert from SDI to HDMI, which in turn is connected directly to the BlueRiver device via the TMDS interface (HDMI input).

SDI and BlueRiver System Components
At the SDVoE receiver, the same is essentially done in reverse. The GS12170 is configured to convert HDMI to SDI and the SDI output is driven by a 12G UHD-SDI cable driver, such as the GS12281. Really simple, with literally a handful of major components delivering high performance SDI connectivity, the convenience of low latency, and visually lossless AV distribution over Ethernet networks.
One thing to note from the above diagram is that SDI also sends ancillary data – critical information about the SDI video and audio content often referred to as metadata – which must be preserved throughout the SDI chain from source to destination. The GS12170 in the SDVoE transmitter can extract this ancillary data to be passed on to an external host device such as a microcontroller or MCU, which in turn can convert this data to an RS232 serial protocol connected directly to one of the four BlueRiver integrated UARTs. Again, the reverse is applied in the SDVoE receiver where the GS12170 can re-embed the ancillary data into the SDI output. All data is preserved throughout the AV distribution network, creating a simple yet powerful combination of the two technologies of SDI and BlueRiver.
From the SDVoE Ecosystem
Wall plates are used in integrated medical operating rooms (OR), allowing seamless connection of endoscopes and camera control units into the AV network. By utilizing SDI wall plates for SDVoE in the OR, fiber back to the Ethernet switch can be concealed inside the walls, reducing trip hazards, and removing standalone SDVoE encoders from equipment carts, which means less hardware generating heat and a reduction in the weight of the cart. Similarly, SDVoE connectivity can be fully integrated into medical displays, removing the external SDVoE decoder from the OR system.
SDVoE wall plates are available from several manufacturers in various form factors, with full SDI connectivity enabled by the GS12170 SDI/HDMI bridge. Other SDVoE Alliance® members provide medical displays with fully integrated BlueRiver and SDI technology, for direct connection into the SDVoE network and SDI peripherals.
Evaluate Semtech's BlueRiver and SDI Technology Today
Comprehensive reference designs and evaluation kits for both BlueRiver and SDI technologies are available from Semtech, allowing end-equipment manufacturers and software developers to quickly evaluate the powerful performance and advanced features of BlueRiver and SDI chipsets, delivering SDI-enabled product offerings as part of the rapidly expanding SDVoE product ecosystem.
You can learn more about the features and benefits of the GS12170 SDI/HDMI Bridge in the "SDI Is Dead: Long Live SDI" blog, the power and flexibility of BlueRiver solutions for SDVoE in the webinar "BlueRiver Applications for SDVoE", and why key Pro AV applications, from matrix switch replacement to full end-point integration, require the power and flexibility of SDVoE at the Semtech Professional AV Applications webpages.
Semtech, the Semtech logo and BlueRiver are registered trademarks or service marks of Semtech Corporation or its subsidiaries. SDVoE is a trademark or service mark of the SDVoE Alliance.