BlueRiver Technology: Enabling Medical AV Solutions
23 May 2019 / by Gareth Heywood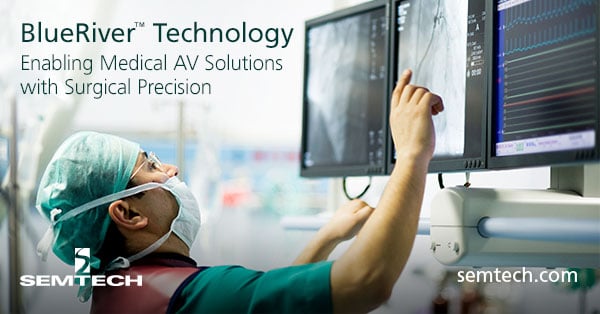 Semtech's BlueRiver® technology is transforming the matrix switch by delivering high fidelity and low latency AV solutions. These unique advantages are critical in medical applications such as surgery and accurate diagnosis. With BlueRiver-enabled Software Defined Video over Ethernet (SDVoE™) solutions, any video source up to 4K resolution is available anywhere at any time. Content from surgical scopes, X-ray and CT/MRI scans, patient records, and even custom signage and infotainment can be distributed via low cost 10G Ethernet networks to provide the most flexible medical AV systems.
Pro AV for Modern Medical Care
BlueRiver technology enables a broad range of medical AV applications and can be used to deliver the highest quality and performance over common off the shelf (COTS) 10G Ethernet switches. Cost-effective, zero-latency distribution of 4K content is critical to enabling the next generation of medical imaging equipment. A few of BlueRiver technology's proven medical use cases include:
Advanced surgical imaging: camera scopes, operating room live feeds from body-worn cameras, heads-up displays, X-rays and scans, up to 4K resolution
Enriched remote learning: networked AV distribution for university hospitals and campuses, providing medical students with an immersive learning experience
Patient diagnosis: instant access to patient records, X-rays, CT and MRI scans, previous procedures, available in any room with custom views
Patient care: personalized entertainment and aftercare through distributed AV in recovery rooms and hospital wards
Dynamic digital signage: centralized software control of patient admissions, with real-time patient-friendly direction and notification
Medical Imaging Made Simple
In operating rooms (OR), all BlueRiver-enabled video sources are available on every display simultaneously, from a surgeon's heads-up display, to 4K monitors for viewing by nurses and physicians. Video can also be streamed remotely anywhere within a hospital's campus. Additionally, by combining OR audio, such as the surgeon's talk-through and patient monitoring equipment, university hospital doctors and lecturers can provide medical students with the most immersive learning experience possible.
BlueRiver technology also enables dynamic digital signage solutions for hospitals and treatment centers, which provide patient-friendly direction and enhance patient care. By providing a personal experience in the recovery room, medical staff are able to review patient diagnostic information at the push of a button on high-resolution displays. This ease of use would not be possible without the advanced image processing features of the BlueRiver platform.
The content distribution network created by the BlueRiver platform is easily managed, giving medical staff the ability to access patient data and make it accessible on any display. BlueRiver technology's powerful video processing capabilities enable doctors to set up their own custom view of the information they need to make fast and effective diagnoses.
The Anatomy of a BlueRiver-based Solution
AV sources connect via a BlueRiver transmitter to the 10G Ethernet network. Sources may include OR cameras, scopes, patient monitoring equipment, instrumentation, servers, microphones, video recorders, and laptops, which connect via HDMI. BlueRiver-based appliances also provide the connectivity for audio (analog and/or digital) controls such as KVM over USB and IR, plus 1G Ethernet. Each display, up to 4K resolution, uses a BlueRiver receiver to access any source on the AV network. This receiver can also provide audio and control connectivity. The BlueRiver receiver processes multiple AV sources simultaneously, and provides image compositing onto a single display using its powerful image-processing engine. An illustration of this process can be found in the diagram below.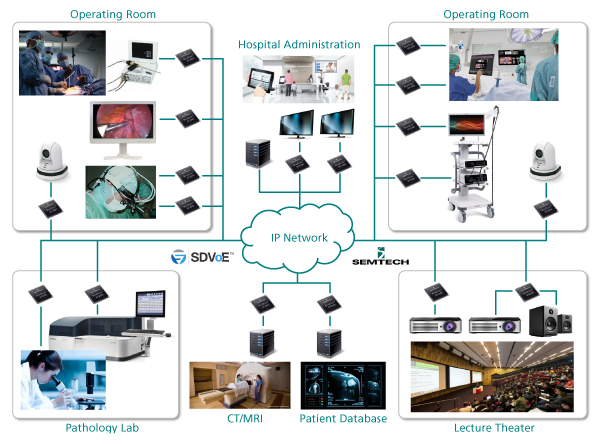 System setup and control is provided by the BlueRiver server through a powerful yet simple Application Programming Interface (API). The SDVoE API allows rapid development of specialized software, customized for medical applications. System integrators can take advantage of the product ecosystem provided by SDVoE Alliance® members while partnering with manufacturers that specialize in medical AV systems.
The next generation of professional AV has arrived, and Semtech is proud to play a part in the evolution of this fascinating market. Learn more about Semtech's BlueRiver platform for SDVoE.
Want to stay up to date with the latest news, resources and more for Semtech's BlueRiver technology? Follow Semtech Pro AV on LinkedIn and Twitter!
BlueRiver is a registered trademark of Semtech Corporation or its affiliates, and SDVoE is a trademark or service mark of the SDVoE Alliance.