More than a Game: Pro AV for Esports
20 November 2019 / by Gareth Heywood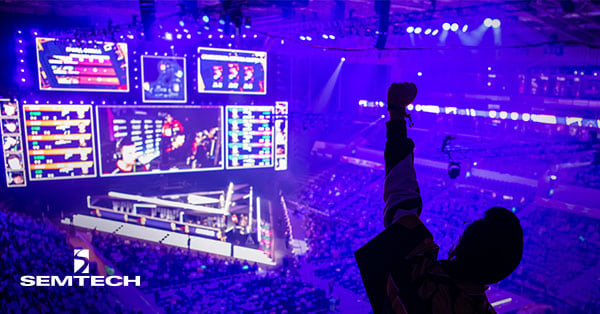 The world of computer gaming has come a long way since those distant days of challenging friends to beat the Frogger high score on my TRS-80 32k color computer. Back then, I could only imagine the possibilities this next generation of computer technology would enable. If I recall, back then I also wanted to be a rock star… the next Paul Stanley (don't laugh!). Fast forward to 2019, and thanks to the Internet and social media, in the heady world of gaming and esports, you can be a "rock star" or at least as famous as one.
Esports is growing at an enormous rate. Gaming analytics firm Newzoo projects global esports revenues to reach $1.1 billion in 2019, a 27 percent increase over 2018, with viewership to reach a global audience of 454 million. For gamers, the stakes continue to rise, with potential single game earnings in the millions. A single game controller or keyboard click can make the difference between "life and death," in reality, a runners up medal and a check for millions. With such high stakes, the entire experience is growing larger and more sophisticated, with arenas packed with state of the art display and production technologies. At the heart of this experience is the AV system, providing the audience with both an aural and visual play-by-play in incredibly high resolution, at the same pace as the games themselves.
Next-gen Performance for the Future of Gaming
Large scale video walls and projectors are key to giving the audience a larger-than-life view of not only the gameplay, but live camera feeds of the gamers, audience reactions, and competition statistics. It is essential that there is no latency between the gameplay and audience reaction, which is also key to the players themselves. It would be very off-putting to fire your winning shot and hear the audience cheer many seconds later. Similarly, audio and commentary must remain synchronized to what is shown across the myriad of high resolution displays.
For the audience to feel totally immersed in the game itself, gameplay needs to be displayed as close as possible to the resolution the players are seeing. This includes providing smooth motion and no visual artifacts. Any judder in the image can be extremely off-putting, so high video frame rates are key to providing the best possible experience.
The format and scale of esports events also varies widely, from NBA-sized sports arenas to university lecture rooms. To meet these broad demands, the Pro AV install needs to flexible and scalable, and in some cases, portable. An AV system built around a robust and scalable low latency transport is key to meeting the demands of an esports event, with the bandwidth to support resolutions up to 4K60.
BlueRiver® for Esports Applications
There is a Pro AV solution that is perfectly suited to esports: Software Defined Video over Ethernet (SDVoE™), powered by Semtech's BlueRiver® technology. BlueRiver is built around 10 gigabit Ethernet transport for AV with sub-millisecond latency and visually stunning image quality. Here are some of the reasons SDVoE is the ideal AV transport technology for esports:
Ethernet provides scalability and flexibility for limitless event configurations
Imperceptible latency with sub-millisecond performance provides instant response time for both players and audience
4K60 at uncompressed quality for high resolution and smooth gameplay action
Fast switch modes for instant switching between gameplay, statistics, live video and commentary
Multiview modes, such as Picture-In-Picture, provide the audience live video of players' inset on gameplay action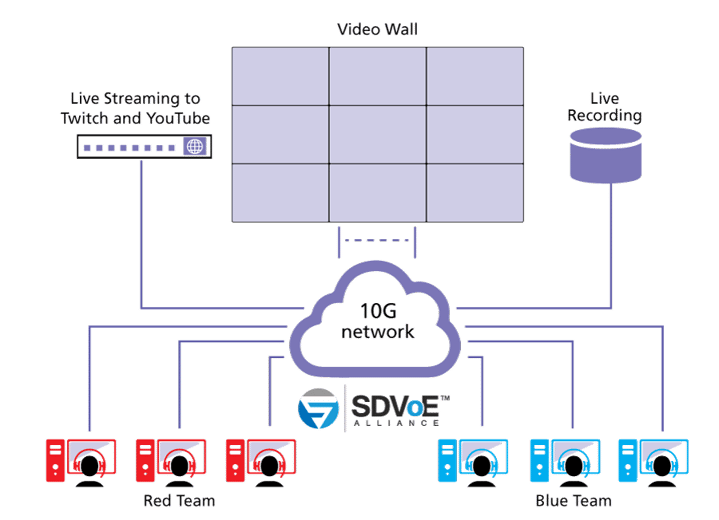 Enabling Collegiate Esports Training
In the U.S., the National Association of Collegiate Esports is made up of over 170 member schools with thousands of student participants. To support the training of these varsity teams, campuses must provide state of the art facilities equipped with cutting edge Pro AV technology. Harrisburg University of Science and Technology (HU) is one such varsity esports team, with a 2,300 square foot practice facility. Using BlueRiver-enabled SDVoE solutions, Aurora Multimedia equipped HU with an integrated AV system to handle the high resolution framerate of simultaneous gameplay and near-zero latency. Learn more about the application of Aurora's IPX series of BlueRiver-based 10 Gbps 4K transceivers in Aurora's HU case study.
Without question, Pro AV manufacturers, installers and integrators can leverage the power of SDVoE-enabled products to target the exciting and rapidly growing esports segment. Learn more about applications for BlueRiver on our website.
BlueRiver is a registered trademark of Semtech Corporation or its affiliates, and SDVoE is a trademark or service mark of the SDVoE Alliance.