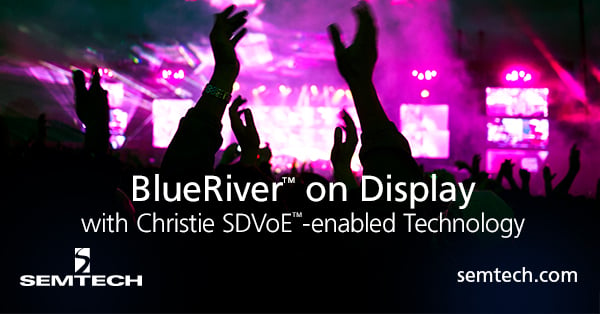 Christie®'s performance-driven Terra™ display solutions are being used to operate immersive, multi-screen events around the world. The lineup of Terra controllers, transmitters and receivers integrate Semtech's BlueRiver® technology for Software Defined Video Over Ethernet (SDVoE™) to display video content in real-time, artifact-free and with zero-frame latency.
Direct 10G Ethernet connections for SDVoE-based systems are available on a growing number of Christie projectors and direct view displays, including the new Christie MicroTiles® LED. Christie is one of the first manufacturers to offer projectors, including the new D4K40-RGB and Mirage SST as well as the Christie Boxer and Crimson, with direct SDVoE connectivity.
An ecosystem of products that switch, extend and display content using Christie Terra's SDVoE-based platform are being used to energize audiences across the globe:
Capital One Arena
A multi-sport projection system is deployed at Capital One Arena in Washington D.C., home to both the NHL's Washington Capitals and NBA's Washington Wizards. The venue requires frequent transitions from hockey to basketball where the ice rink is four times the size of the basketball court.
This presented a challenge as on-court projection resolution can be lost when cropping content down to one quarter of the size. Christie Boxer projectors and Christie Terra transmitters, receivers, processing and control hardware and software allow the arena to run uncompressed 4K video throughout the entire system. When shrinking down to the smaller basketball court surface, the venue is still getting full 4K resolution on the court.
The new SDVoE-based projection system is very flexible and easy to operate, creating immersive, multi-screen shows with audience engagement features like player tracking and fan tracking.
Download the complete Capital One Arena case study from the SDVoE Alliance™.
Zurich Opera House
The Zurich Opera House uses Christie Terra to switch, scale and extend signals of 4K video content during performances. During a performance of L'incoronazione di Poppea (The Coronation of Poppaea), the production portrayed the opera's theme of vanity by projecting oversized images of actors onto 14 enormous screens, measuring 9 feet by 16 feet, placed on the auditorium's balconies.
© Opernhause Zurich AG/L'incoronazione di Poppea-Monika Rittershaus
To accomplish this endeavor, nine Terra transmitters, seven Terra receivers and two Terra controllers were deployed to manage the routing of content from transmitters to receivers. The system also takes advantage of the SDVoE-based platform's multiviewer capability built into Terra to enable confident monitoring of content. Terra transmitted the data over 10G Ethernet from Christie Pandoras Box servers and cameras to the Christie projectors, artifact-free, supplying images for the video mapping and stage projection, as well as to the director's preview monitors.
Read the Zurich Opera House case study from the SDVoE Alliance.
Downtown Los Angeles
Next to the Staples Center in downtown Los Angeles, three giant screens are wrapped around a new Circa luxury residential development comprising more than 18,000 square feet of exterior LEDs driven by SDVoE-enabled Christie Terra endpoints. The displays feature a 10 mm pixel pitch and contain over 17 million pixels.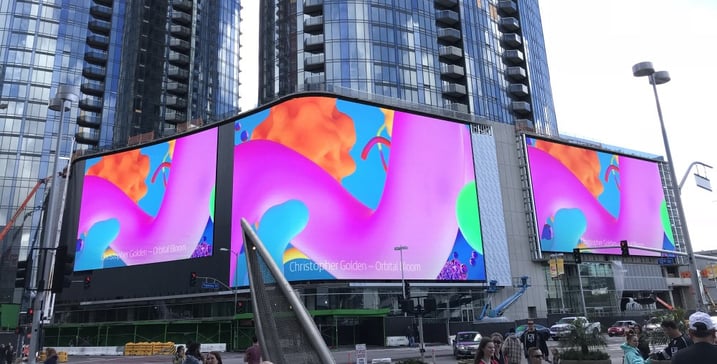 Photo credit: SNA Displays and Christie
The screens use a Terra transmitter and Terra receiver for each of the three screens plus one Terra controller for the system. The system can be remotely operated from the street or from any other network drop or location a Terra device is located. It is easy to quickly switch from displaying one event to another, or live shoot on the street and see it in real-time on the LED screens with no delay.
Download the Downtown Los Angeles case study from the SDVoE Alliance.
Christie's inclusion of SDVoE's standardized infrastructure in its product portfolio is visionary. The global visual and audio technology company has embraced SDVoE technology as a founding member of the SDVoE Alliance, and has been instrumental in accelerating the adoption of AV-over-IP applications in professional AV environments.
Learn more about Semtech's BlueRiver technology for SDVoE.
BlueRiver is a registered trademark of Semtech Corporation or its affiliates, and SDVoE is a trademark or service mark of the SDVoE Alliance.