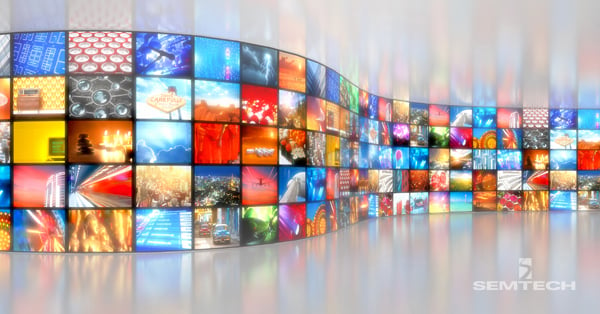 Software Defined Video over Ethernet (SDVoE™) powered by Semtech's BlueRiver® technology captivated the 80,000 plus attendees at Integrated Systems Europe (ISE). The technology consists of BlueRiver NT1000 and NT2000 AV-over-IP chipsets and a comprehensive software Application Programming Interface (API). BlueRiver is at the heart of SDVoE-based network architectures that are rapidly displacing matrix switches in professional AV switched systems.
The SDVoE Alliance™ is creating an invaluable ecosystem around SDVoE technology. The non-profit consortium of technology providers collaborate to standardize the adoption of Ethernet to transport AV signals in professional AV environments. Over twenty members featured their SDVoE-compatible solutions powered by Semtech's BlueRiver technology, including Aurora, Christie, DVIGear, IDK Corporation, and ZeeVee. Manufacturers with AV distribution and processing applications that demand zero-latency and uncompromised video took advantage of several opportunities to learn more about this revolutionary SDVoE technology. Below are a few highlights from the show.
New Level of Interoperability Unites More Than 150 Products
Platform interoperability enables designers to create the best suited system from all sources in the market. Semtech's interoperable BlueRiver technology provides an end-to-end hardware and software platform for AV extension, switching, processing, and control.
Semtech's BlueRiver NT chipsets are the industry's first to enable transport of zero-latency Ultra HD/4K HDR with uncompressed image quality over standard Ethernet, and the common API responsible for enabling full interoperability across all SDVoE-compatible equipment. The BlueRiver chipset series delivers a single programmable system on chip (SoC), which can be used to replace traditional AV/KVM extenders, matrix switchers, video wall controllers, and windowing processors with a simple network of transmitters, receivers and off-the-shelf Ethernet switches.
A premier European systems integrator and visual presentation provider, LANG AG, hosted booth demonstrations and roundtable discussions for systems designers, integrators and tech managers to show how BlueRiver technology allows SDVoE-based products from multiple vendors to operate seamlessly together as one AV over IP signal transmission system.
The World's First Ethernet Switch with Integrated HDMI
To take unnecessary complexity out of AV-over-IP deployments, NETGEAR created the SDVoE-ready M4300-96X Modular Managed Switch that is preconfigured for easy, true AV and multicast Zero Touch network configuration. With this unique new class of product introduced at the show, IT and AV are combined at the integrated product level, rather than purely at the infrastructure level. The last advantage for a traditional matrix switch was its ability to support native HDMI for in-rack sources. This solution eliminates any benefit to the old matrix switch.
NETGEAR unveiled how users can simply select the combination of HDMI, copper, PoE+ and fiber M4300-96X port expansion cards that fit requirements, insert the cards, connect SDVoE-based encoders and decoders, and power on the switch. SDVoE-based systems with symmetric input-output configurations are supported such as 48×48, but asymmetric solutions such as 24×72 are just as easily accommodated.
SDVoE Technology Becoming the New Industry Standard
The SDVoE Alliance offered a multitude of education and partner training sessions at ISE focusing on how SDVoE is transforming the matrix. Participants gained a thorough understanding of the many SDVoE platform advantages and its ability to deliver the quality and performance benefits of traditional matrix switches while at the same time taking advantage of the flexibility, scalability, cost savings, and simplified system architecture afforded by Ethernet-based designs.
In just two years, the Alliance has grown to 40 member companies shipping 158 products. In addition, more than 300 SDVoE Design Partners have been trained and certified. Member companies are poised to deliver upwards of 150,000 AV endpoints in the coming year. To date, SDVoE-based products have been deployed across a wide range of professional audio/visual vertical markets, including corporate, industrial, medical, residential, education, signage, hospitality, and entertainment.
Designers, integrators and end users are embracing the more open and standardized approach to signal management offered by SDVoE. Learn more about technology that is transforming AV system design.
BlueRiver is a registered trademark of Semtech Corporation or its affiliates, and SDVoE is a trademark or service mark of the SDVoE Alliance.