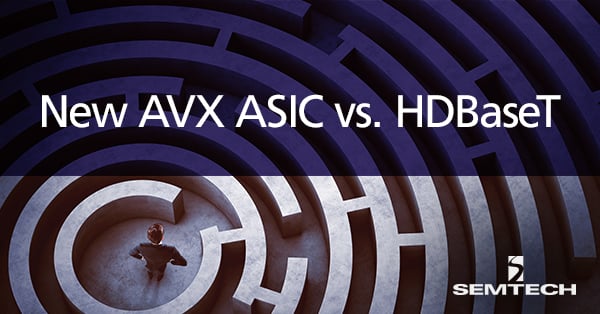 In the world of Pro AV, point-to-point cable extension technologies are essential for transmitting AV content from point A to point B, where standard cabling just cannot go the distance. With the advent of HDMI, full bandwidth AV signals are sent in digital form at high data rates over shielded twisted pair (STP) cables, which typically max out at around 20 meters of reach. When carrying 4K video content, HDMI operates at up to six Gigabits per second (Gbps), and as data rate increases, so does the challenge of transmitting it over longer distances. Soon after HDMI transformed AV connectivity to digital, another technology was developed to extend these signals over standard copper networking infrastructure. This technology is called HDBaseT.
Semtech Introduces AVX
Semtech's AVX chipset is uniquely designed to transmit AV signals, up to 4KP60 4:4:4, over both copper category cabling and optical fiber. By utilizing the same technology used for 10G Ethernet, AVX provides transmission up to 100m using Cat-6a unshielded twisted pair (UTP) cable, or tens of kilometers using optical fiber. AVX-based devices simultaneously transmit uncompressed-quality 4K video, multi-channel audio, Gigabit Ethernet, USB, and other control signals, offering unprecedented levels of performance for AV extension applications, including standalone point-to-point cable extenders, matrix switches and KVM extension.
Read more about AVX here.
AVX vs. HDBaseT
The launch of AVX in June 2019 created a significant buzz within the Pro AV industry. Finally, equipment makers are not tied to a single AV extension technology and can take advantage of out-of-the-box support for full 4K video formats at lower cost points. There's clear industry recognition that AVX is a game changer, and that Semtech's leadership in AV transmission technologies positions AVX as the future of AV extension. However, I'm sure many of you reading this have questions, so here's what I've been telling people who want to know why AVX is the right choice.
True 4K60 4:4:4 requires up to 18Gbps of link bandwidth. HDBaseT will fully support this, operating at 18Gbps. How can AVX achieve the same performance?
AVX link is based on standard 10G Ethernet signalling. AVX uses an ultra-lightweight, 100% artefact-free compression to keep any format that exceeds 9Gbps within the 10G bandwidth limit. By doing this, AVX provides guaranteed 100m reach performance, even over UTP cables. At 18Gbps, HDBaseT reach performance is severely limited and it is mandatory to use more costly shielded cables to get better than 50m reach.
HDBaseT has the advantage of a fully integrated copper PHY. Isn't this a big advantage over AVX?
No! The HDBaseT PHY is completely proprietary and not based on the IEEE 10G Ethernet standard. It does not have the advantages a truly compliant 10G PHY includes, such as noise immunity and crosstalk cancellation. This really limits the reach performance of HDBaseT and mandates the use of more costly STP category cabling, such as Cat-7 or even Cat-8.
What is the reach advantage over category cable using AVX vs. HDBaseT?
AVX uses a fully IEEE-compliant 10G Ethernet copper PHY which guarantees 100m reach performance over Cat-6a UTP cable. HDBaseT can only support uncompressed 4K60 4:4:4 transmission at 70m or less, with reach performance further limited in the presence of electrical noise or transient interference.
Do the additional components required by the AVX solution mean that the board size needs to be physically large?
No. With just a handful of major components, it is possible to make boards as small as a credit card, as shown.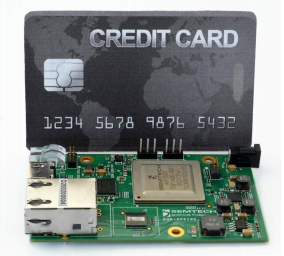 Using a companion chip, HDBaseT also supports fiber connectivity. What about AVX?
HDBaseT requires an additional device to convert the HDBaseT electrical signals to fiber, which is costly and power hungry. Using the AVX200T, direct connection to standard 10G SFP+ modules is possible, greatly reducing the cost, power and footprint of fiber-based AV extender solutions. The following block diagrams illustrate a simple fiber transmitter and receiver solution.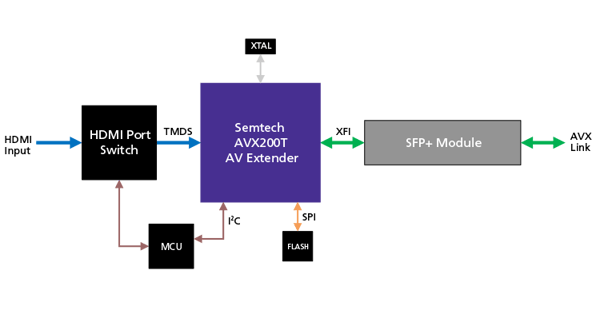 AVX200T-based Transmitter (Fiber AVX Link)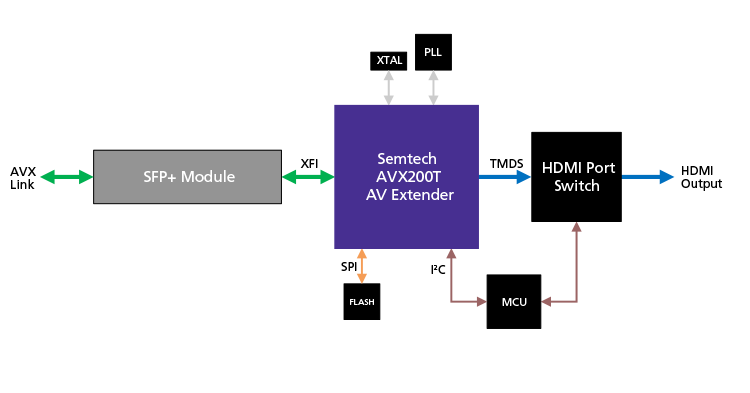 AVX200T-based Receiver (Fiber AVX Link)
Enabling a New Class of AV Extender
The flagship AVX200T is the industry's first truly bidirectional HDMI connectivity solution for both copper and fiber infrastructure. The device also includes a powerful AV processing engine which provides broadcast quality scaling. The chipset lowers system cost by reducing the number of devices required, and removing the need to use costly FPGA and image scaling devices. The AVX200T consumes less than 2.5W with fiber connectivity, compared with existing fiber extension technologies in the 6W-8W range. Additionally, the AVX200T provides a full USB-HID interface, enabling highly integrated low cost products for KVM applications.
HDBaseT chipsets just provide AV extension. If the output resolution of the receiver needs to be fixed to the connected display resolution, a scaler would be required. Is this the case for AVX too?
No. As mentioned above, the AVX200T integrates a broadcast quality scaler which can be used to convert the image format at the transmit or receive end. Using an AVX100-based transmitter paired with an AVX200T-based receiver, the output resolution can be fixed to that of the connected display resolution regardless of the original source format. The scaler can also be used to crop and scale images for video wall applications, saving the significant additional costs associated with dedicated video wall processors.
Extending HDMI signals in both directions, for example, between two rooms, requires two sets of HDBaseT extenders. Since 10G Ethernet is full duplex (10G in both directions simultaneously), is it possible to reduce this cost using an AVX-based solution?
Absolutely! As already noted, the AVX200T is the first truly bidirectional HDMI transceiver solution, allowing simultaneous receive and transmit of HDMI signals, up to 4K60 4:4:4, in both directions over a single copper category cable or fiber pair. The AVX200T enables a new class of products which can dramatically reduce both product and system costs.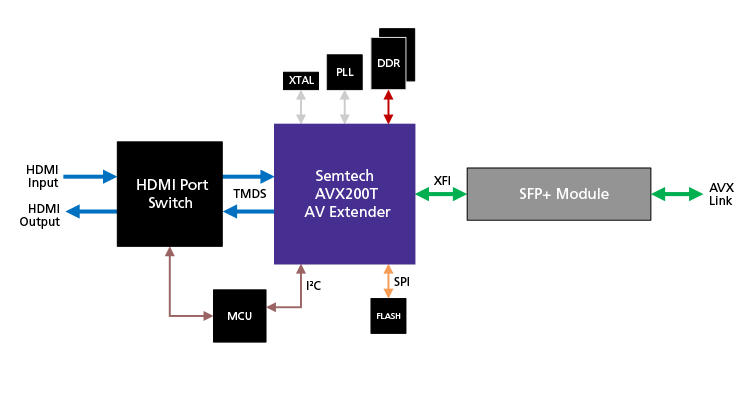 AVX200T-based Transceiver with AV Processing (Fiber AVX Link)
So now there's no question that AVX is the preferred solution for AV cable extension. Applications based on AVX provide unprecedented levels of performance, best in class noise and crosstalk immunity, full support for industry standard cabling, and are future-proofed with fiber connectivity for longer distance and higher bandwidth operation.
Read more frequently asked questions about Semtech's AVX Solutions.
Semtech and the Semtech logo are registered trademarks or service marks of Semtech Corporation or its affiliates.