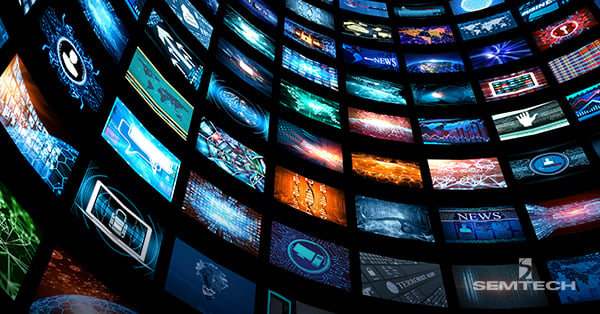 Semtech's BlueRiver® platform continues to pave the way for the future of AV signal distribution over IP. The new SDVoE™-compatible NINJAR NJR-T01SDI encoder with 3D/HD/SD-SDI input is now available to the AV market. The high performance solution was built using Semtech's BlueRiver chipset and software API.
Celebrating its 30th anniversary, IDK Corporation is a proven leader in professional AV and broadcast equipment that is used around the globe for corporate, educational, entertainment, healthcare, retail, and surveillance systems. The company's product portfolio includes multi-switchers, video converters and matrix switchers.
IP-NINJAR Lineup
To meet growing global demand for 4K video, IDK developed a powerful AV solution set. The IP-NINJAR Series is a game changing, IP-based, turnkey, high-definition audio/video signal delivery solution. The fully integrated platform includes system control, signal extension, distribution, seamless/KVM switching, video wall, and multiview capabilities.
Boasting full format agility, true 4K/60 4:4:4 HDR HDCP2.2 capabilities, edge-to-edge zero frame delay, and unparalleled stability, the IP-NINJAR leverages off-the-shelf 10Gb Ethernet infrastructure to replace traditional baseband AV architectures. IP-NINJAR provides an elegantly simple architecture, unlimited I/O and footprint scalability, and individual node-level monitoring capabilities.
SDVoE Encoder with SDI Input
The new NJR-T01SDI AV-over-IP encoder with SDI input is a welcome addition to the innovative IP-NINJAR product series.

IDK's NJR-T01SDI is designed to transport SDI input signals for local and long-haul extension and switched systems via AV-over-IP on fiber optic cables. The solution converts SDI input signals into HDMI signals and enables SDI signal management within the SDVoE™-compatible IP-NINJAR system domain. NJR-T01SDI features zero frame latency for formats up to 1080p and a local monitor output, allowing video recording and previewing using an HDMI monitor.
BlueRiver is a registered trademark of Semtech Corporation, and SDVoE is a trademark or service mark of the SDVoE Alliance.