BlueRiver® AV Manager: Customizable, Flexible, Scalable
21 September 2021 / by Helgi Sigurdsson
Semtech's award-winning BlueRiver® platform was designed to address Pro AV market requirements in an efficient and cost-effective manner, enabling manufacturers to create complete AV-over-IP product lines at a variety of price points. BlueRiver is uniquely valuable in that it is a turnkey hardware and software solution.
BlueRiver technology leverages commercial-off-the-shelf Ethernet networks to deliver improved flexibility and scalability with reduced costs. Other technologies enable AV-over-IP, but require significant development effort to effectively implement. This means integrating intellectual property from multiple providers, or developing software from the ground up. As a result, each equipment manufacturer builds a product that is totally incompatible with others in the space – which contradicts the interoperable capabilities of IP networks.
BlueRiver AV Manager Available Now
We are thrilled to announce that the BlueRiver AV Manager is now available, providing developers with the building blocks needed to create customizable software for the BlueRiver platform. BlueRiver AV Manager controls and manages AV distribution systems and endpoints that utilize Semtech's BlueRiver technology platform.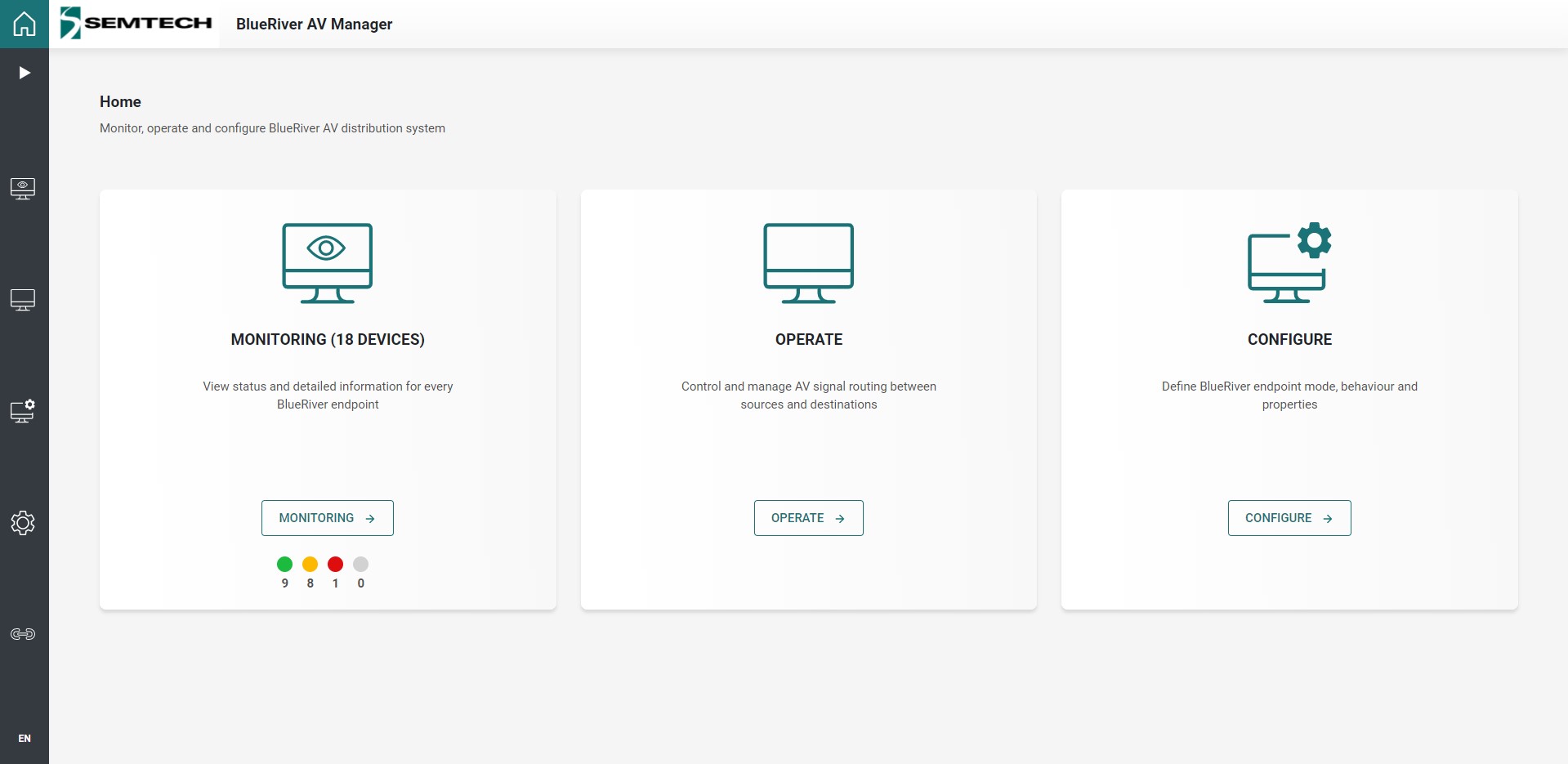 BlueRiver AV Manager software simplifies development, serving as an ideal baseline to build on. The offering provides users with free, white label, customizable software that is easy to use, accessible and facilitates key features of the BlueRiver chipset, controlling BlueRiver based endpoints and edge devices. The software can be used as is, but can also be skinned, modified, repackaged and redistributed, as well as translated to other languages.
Using BlueRiver AV Manager can facilitate and accelerate software development efforts, shortening development time as well as allowing developers to create better software that delivers an improved user experience. The offering helps developers build customized offerings based on the diverse needs of multiple markets, allowing for the creation of targeted UIs for customers across the entire sales channel.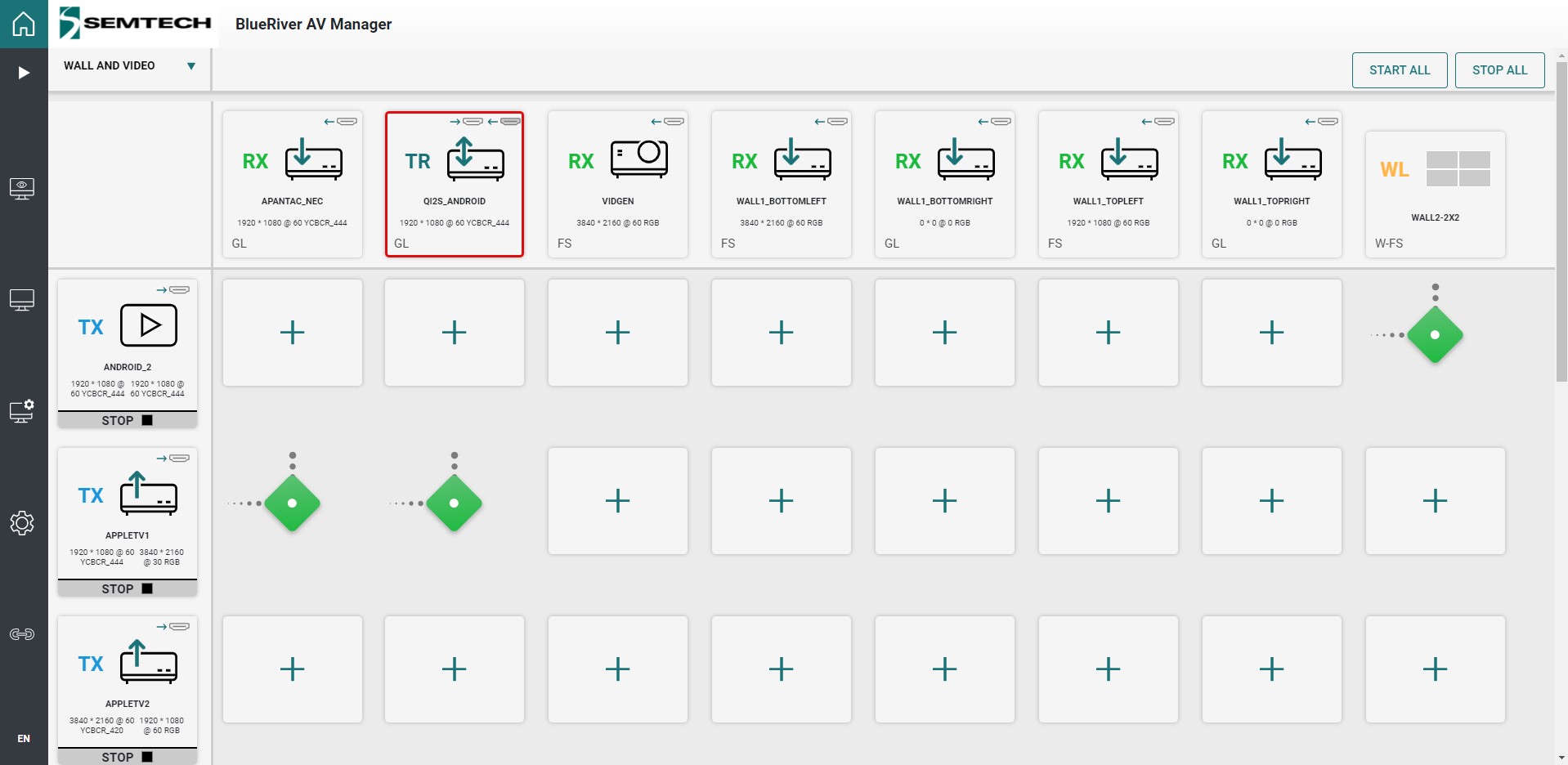 BlueRiver AV Manager also boasts a highly intuitive user interface (UI) targeting common use cases, facilitating streamlined, more efficient development. A simple but functional interface offers easy access to different application modes. Designed for touch control, the application operates on any browser or as a standalone app, and the offering's source code runs on laptop, desktop or tablet. BlueRiver AV Manager leverages the Software Defined Video over Ethernet (SDVoE™) API to facilitate interoperability. As a result, BlueRiver AV Manager can be used with a variety of hardware from different manufacturers, as the SDVoE API enables any devices with Semtech's BlueRiver technology to be interoperable.
Features Tour
Homepage: quick access is provided to monitoring, operational and configuration tools

Monitoring: for viewing device status and detailed information of each BlueRiver endpoint

Operate: to control and manage AV signal routing between sources and destinations via a simple matrix style grid

Configure: set up the behavior and properties of each BlueRiver device, including video wall and multiview configuration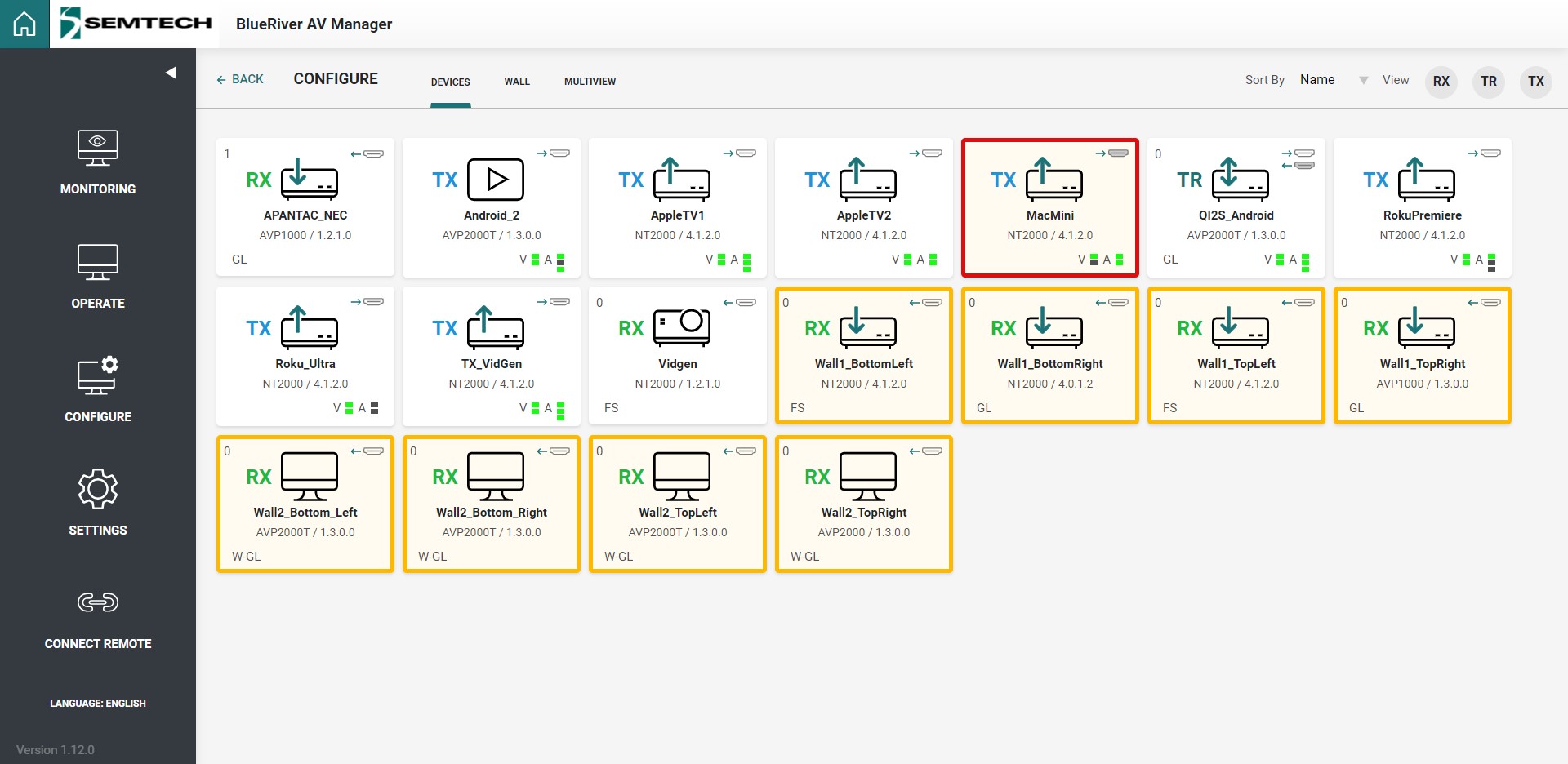 The SDVoE Alliance®
BlueRiver AV Manager will provide key support to the SDVoE community. SDVoE, powered by BlueRiver technology, is changing the way we transport AV content: the SDVoE Alliance is creating an invaluable ecosystem around SDVoE technology by creating a community of software developers who can access training and the SDVoE API at no cost. Technology and service providers are working together to use the SDVoE platform to deliver custom, yet standardized and interoperable AV experiences to end users.
Visit our website to learn more and to download BlueRiver AV Manager.
Semtech, the Semtech logo and BlueRiver are registered trademarks or service marks of Semtech Corporation or its affiliates. SDVoE is a trademark or service mark of the SDVoE Alliance.