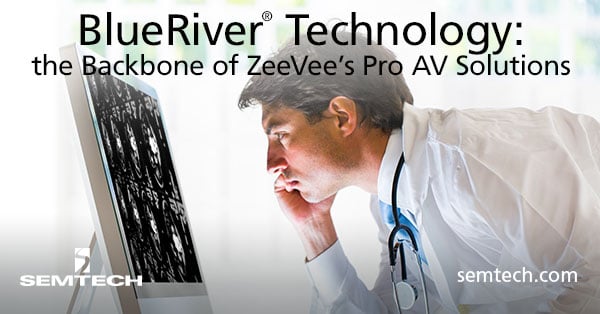 A founding member of the SDVoE Alliance™, ZeeVee is creating innovative AV over RF and AV over IP solutions to enable some of the AV industry's most demanding use cases. ZeeVee provides end-users the capacity to tackle challenging specifications and tight budgets with products that offer simultaneous RF and IP output, as well as one of Pro AV's most extensive line of IP-based products. This impressive portfolio is built on Semtech's BlueRiver® technology for Software Defined Video over Ethernet (SDVoE™) and has been successfully implemented worldwide for use in government, healthcare, broadcasting, hospitality, retail, and housing, among other industries.
Building on the ZyPer4K series of encoders and decoders, a myriad of new SDVoE-based use cases are added to ZeeVee's product portfolio every year. ZyPer4K delivers uncompressed 4K at zero-latency, is one of the first SDVoE-based solutions on the market and can save customers up to 40% the cost of a traditional AV switch. A global leader for Pro AV, customers are taking notice of ZeeVee's prowess and working with the company to create custom products to meet their unique needs:
Europe's Largest Endoscopic Center Relies on Pro AV Medical Imaging
The Quadram Institute in Norwich, England, is a state-of-the-art medical center with a special focus on food science and health. The £81 million facility features one of Europe's largest endoscopic and bowel cancer screening suites, capable of handling more than 40,000 procedures per year.
To support its extensive research, medical imaging and educational needs, the institute was in need of a high quality AV system to provide zero-latency video in real-time. An SDVoE-based system infrastructure was chosen for the facility, utilizing 100% optical fiber connectivity for the first time in a medical facility. ZeeVee's BlueRiver-enabled ZyPer4K encoders quickly and efficiently distribute the AV signals from this new system.
The ZyPer4K encoders receive AV input from sources in the endoscopy tool itself and the operating room, and distribute the data in uncompressed 4K over the optical network for the audience to view. This platform allows real-time visual and voice interaction between the doctors performing procedures and those viewing.
Read the complete Quadram Institute case study on the ZeeVee website.
SDVoE Solutions for a Smarter Classroom
The Norwegian University of Science and Technology (NTNU) is the country's largest university and premier engineering institution. The university saw the opening of its newest building as an opportunity to upgrade its AV systems to better serve the needs of its students. University leadership expressed that its ideal AV solution would be one that allowed pixel-perfect 4K content to be distributed throughout all twelve of the new building's lecture halls, as well as labs and work spaces, simultaneously.
System integrators decided on ZyPer4K hardware to create the new SDVoE-based network required, and ultimately deployed 240 ZyPer4K encoders and decoders throughout the building. Each lecture hall and classroom is connected to a BlueRiver-based SDVoE distribution system to transmit Pro AV content over 10Gbps Ethernet with zero latency. Through in-room cameras, content may be shared from any room or screen to another, instantly and at will.
Visit the ZeeVee website for more about NTNU's state-of-the-art SDVoE-enabled classrooms.
Super Yacht Sets Sail with Zero-Latency 4K
A 115-meter super yacht was due for a retrofit, and Swedish technical consultancy Plejd was given the task of upgrading its AV system. The yacht's owner had mandated the creation of two networks, as he often conducted business at sea and required office AV systems that remain secure from the entertainment network. Plejd chose ZyPer4K encoders as the centerpiece of the vessel's two unique SDVoE networks.
The yacht's office features eight SDVoE-based devices that feed two desktop monitors and a 105" Samsung display. The office network is connected to the entertainment network, giving the office access to movies and entertainment, but maintains its security in the other direction. The entertainment network features a 105" display in the main lounge area and a large screen in the bar. These screens are connected to 25 satellite set top boxes, 4K-enabled multimedia players, PCs, gaming consoles, other set-top boxes, and cameras. Each of these sources connects to its own BlueRiver-based encoder, allowing personnel to switch seamlessly between sources through Plejd's app. The Plejd app can even detects a user's location through Bluetooth and automatically switch content from screen to screen as he or she moves throughout the yacht.
Learn more about how Plejd outfitted the super yacht with SDVoE-based infrastructure on the ZeeVee website.
Semtech's BlueRiver technology is the foundation of SDVoE-based AV networking and enables displacement of circuit-based systems with uncompromised quality and zero-frame latency at a comparable cost. BlueRiver chipsets are a key component of ZeeVee's ZyPer4K encoders and decoders, as well as many other devices from fellow SDVoE Alliance members.
To learn more about the companies transforming the industry and pushing AV past the matrix switch, visit the SDVoE Alliance website!
BlueRiver is a registered trademark of Semtech Corporation or its affiliates, and SDVoE is a trademark or service mark of the SDVoE Alliance.