BlueRiver® Brings Zero-Latency IP Video to Home Entertainment
17 December 2018 / by Justin Kennington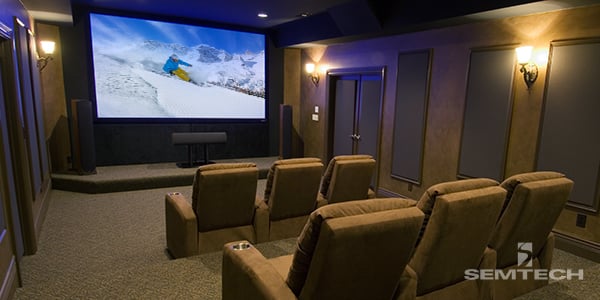 As traditional audio visual (AV) switching is gradually being phased out, Internet Protocol (IP) solutions like Semtech's BlueRiver® line of professional AV (Pro AV) products are becoming the new norm. IP switching enables scalable solutions by allowing a variable number of inputs and outputs. By eliminating the costly and proprietary dedicated matrix switch, significant system cost savings are also available.

BlueRiver technology leverages commercial-off-the-shelf Ethernet networks to deliver improved flexibility and scalability with reduced costs to the Pro AV industry. Other technologies enable AV-over-IP, but require significant development effort to implement. This means integrating intellectual property from multiple providers, or developing software from the ground up. As a result, each equipment manufacturer builds a product that is totally incompatible with others in the space – which is exactly opposed to the interoperable capabilities of IP networks.

BlueRiver is unique in that it is a complete turnkey hardware and software solution. Furthermore, by taking advantage of widely-deployed 10G Ethernet networks, BlueRiver-based products can deliver the performance of a matrix switch. AV over IP products built around 1G networks use considerable image compression (more than 20 to 1), which means problems with image quality and higher latency.

The BlueRiver platform lets manufacturers create complete AV-over-IP product lines and transport uncompressed, zero-latency Ultra HD/4K HDR over standard Ethernet. BlueRiver is the foundation for Software Defined Video Over Ethernet (SDVoE™) technology, governed by the SDVoE Alliance®, of which Semtech is a founding member.
Collaboration with Savant
The premium home automation brand Savant chose Semtech's BlueRiver chipsets for their new IP video product line. Savant prides themselves on creating products that are inventive, easy to use, and future-friendly, so customers can continue to enjoy them as the products age. Today, they're one of the home automation brands of choice for the world's most luxurious homes, castles, and even yachts.
Savant's SDVoE-based IP Video products deliver a pixel-perfect ultra-high definition 4K video over IP switching platform. With BlueRiver chipsets, the new Savant product line delivers 4K/60 4:4:4 or HDR video over standard IP networks with sub-millisecond latency. The product enables high-bandwidth Ethernet connectivity, and the AV distribution capabilities of this new system cost effectively provide a high quality experience across any job size, with scalability up to 128 zones.
SDVoE is the complete platform for controllable video distribution. Software defines the functionality, and therefore the user's experience. This means that video distribution is no longer a standalone subsystem, but an integrated function of the home. This makes it easy for Savant to seamlessly integrate widely varied user interfaces as controllers for the distribution system. Handheld remotes, wall stations, smartphones and tablets, and smart watches can all be integrated with ease to drive the distribution system. Learn more about Savants AV over IP solution on their site.
As the AV industry continues to advance and 4K becomes more standardized, BlueRiver SDVoE technology will continue to grow and lead the market.
Download the Pro AV Product Brief to learn more about BlueRiver technology.
Follow Semtech Pro AV on Twitter and LinkedIn.
BlueRiver is a registered trademark of Semtech Corporation or its affiliates, and SDVoE is a trademark or service mark of the SDVoE Alliance.