AVXT for "Bring Your Own Meeting" Applications
25 March 2021 / by Gareth Heywood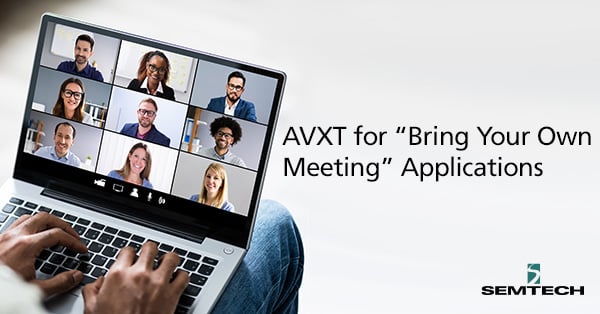 With the move to a more distributed workforce as well as an increasing number of staff permanently working from home, businesses are opting for smaller huddle rooms for ad hoc meetings and remote collaboration. Also taking advantage of the power of today's personal computing technology, businesses large and small are relying less and less on dedicated, permanently installed video conferencing systems. These days, it is quite commonplace for users to drive the meeting and room technology using their own devices, and collaborate using the latest video conferencing software tools. This is often referred to as a "Bring Your Own Device" meeting, or simply BYOD. However, since the entire meeting experience relies totally on the user's device and meeting software, such as Microsoft Teams or Zoom, this application is more often termed BYOM for "Bring Your Own Meeting," with users simply benefiting from the available audio and video peripherals of the meeting space they are in.
As shown in the diagram below, a typical BYOM setup only requires an HDMI connection to a wall mounted display, allowing local participants to view shared content and the remote attendee's video feeds, plus hear the remote audio via the TV speakers. A USB camera with embedded microphone is mounted to provide both the video and audio from the room for remote attendees. All this needs to be connected to the personal device of the designated participant driving the call, as illustrated.

Typical BYOM AV Connectivity
The BYOM Challenge
The size and layout of meeting and huddle rooms varies greatly, and may necessitate the use of AV extension technologies to remove any restrictions on AV device placement. While HDMI technology is widespread and convenient, challenges with long cable can result in a less-than-optimum experience, from failure to get an image on the display with longer cables, to using short cables which may restrict the seating position of the user whose device is driving the meeting. Similarly, the USB standard itself restricts the cable reach of USB 2.0 to only 5 meters, with many high-definition (HD) video conferencing cameras having a captive cable at this length or even shorter. Of course, there are dedicated extension technologies for both HDMI and USB, but these may not provide the most cost effective, reliable and clean solution.
Introducing AVXT
Semtech's AVXT chipset is uniquely designed to extend HDMI, up to 4KP60 4:4:4 resolution, over both copper category cabling and optical fiber. By utilizing 10 Gigabit (10G) Ethernet transmission technology, AVXT provides transmission up to 100m using Cat-6a unshielded twisted pair (UTP) cable, or from 300m to over 40km using optical fiber. AVXT devices can simultaneously transmit uncompressed-quality 4K video, multi-channel audio, Gigabit Ethernet, USB, and other control signals such as RS232 and Infrared, offering unprecedented levels of performance for AV extension in video conference and meeting room applications.

BYOM with AVXT Extension
The diagram above shows a Bring Your Own Meeting video conference room set up where the user connects their personal device running the video conferencing application to a remote display and camera via the AVXT Link. In this setup, an AV box is conveniently provided on the meeting room table top, allowing connection of the laptop AV via HDMI and USB connectivity for the conferencing camera. A single copper category cable is then used to carry all the audio, video and USB signals to the display AV box, which provides the connectivity for the speakers, display and camera, all mounted on the meeting room wall. Taking further advantage of standard 10G Ethernet technology, AVXT-based designs can incorporate Power over Ethernet (PoE). With the AVXT Receiver configured as the Power Sourcing Equipment (PSE), and the AVXT Transmitter as the Powered Device (PD), the desktop AV box only requires a single cable connection for remote AV, USB and power, reducing the number of cables at the desktop, and provides a neat and clutter free design.
Since the AVXT Link provides 10Gbps of bandwidth for all AV and control signals, with video consuming less than 9Gbps, there is more than enough bandwidth left over to carry the full 480Mbps permitted by USB 2.0. This means that high quality, low cost USB 2.0 conferencing cameras supporting low latency 1080p video can be used for a full HD video conferencing experience. Other AV extension technologies such as HDBaseT only offer up to 200Mbps maximum USB 2.0 data throughput, which means little to no support of high quality, low latency HD conferencing cameras.
AVXT Under the Hood
For the most cost effective AVXT-based BYOM AV extension solution which provides the lowest end-to-end latency performance, Semtech's AVX100 AV Extender can be used to transmit up to 4K60 video over 100m of Cat-6a standard copper category cabling. For small huddle spaces, where shorter cable distances may suffice, lower cost Cat-6 or even Cat-5e cable can be used. To enable the full 480Mbps transmission of USB 2.0, the AVXT is paired with the ExtremeUSB® device from Icron Technologies, as shown in the diagram below. With such a low component count and low power operation, compact and sleek AV box designs can be realized for desktop AV connectivity, including flush mounted pop-up AV consoles.

Inside the Table AV Box
As shown in the diagram below, an AVX100-based display AV box can be designed to connect HD or 4K displays, along with 1080p USB cameras, and optionally provide audio connectivity to in wall or in ceiling speakers. Again, pairing with the Icron ExtremeUSB® device provides seamless connectivity and extension of the highest quality USB 2.0 conferencing cameras. With the display AV box designed as the PoE Power Sending Equipment (PSE), the table AV Box can be fully powered over the AVXT Link, removing the need for additional power connectivity on the meeting room table.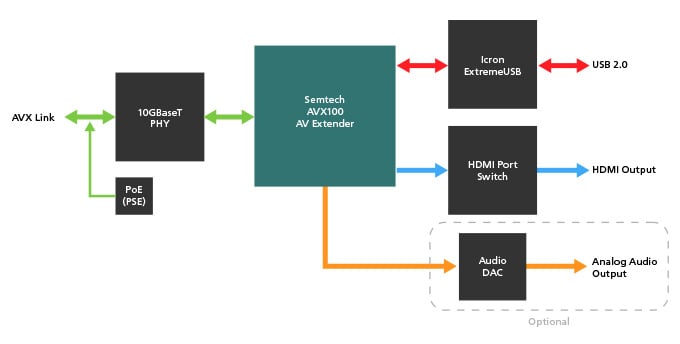 Inside the Display AV Box
This "one cable" extender approach means quick and easy installation. The display AV box can be neatly mounted behind the display, with the cable for the AVXT Link running behind walls, under floor and finally, up through the table to the tabletop AV box. The AVXT Link is extremely robust in the presence of electromagnetic interference (EMI) or in electrically noisy environments, ensuring reliable and trouble-free performance, and a seamless user experience.
Collaboration has never been more convenient, with more and more users embracing the Bring Your Own Meeting concept. With just a handful of core components, adopters of Semtech's powerful AVXT technology can provide the most simple and cost effective AV extension for BYOM applications. You can learn more about why AVXT is the ideal technology choice for low-cost point-to-point AV extension in the "AVXT ASIC: Superior AV Extension" webinar.
Semtech and the Semtech logo are registered trademarks or service marks of Semtech Corporation or its affiliates. ExtremeUSB is a registered trademark of Icron Technologies (A Maxim Integrated Brand).