Why Every IoT Device Needs Geolocation
11 March 2020 / by Marc Pégulu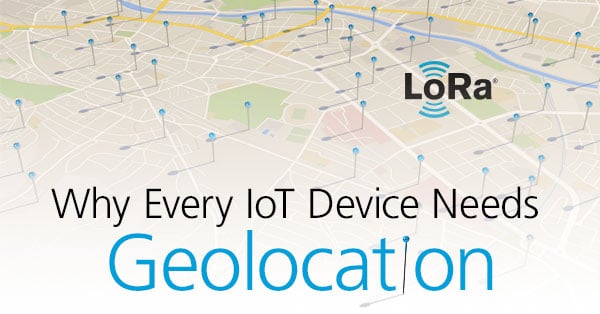 Geolocation is one of the most compelling and fast growing Internet of Things (IoT) applications. The anticipated market size for "Geo IoT" is expected to reach $74 billion by the end of 2025 from its current value of $40 billion, according to Market Insight Reports.
This blog will explore the clear benefits in knowing the location of any moving or static high value asset.
Loss Prevention
The National Cargo Security Council estimates that the global financial impact of cargo loss exceeds $50 billion annually. On a smaller scale, Americans lose an average of $5,591 in assets over their lifetime, according to a recent survey of 1,000 U.S. adults.
A promising solution to fraudulent theft and loss of valuable goods comes in the form of geolocation technology, which has gained worldwide popularity for its ability to record and keep track of assets.
IoT-Enabled Asset Tracking and Management
A variety of industries such as transportation and logistics, healthcare and food services are replacing proprietary legacy systems with geolocation asset management solutions to locate, track and monitor physical assets such as equipment, product, vehicles, and people.
By implementing connected solutions, businesses can replace inefficient and burdensome manual processes with IoT-enabled asset management solutions. Geolocation-equipped devices bring asset management, whether the asset is fixed or mobile, to further optimize operational processes and enable new features such as loss and goods damage prevention. Geolocation in every device can significantly lower the Total Cost of Ownership (TCO) for any enterprise, smart building, campus or smart city looking at deploying sensors and trackers.
Barriers for Geolocation
Since it makes perfect sense to be able to track any IoT device, why doesn't every connected device include and utilize geolocation functionality?
It's because traditional GPS technologies enabling geolocation are expensive, have technical boundaries that prevent successful deployment and require extensive power to operate. The following factors have prevented the wide adoption of geolocation asset tracking across a number of IoT industries:

Battery Life
High power consumption from conventional GPS trackers require batteries to be replaced several times per year. In some cases, asset trackers are located in hard-to-reach areas, such as oil and gas rigs or mounted on fleets of vehicles. These deployments make it very costly to change batteries, especially if there are thousands deployed in the field.
Installation
When deploying IoT, it is easy to make mistakes. The manual registration process when installing sensors in a building, for example, is subject to human error. Additionally, trackers may be moved from one location to the next without logs being manually updated.
Maintenance
As with any piece of equipment, in five, 10 or even 20 years, a technician will be sent to service the device. Asset trackers are often lost due to batteries dying without notification or changes in business ownership.
Cost Prohibitive
How frequently does a solution actually need to check a device's location? Minute by minute? Once per day? In many cases, traditional GPS technology is overkill as the frequency of check-in relates directly to expense and battery usage.
Affordable and Simplified IoT Asset Management
Semtech has been working to remove these roadblocks with LoRa®-based solutions for the IoT market. Wouldn't it be nice to have geolocation as a native service on any type of connected device that could be mapped automatically? Wouldn't it be even better if there were a solution with up to 10 times the extended battery life of existing Cellular solutions, and allowed customers to pay for geolocation services only when needed? This is LoRa Edge™!
Subscribe to the Inside Out blog to learn more about our new LoRa Edge platform in the next blog from Pedro Pachuca, Director of IoT in Semtech's Wireless & Sensing Products Group.
Semtech, the Semtech logo and LoRa are registered trademarks or service marks, and LoRa Edge is a trademark or service mark, of Semtech Corporation or its affiliates.