LoRa Edge™: The Simplified IoT Asset Management Platform
19 March 2020 / by Pedro Pachuca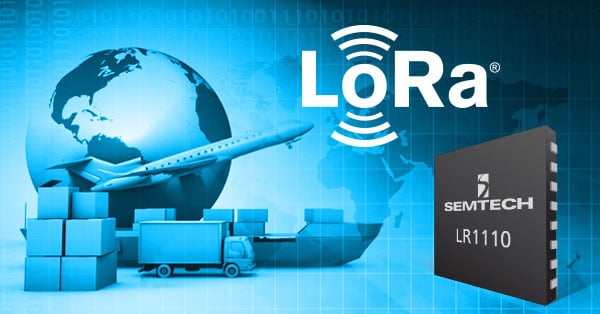 Semtech has introduced the first product in its new LoRa Edge™ platform – a highly versatile and low power software defined LoRa®-based platform that will enable a wide portfolio of applications for indoor and outdoor asset management. The first product of the platform, the LoRa Edge™ multi-technology asset management platform (LR1110), is a game-changing geolocation solution that significantly reduces the cost and complexity of locating and monitoring Internet of Things (IoT) assets in a secure environment.
Reduced Power Consumption
Battery life is a key limiter to the potential of existing asset management. Conventional GPS trackers need batteries on each device to be replaced every three to six months. The time and expense required to change batteries are acute, especially when hundreds of thousands of trackers are deployed in the field.
GPS, by its nature, consumes considerable computation power. One of its power-hungry functions involves receiving a signal from the satellite and calculating the real-time location of the associated device. Similarly, Wi-Fi requires significant resources from the device itself during the process of looking up the MAC address identification code used when connecting to a network.
To solve for some of these challenges, Semtech set out to disrupt the power consumption norm in the asset management industry.
LoRa Edge's innovative device-to-Cloud system has moved the location computing engine into the Cloud. An IoT device is still responsible for acquiring the signal from satellites and obtaining the MAC address from access points, but rather than solving the location on the asset itself, information is placed into a LoRa frame and sent into a Cloud server.
With LoRa Edge, power hungry, compute-intensive activities take place in the Cloud when determining the location of an asset. This proprietary device-to-Cloud architecture is how Semtech reduces the power consumption of asset tracking to as much as one tenth that of traditional solutions – providing significant cost savings and enabling the rapid expansion of location services on future IoT deployments.
LoRa Edge enables customers to further manage the total cost of ownership (TCO) by allowing customers to select subscription or consumption based models from LoRa Cloud™ geolocation services. The geolocation service can be programmed to obtain asset location and status data during installation, or once a day, once a month, once a year, etc. This consumption-based model allows customers to optimize their investment and take advantage of geolocation services only when needed. For customers who need to know the location of the asset regularly (many times per day), Semtech also offers a subscription based model.
All-in-one Chipset
Developers of conventional "track it" types of asset management solutions are presently required to use components from multiple vendors (GPS, Wi-Fi, location database, LPWAN). Another major challenge we hear from developers creating asset tracking solutions is ensuring that each of these components seamlessly integrate and work well together.
LoRa Edge's modular and configurable LR1110 chipset combines the unique localization and ultra-low power capabilities of a LoRa transceiver with multi-constellation GNSS scanning and Wi-Fi passive scanning capabilities – all within a single chip. Moreover, the single design accommodates both indoor and outdoor applications.
By removing the need for incremental GNSS and Wi-Fi components from different vendors and eliminating the requirement for separate indoor and outdoor management solutions, IoT solution providers can significantly reduce design and procurement complexity as well as bill of material (BOM) costs for devices.
Built-in Security at the Highest Level
Manufacturers must safeguard against outside forces being able to manipulate or gain unauthorized access into a tracker to discover the position of an asset, or worse, potentially guide an asset in a different direction.
To protect against these threats, solution providers typically implement costly, secure manufacturing process or external secure hardware and elements. This increases cost, power consumption and design complexity.
LoRa Edge multi-technology asset management platform (LR1110) is pre-provisioned with security keys using a highly secure hardware module. The solution incorporates a cryptographic engine with a "secure location" in the memory to install these keys. Now, customers do not have to implement any additional costly security measures for their asset management solutions.
Location Accuracy
For customers requiring extremely precise accuracy, within a centimeter, such as advanced robotics that interact with miniaturized items for assembly, a cellular solution with GPS and Wi-Fi remains the optimal asset tracking solution, although its extensive power consumption will be unavoidable.
For the 80 percent of asset management solutions offering location services requiring a "standard level" of accuracy when identifying an asset's location – within a few meters, LoRa Edge is a revolutionary option. On that same factory floor, one can locate various machines and tools by receiving visual displays of assets within a few meters.
LoRa Edge removes previous challenges for geolocation services in asset tracking solutions and simplifies IoT solution development. The low power, multi-technology, geolocation, and Cloud-ready solution platform is ideal for the smart building, home, agriculture, transportation, and logistics markets.
Download the new infographic to learn more about the potential applications for LoRa Edge.
Semtech, the Semtech logo and LoRa are registered trademarks or service marks, and LoRa Edge and LoRa Cloud are trademarks or service marks, of Semtech Corporation or its affiliates.