LoRa Edge™ Explained: How LR1110 Drives Smarter Geolocation
03 June 2020 / by Pedro Pachuca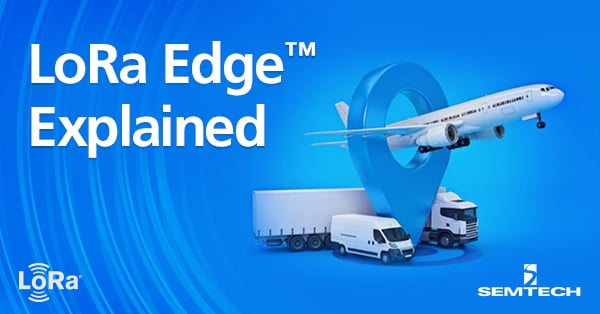 Location based Asset Management solutions are crucial for helping businesses worldwide to manage their assets as efficiently as possible. A large variety of use cases span from asset location, asset traceability, geo-fencing, and asset recovery, to loss and theft prevention. Although there exists a high demand for geolocation asset management solutions, current products often fail to fully satisfy customers' requirements and expectations.
Existing solutions using discrete components, such as GPS, Wi-Fi and secure elements, require substantial "glue logic," increasing cost and design complexity. In addition, the high power consumption that is intrinsic to GPS devices force customers to frequently replace batteries, which is an expensive and daunting operation.
LoRa Edge™ LR1110: Problem Solved
Designed from the ground-up to overcome the above challenges, Semtech's LoRa Edge LR1110 geolocation solution helps customers to develop and deploy affordable and simplified asset management solutions.
LoRa Edge LR1110 is a single chip solution that integrates a multi-GNSS scanner, Wi-Fi passive scanner, ultra-low power LoRa® transceiver, and a crypto engine to store security keys, eliminating external "glue logic" and dramatically reducing cost and design complexity.
An innovative device-to-Cloud architecture enables customers to achieve an ideal balance between power consumption and accuracy.
Driving Smarter Geolocation for IoT
Semtech recently hosted "LoRa Edge: Driving Smarter Geolocation for IoT," a webinar focused on what makes the LoRa Edge platform ideal for geolocation, including its Cloud-based location solver and secure crypto engine. To learn more about the specifics of these unique features, watch our new LoRa Edge video.
Webinar Q&A
Learn more about how LoRa Edge LR1110 enables affordable and simplified asset management solutions with a selection of the Q&A from the webinar event.
Is it mandatory to use the Semtech geolocation solver, or is it possible to have a private Cloud application decode GPS data?
Semtech's LoRa Cloud™ geolocation solver enables an affordable and straightforward device-to-Cloud implementation with LoRa Edge. Semtech supports either subscription to our LoRa Cloud service or on-prem installation in a customer's own data center. Customers are free however to develop their own geolocation solver and use this in conjunction with LoRa Edge.
What does an end-to-end LoRa Edge solution look like with an example use case?
A good example is a tracking solution to locate assets, for example containers or pallets. The diagram below shows the typical flow of data for a conventional tracking solution based on the LoRa Edge LR1110.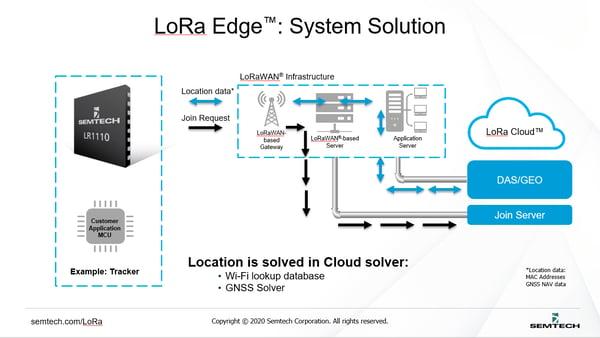 How does assisted GNSS work?
LoRa Edge's assisted GNSS mode enables users to leverage satellite signals quickly, dramatically reducing the acquisition time and thus reducing power consumption. In this mode, assistance information, such as initial position, current time, frequency error, and almanac updates provided via downlink from the Cloud solver. The below diagram shows additional details on the assisted GNSS principle.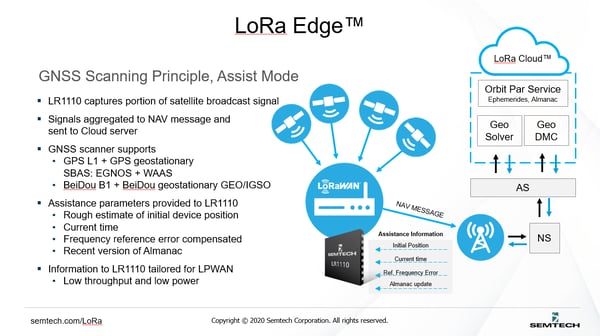 What is the business model for LoRa Cloud?
LoRa Cloud enables multiple business models for customers to pick the one that best fits their needs. Both consumption and subscription business models are available on LoRa Cloud. For more information about pricing and implementation documentation material, please visit www.loracloud.com.
To explore the LoRa Edge platform further and listen to a greater selection of Q&A, watch the webinar now, on-demand.
Semtech, the Semtech logo and LoRa are registered trademarks or service marks, and LoRa Edge and LoRa Cloud are trademarks or service marks, of Semtech Corporation or its affiliates