How LoRa Basics™ Modem-E Accelerates Development Time
20 October 2020 / by Sree Durbha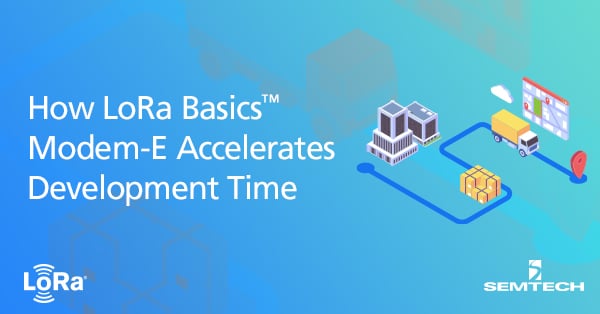 As Internet of Things (IoT) customers discover the benefits of LoRa® devices for applications as diverse as water metering, smart lighting or tracking rhinos, there is increasing demand for "location of things" services. Location is a vital component of the IoT that encompasses the ability of things to sense and communicate their geographic position. Location data helps organize, track and account for the billions of Internet-connected devices based on sensors and other location-centric elements in them. The ability to capture location data forms the basis of location-based services, and starts with the physical radio frequency (RF) technologies that interact with the world around them. Several technologies, such as GPS, LoRa and others, are able to provide outdoor location information. However, for precise indoor location where GPS has no tangible reach, and to enable continuous location detection or tracking, indoor positioning systems (IPS) technologies such as Wi-Fi come into play.
Semtech's LoRa Edge™ is uniquely able to combine location information from LoRa, GNSS and Wi-Fi passive scanning to provide continuous indoor and outdoor positioning in a single solution offering. Customers and solution providers who intend to take full advantage of LoRa Edge's distributed Cloud-based geolocation solver need to plan for transmitting device location data over widely adopted LoRaWAN networks as part of their solution. This calls for using modem software that supports the LoRaWAN protocol maintained by the LoRa Alliance®.
Introducing LoRa Basics™ Modem-E
There are two ways modem software for the LoRaWAN protocol can be included in a LoRa Edge LR1110-based solution. The first method is to run it on an external MCU that is connected to the LoRa Edge device over a host-interface, such as the Serial Peripheral Interface (SPI). The other method is to use Semtech's LoRa Basics Modem-E, the world's first integrated modem for the LoRaWAN protocol embedded exclusively within the LoRa Edge transceiver. There are distinct advantages to using the latter method.
With the LoRa Basics Modem-E software and its support of the latest LoRaWAN protocol standard, customers are now able to connect directly to the gateway. Semtech maintains the LoRa Basics Modem-E software to make improvements in functionality, address bug fixes and update with the latest versions of the LoRaWAN protocol. The new software fully supports Semtech's LoRa Cloud™ Geolocation and LoRa Cloud Device & Application Services, including Almanac updates. LoRa Basics Modem-E provides easy-to-use integration APIs for the LoRa Edge LR1110. Its software includes certification application capabilities to help fast track certification with the LoRa Alliance.
New Capabilities of LoRa Basics Modem-E
The LoRa Basics Modem-E enhances the capabilities of the LoRa Edge LR1110 by introducing a number of improvements in its functionality, including:
Device side APIs to enable Cloud services

A LoRaWAN stack to connect to LoRaWAN networks

Modem services to connect to a network server

Device, application management and geolocation services
In addition, the new software supports:
Data transfer

Downlink and uplink messaging

Large file upload
The modem software architecture seamlessly integrates within the LoRa Edge's onboard memory and runs on its embedded processer. This allows for powerful and unified modem functionality with Semtech's LoRa Cloud, providing IoT developers an end-to-end device-to-Cloud offering. This eliminates the need for testing software components from multiple vendors, bringing cost savings and simplifying development.
As a result, the LoRa Basics Modem-E offers full LoRaWAN protocol compliance with a well-defined crypto API for increased security, while reducing cost and time to market for applications built on LoRa Edge.
Getting Solutions to Market Faster
These benefits have the cumulative effect of allowing customers' development resources to focus on value-added application code rather than non-differentiated standard code. Since software development is a significant portion of the cost and development effort of customers' deployments, LoRa Basics Modem-E has a positive bearing on the overall development time, cost and design complexity
As geolocation technology, especially IPS, continues to evolve, enhanced position data gathering will help in everything from finding devices and equipment, step-by-step navigation of indoor spaces such as shopping malls, smarter logistics in warehouses, geo-fencing around sensitive data, assisting in social interactions, and more.
Semtech is committed to investing in creating hardware, software and services that bring the most optimal solutions to solve our customers' toughest problems.
Learn more about LoRa Basics Modem-E in the LoRa Developer Portal.
Semtech, LoRa and the LoRa logo are registered trademarks or service marks, and LoRa Basics, LoRa Cloud and LoRa Edge are trademarks or service marks, of Semtech Corporation or its affiliates.