Indoor Wi-Fi Geolocation with LoRa Edge™
15 April 2020 / by Pedro Pachuca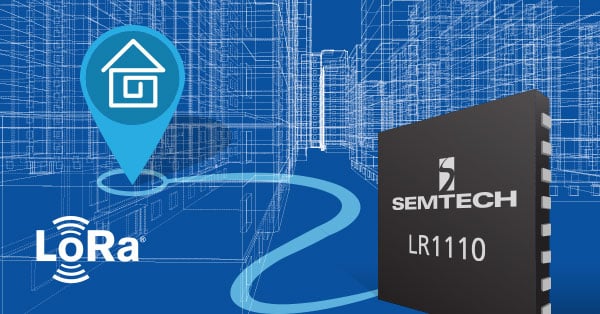 Asset tracking is one of the most promising applications for the Internet of Things (IoT). A variety of industries, such as transportation, logistics, healthcare, and food services, are investing in smarter technologies to replace siloed legacy systems with automated asset management solutions.
Semtech recently introduced the first product in its new LoRa Edge™ platform – a highly versatile and low power, software-defined LoRa®-based platform that will enable a wide portfolio of applications for indoor and outdoor asset management. The first product of the platform, the LoRa Edge™ multi-technology asset management solution (LR1110), is a game-changing geolocation solution that significantly reduces the cost and complexity of locating and monitoring IoT assets.
The LR1110 transceiver utilizes GPS satellite tracking for outdoor applications and Wi-Fi passive scanning for tracking indoor assets. In this blog, we will explore how Semtech's technology achieves this comprehensive indoor geolocation coverage and detail its unique benefits.
Indoor Asset Tracking
The first of two scenarios for indoor asset tracking is outdoor-to-indoor. This type of tracking occurs when a customer monitors a product or asset in transit from one location to another, but wants to continue tracking the items when they arrive into a warehouse or other indoor location. By combining GPS scanning and Wi-Fi scanning, the platform provides for the seamless and automatic switch from GPS scanning outdoors to Wi-Fi scanning in a building using a single LR1110 device without need for any human intervention, maintaining consistent visibility of asset locations.
The second scenario is indoor-only. Tracking use cases include boxes or pallets in a warehouse, expensive power tools in a construction zone, asset recovery for underutilized medical equipment in hospitals, or even geofencing (creating a virtual boundary around a specific geographic location) for high-value retail assets within a store environment. Here the LR1110 enables low power tracking of asset location in building for months or even years on a single battery or charge, while maintaining the flexibility to switch to GPS scanning should the asset leave the building or geofenced zone.
Wi-Fi Tracking Accuracy
There is roughly a 50/50 split in the market for outdoor-to-indoor versus indoor-only usage. In both cases, Wi-Fi passive scanning is utilized to monitor and track physical assets. The level of accuracy using Wi-Fi can range from five to 20 meters depending upon a few factors.
To begin, Wi-Fi b/g/n access points in an indoor facility must advertise their unique identifier MAC address, enabling the extraction of MAC addresses to determine the geolocation of tracking devices. Advertising the RSSI from the access point is optional, but if both are provided, the accuracy is greater.
Secondly, the more MAC addresses a server obtains, the more accurate the location algorithm calculation. For instance, if a large warehouse or structure has only one or two "visible" Wi-Fi access points either inside the building or other private or public Wi-Fi access points nearby, accuracy may be limited to geofencing types of application that provide general location. If a higher degree of accuracy is required, additional low cost Wi-Fi access points can be added to support greater location accuracy in the building enabling the location of an asset within a few meters. Identifying whether additional Wi-Fi access points are needed and where they should be located and installed is usually conducted by a systems integrator when it deploys a tracking solution for its customer. In addition, the systems integrator can provide the specific location of any additional access points and its MAC address to a database provider, further enhancing accuracy.
The way LoRa Edge determines an asset's location is by using a global database of private and public Wi-Fi access points that have been previously mapped. LR1110's Wi-Fi scanning feature captures visible MAC addresses and sends these to a Cloud-based Wi-Fi lookup service. When the system reads and locates those MAC addresses, it can execute a calculation exercise in the Cloud. A correlation is made from the data showing how far an asset is from one access point to another. This process determines the location of a specific asset.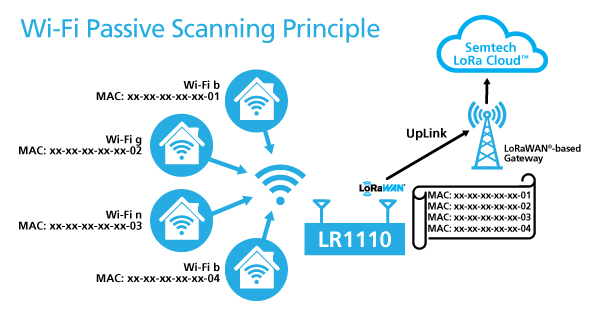 Unique Advantages
The fact that LoRa Edge's modular and configurable LR1110 chipset can transition between outdoor and indoor activity automatically is a key differentiator in the market, replacing the need to build different trackers for indoor or outdoor use or trackers that combine multiple location methods with a single chipset, reducing complexity and cost. Another is that the chipset contains the ultra-low power capabilities of a LoRa transceiver. Instead of changing the batteries on asset trackers every three to six months with conventional Wi-Fi technology, LoRa Edge delivers low power consumption allowing battery lifetimes up to three years.
LoRa Edge enables customers to further manage the total cost of ownership (TCO) by allowing them to select from different usage models of LoRa Cloud™ geolocation services. For businesses needing to know the location of assets several times per day, we offer a subscription-based model. For those who want to obtain asset location and status data at longer intervals (e.g., once a day, once a month, or once a year), a consumption-based option is available. Semtech allows customers to optimize their investment and take advantage of geolocation services only when needed.
Download the new infographic to learn more about the potential applications for LoRa Edge.
Semtech, the Semtech logo and LoRa are registered trademarks or service marks, and LoRa Edge and LoRa Cloud are trademarks or service marks, of Semtech Corporation or its affiliates