Semtech Announces Person Sensor Product Line, PerSe®
15 November 2021 / by Engineering.com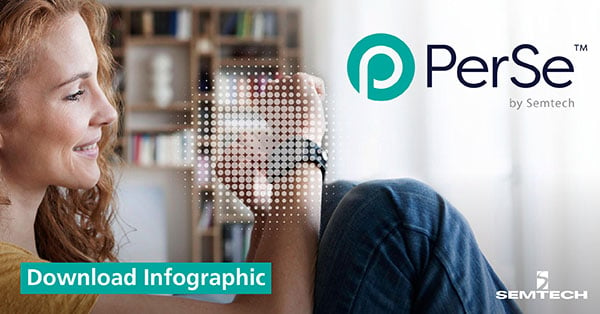 This article was originally published on engineering.com
Semtech was founded in 1960 and has more than sixty years of semiconductor experience, with a focus on "innovation, size, efficiency, performance, and reach." On October 27, 2021 the company launched its new PerSe® line of sensors. PerSe sensors, their name derived from the idea of Person Sensing, are designed for the consumer electronics market.
David Wong, senior director of Consumer Sensing Products for Semtech's Wireless and Sensing Products Group, talked with engineering.com about the sensor platform. He said that any consumer electronics device can use the PerSe technology, sensing the human user that interacts with the device and using the distance information to optimize safety and connectivity.
Holding a smartphone in your pocket, for example, would drive the sensors to minimize the radio frequency Specific Absorption Rate (SAR) to minimize risk to the user. After the user pulls the smartphone out of their pocket and uses it to make a call, the sensors can tell the phone to boost the signal for a better connection.
Three Branches of Sensors for Consumer Electronics
PerSe includes three groups of sensors: PerSe Connect, PerSe Connect Pro, and PerSe Control. PerSe Connect works with 5G, 4G and Wi-Fi devices to boost connectivity on smartphones and laptops. The company cites an IDC article that says that by the end of 2022, more than half of global demand for smartphones will be for 5G powered devices.
PerSe Connect Pro sensors are designed for mmWave 5G smartphones, laptops and tablets. Connect Pro sensors will have a higher sensing distance to help minimize the risk to RF exposure. PerSe Control works to give wearables a higher degree of control during use. The sensors will incorporate human detection with automatic on/off support. Gesture control, noise canceling, and media player control can also be incorporated into the Control sensors.
Wong stressed that the sensor platform would work toward enhancing a product's performance, intelligence and ease of use. The analog front end devices can either provide a higher detection distance or a smaller sensing area. The smart person sensing feature will shift modes when sensing a human vs an inanimate object, and its temperature compensation functions will help to lessen false positives. The footprint and power consumption of PerSe were both targeted to be minimized, to maximize their usefulness to battery-powered electronic devices.
The Shift Toward Smart Everything
This push by Semtech toward more intelligence and control in its sensors reflects the global desire to have control over all of our products. Not many of us dreamed ten or twenty years ago that we would have door locks, glasses, or coffee cups with smart technology attached, but that's the world we live in now.
Wong said that Semtech already had components and sensors in many consumer electronics devices, and this shift to intelligent sensing makes good sense for its customers and the company. End users who want more control over their devices and wearables will drive Tier 1 suppliers to adopt smarter technology. Creating smaller and safer sensors that offer the user more control and better connectivity definitely sounds like the right direction.
Explore PerSe products and download an infographic about PerSe to learn more.
Semtech is a registered trademark or service mark, and PerSe is a trademark or service mark, of Semtech Corporation or its affiliates.