LoRaWAN® Protocol Bolsters Water Metering Standardization
03 November 2020 / by Rémi Demerlé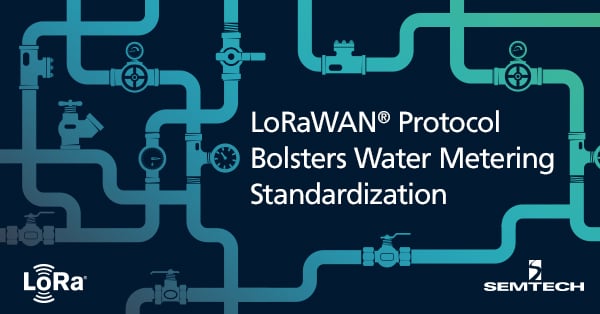 The European Committee for Standardization (CEN) has officially created a new working group under its Technical Committee TC294 to specify a new adaptation layer for M-Bus protocol used mainly in smart water meters, smart gas meters and smart heat meters. This new working group, called CEN TC294 WG7, is led by expert from Birdz, a subsidiary of Nova Veolia, a successful leader in the European smart metering ecosystem, and member of the LoRa Alliance®. In 2019, Semtech hosted a webinar with Birdz to highlight its proven use cases for transforming municipal water distribution networks leveraging the LoRaWAN® protocol for greater efficiency and cost savings.
CEN TC294 WG7 will focus its efforts to further the proliferation of metering standards, echoing recent EU sentiment on the subject. Specifically, it will look to modernize metering applications leveraging M-Bus, by creation of a generic adaption layer for running M-Bus over any low power wide area networks (LPWAN), including those based on the LoRaWAN protocol. M-Bus is an open standard developed for efficient smart metering with Automated Meter Reading (AMR) and Advanced Metering Infrastructure (AMI) applications. M-Bus is a popular standard in Europe, and many European experts, according to the positive vote in CEN TC294, believe combining the capabilities of the LoRaWAN protocol with M-Bus will help its expansion towards IoT market and increase the functionality and flexibility of smart metering across the continent.
Global Standardization Efforts and SAREF4WATR
Globally, the Internet of Things (IoT) market is continuing to develop a common reference framework for smart applications. This framework is called "SAREF," for Smart Applications Reference, and its main objective is to enable the interoperability of a global digital market. SAREF is supported by a joint technical committee between OneM2M, an international collection of eight standards organizations and ETSI, the European Technical Standard Institute. To further the progression of standards for IoT in the domain of smart water specifically, SmartM2M, the joint technical committee, has created an extension of SAREF, "SAREF4WATR."
In September 2020, SmartM2M published a new article on the subject to the ETSI website. In addition, there are new technical documents produced by the ETSI and SmartM2M for the domain of water, including:
ETSI TR 103 547: Technical report providing the requirements for an initial semantic model in the water domain based on a limited set of use cases and existing data models.
ETSI TS 103 410-10: Technical specification document identifying the extension (i.e., the semantic model) for the water domain based on the requirements and use cases specified in the technical report.
These documents provide an initial semantic and data model, and identify initiatives and relevant use cases in the water metering domain. Specifically, many of these requirements should be successfully met by the SAREF4WATR extension.
M-Bus and LoRaWAN: Filling the Gap in Water Meter Networking
Many existing experts from CEN TC294, such as Birdz, have contributed to SAREF4WATR. When examining the details, we can see in ETSI TR 103, the ideal requirements for advanced water meter reading and configuration include the following:
Precise billing (variable tariff)

Quality monitoring (reverse flow, low temperature)

Asset monitoring (tamper/fraud, meter status, freeze detection)

Water network efficiency (consumption/supply monitoring, leak detection, permanent flow)

Remote configuration/monitoring (system parameters, meter and system status monitoring, clock synchronization, firmware updates over-the-air (FUOTA), security key updates, flow/supply disconnection/limitation)
Two-way communication is needed to meet these requirements. The triggering of data exchange sequences could be initiated either by the meter (by transmitting a message) or by the application server if the meter allows periodic/scheduled reception windows.
The quantity of data to be exchanged could vary from a typical 100 byte payload up to 100 kilobytes in the case of FUOTA. Furthermore, the addition of geolocation monitoring has been identified as a potential value-add for the smart identification of leaks in the water infrastructure and similar capabilities.
In the ETSI documents, the assumed networking model is the European M-Bus standard (EN13757-3 and 7). The water meter class require enhanced fabrication, firmware, hardware, radio frequency, power management, and for the water flow meter class, the properties required are pressure, rate, temperature, and volume.
The current specification of the LoRaWAN protocol covers all these identified requirements and new services proposed by Semtech such as geolocation and FUOTA service meet these new requirements.
CEN TC294 looks to optimize M-Bus and meet the key capabilities listed in SAREF4WATR. This is the main trend for standardization in smart water metering. From Semtech's perspective, the widely adopted LoRaWAN protocol and use of new IoT services such as FUOTA support this trend.
I continue in assisting the LoRa Alliance to follow that trend and support the future new specifications of CEN and SAREF4WATR with upcoming breakthroughs for M-Bus over LoRaWAN networks.
Interested in learning more about metering standards and networks leveraging LoRaWAN? Read Remi's blog on DLMS for a look at the collaboration's networking advantages and how it enables new and innovative IoT use cases.
Semtech, the Semtech logo and LoRa are registered trademarks or service marks of Semtech Corporation or its affiliates.