LoRaWAN® & 5G Fact vs. Fiction: Q&A with MultiTech
01 July 2020 / by Remi Lorrain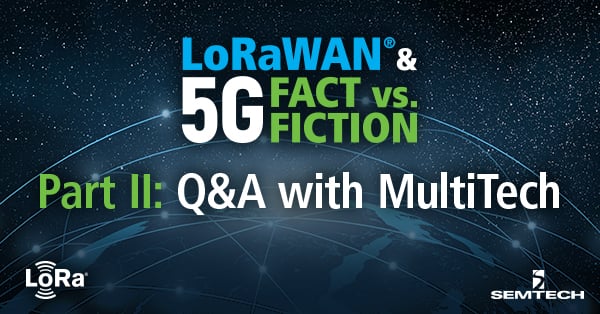 This is the second blog in an ongoing series about LoRa® devices and the LoRaWAN® protocol, and its capabilities to transform next-generation networking applications built on 5G. This blog series follows Semtech's "5G Fact vs. Fiction, and How LoRaWAN Plays a Role" webinar, featuring Orange, Charter Communications and MultiTech, moderated by Beecham Research, and addresses some of the pressing topics offered by the audience during the webinar's Q&A. Read the introduction to the new series in part one.
In part two below, Daniel Quant, Vice President of Strategic Development for MultiTech and Rémi Lorrain, Director of LoRaWAN Networks for Semtech, discuss the strategies and types of deployments for large scale LoRaWAN networks complementing 5G.
Multi-RAN strategy: How do you explain the superior capacity of LoRaWAN vs 5G-NR? Is this dependent on capacity in real time for number of sensors or data rate?
Daniel Quant, MultiTech – Comparing the KPIs of both wireless networks, 5G-NR offers the best backhaul, with enhanced broadband and low latency, secure, wireless IP. LoRaWAN offers narrower bandwidth, employing the best tradeoff for power consumption and range, enabling a high density of devices to infrequently communicate small messages for massive IoT use cases.
The 5G-NR minimum bandwidth is 5 MHz, generally far higher, and 3GPP Release 17 NR Lite proposals are targeted for applications up to 100 Mbps, again a different zip code to the massive machine connectivity of constrained devices and sensors. The Cellular LPWA outlook remains LTE-M and NB-IoT using 4G-LTE Radio Access Network (RAN) overlay, connected to a 5G core network.
Enterprises will look to combine both wireless access networks to deliver the best system level performance for LPWA massive IoT capacity.
Do you see LoRaWAN having a place in mission critical deployments? If so, could you provide an example of a mission critical deployment that is live and in production?
Daniel Quant, MultiTech – Mission critical assets, such as production lines, large industrial motors and pumps, are high-investment assets that cost even more when they fail and are not in full production. These assets have many control lines, lubrication fluids feeding motor bearings, compressed air for production equipment, and water for cooling and drilling equipment. LoRaWAN is being deployed to cost efficiently manage chemical inventory, compressor pressure and fluid monitoring to provide condition-based monitoring and predictive maintenance. LoRaWAN-based use cases keep mission critical assets working at full production and efficiently schedu
led for repair during organized down times.
Semtech recently announced that Radio Bridge had developed a new line of industrial sensors built on LoRa devices. Read the press release to learn more about how IoT enables these mission critical applications.
Countries like France have significant LoRaWAN network deployments. What is the status of similar large scale deployments in other countries, such as the U.S.?
Rémi Lorrain, Semtech – Today, France has two nationwide LoRaWAN operators: Orange and Bouygues. Both are Mobile Network Operators and provide a tangible example of the capabilities of combining LoRaWAN and Cellular IoT. With LoRaWAN network availability in over 157 countries, and a variety of different rollout strategies, the diversity of LoRaWAN-based business models and massive IoT use cases increases yearly. LoRaWAN networks can target specific cities, regions, countries, or even multi-country coverage. Moreover, there are additional opportunities for multiple operators within the same country. In the U.S. for example, 10+ operators have begun the deployment of LoRaWAN networks. The U.S. market is very active with global leaders pushing LoRaWAN expansion. These companies include Comcast, Charter Communications, Senet, and Helium.

Subscribe to the Semtech blog to stay up to date with new releases in the series, keep up with industry trends and gain access to the latest on Semtech's comprehensive product portfolio.



Semtech, the Semtech logo and LoRa are registered trademarks or service marks of Semtech Corporation or its affiliates.