The Future of 5G and LoRaWAN®: Friends or Foes?
09 February 2021 / by Remi Lorrain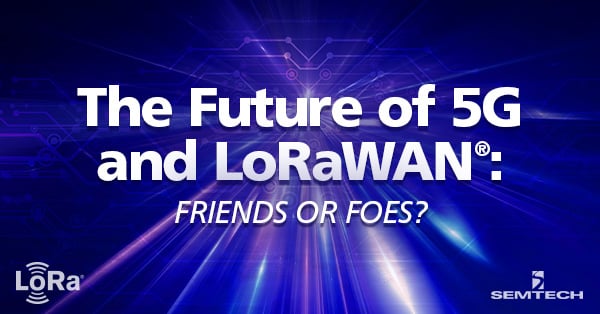 As the Internet of Things (IoT) is embraced across industry verticals with a growing number of connected devices, the connectivity technology landscape remains complex and fragmented. There is no single IoT network that has ubiquitous coverage and is capable of addressing all vertical IoT use cases.
Cellular provides range and bandwidth at the expense of power consumption. It can transmit large amounts of data over long distances frequently, but also drains battery power rapidly. As a result, Cellular connectivity is usually reserved for high-capacity applications, such as surveillance, or for backhaul. Backhaul is when a gateway utilizes a Low Power Wide Area (LPWA) network to communicate with sensors/devices and then uses Ethernet, Wi-Fi or Cellular to connect to the Cloud to pass data along.
To increase range while maintaining low power consumption, LPWA network technology is extremely useful for the majority of IoT use cases because they often require only small data transfers at infrequent intervals. With the LoRaWAN® protocol, sensors or devices can send data over miles, yet batteries can last for multiple years instead of weeks or months.
The ease of deploying a LoRaWAN network has made it possible to have many thousands or hundreds of thousands of sensors/devices collecting and sending data at a lower cost, over a longer range and with significantly extended battery life.
5G Is Coming
As the industry cautiously waits for the standards and commercial availability of 5G technology, there is a growing anxiety whether 5G will be the panacea for IoT connectivity and if it will coexist with other network connectivity technologies.
As 5G technology standards are ratified by the 3rd Generation Partnership Project (3GPP) releases, over the next few years, phased rollouts of 5G technology are expected.
Some network operators already began deploying citywide or campus networks in 2020.
3GPP's Release 17 of the 5G specification, which standardizes the New Radio (NR)-Lite specification and is positioned to address more massive IoT applications, is expected to be ratified by the end of 2021. However, 5G networks and, subsequently, the device hardware supporting the Release 17 specifications will likely not be commercially available until early 2024.
When 5G networks become commercially available, network operators will be able to offer differentiated connectivity that brings to the fore new Cellular network capabilities in the form of deterministic networking, network slicing and high-throughput, and low-latency connectivity. However, "unlocking the full potential of 5G will take longer than anticipated, as the technology standards are ratified, and the technology ecosystem matures," according to ABI Research.
LoRaWAN Networks Are Well-Established
Semtech's LoRa® portfolio of transceivers was announced in 2012, initially addressing the demand for IoT applications using private IoT networks. In 2015, the LoRa Alliance®, a non-profit association, was formed to manage and promote the LoRaWAN protocol as an open LPWA network standard. Now, the LoRa Alliance has hundreds of global member companies and LoRaWAN networks extend into 99 countries served by 148 network operators, and growing.
LoRaWAN network architecture is deployed using a star network topology in which gateways relay messages between end devices and a central network server. The gateways are connected to the network server via standard IP connections and act as a transparent bridge, simply converting RF packets to IP packets and vice versa. The wireless communication takes advantage of the long range characteristics of the LoRa physical layer, allowing a single-hop link between the end-device and one or many gateways. All modes are capable of bi-directional communication.
Today, the LoRaWAN protocol is a proven license-exempt, non-cellular LPWA network technology addressing massive IoT vertical markets, such as smart metering, smart city, asset tracking and logistics, commercial building automation, smart home, and other key vertical IoT markets. The following are just a few examples of use cases currently deployed.
Enterprise LoRaWAN Implementations
Cold Chain Monitoring
In 2018, JRI launched a solution that uses sensors leveraging the LoRaWAN protocol and a Cloud-based application platform to provide a turnkey temperature monitoring solution for both fixed and mobile assets for industries, including healthcare, food retail, and the energy sector.
The JRI-MySirius solution was chosen and implemented by a leading grocery retailer in France for real-time monitoring of its cold storage supply chain. The system is deployed on a national scale to provide real-time visibility to a 650-vehicle fleet, each equipped with two temperature-controlled refrigerated containers. Previously, temperature was monitored using data loggers that required manual collection from each refrigerated container every week. This system was not only labor intensive, but also severely limited the visibility of the supply chain's flow.
In this case, a LoRaWAN network is accessed over public networks provided by Orange, who deployed its first LoRaWAN network in 2016, and via private LoRaWAN networks for indoor coverage that can penetrate metallic structures, thick walls and insulated cold rooms.
Optimizing Operations
Chevron, one of the world's largest energy companies, plans to connect all of its high-value critical field assets with wireless IoT sensor devices. Chevron's San Joaquin Valley (SJV) business unit in California operates in six oil and gas fields spread over 38 square miles. In 2019, SJV implemented a LoRaWAN network infrastructure to cover the oil fields with a few dozen MultiTech Conduit gateways with 4G Cellular backhaul connectivity to process data from the gateways directly to Chevron's Microsoft Azure IoT service.
The LoRaWAN network is used to connect smart lids to more than 3,500 (soon to be 10,000) wells and tanks to remotely transmit fluid level readings, an activity achieved earlier by manually driving between wells using dipsticks and paper records. For Chevron, the Return on Investment (ROI) for the smart lid solution has been nearly 10:1. Building on the successful smart lid implementation, Chevron's SJV facility plans to implement other remote condition monitoring use cases using its existing LoRaWAN network infrastructure.
Asset Tracking
IoT device maker Ercogener developed an end-to-end tracking solution for monitoring industrial assets. France's national state-owned railway company, SNCF, implemented the tracking solution to provide real-time visibility of its valuable assets.
A LoRaWAN network is the primary connectivity for this application, providing long device battery life made possible because location and sensor information is only sent every 10 minutes up to a maximum of 144 messages per day. Longer battery life has limited truck rolls to replace batteries and dramatically improves overall device life cycle management costs.
A Cohesive Coexistence
As IoT continues to connect millions of physical devices to digital assets, Semtech's LoRa devices and the LoRaWAN protocol will play an integral role. ABI Research estimates that, by 2026, LoRa will be the leading non-cellular LPWA network technology and will account for more than half of all non-cellular LPWA connections. The firm estimates the total non-cellular LPWA connections in 2026 will reach 1.3 billion and Cellular LPWA connections, which include NB-IoT, LTE-M, and 5G, will reach 1.5 billion connections, including the large 2G customer base migrating towards NB-IoT and LTE-M.
Certainly, LoRaWAN and 5G will coexist in the future. Primarily the relationship will be in the form of hybrid networks that will be deployed for several use cases. As millions of IoT devices featuring the LoRaWAN protocol are connected and continue to grow, 5G networks will complement LoRaWAN networks both as an access network technology and to backhaul data from gateways in remote areas to the Cloud or head-end systems.
For more detailed information, download "LoRaWAN and Multi-RAN Architecture Connecting the Next Billion IoT Devices" white paper by ABI Research and the "Ultimate Network Comparison" infographic to learn the pros and cons for the top six IoT network options: LoRa/LoRaWAN, NB-IoT, Zigbee, Wi-Fi, BLE, and 5G.
Semtech, the Semtech logo and LoRa are registered trademarks or service marks of Semtech Corporation or its affiliates.