LoRaWAN® & 5G Fact vs. Fiction: Q&A with Orange
17 September 2020 / by Remi Lorrain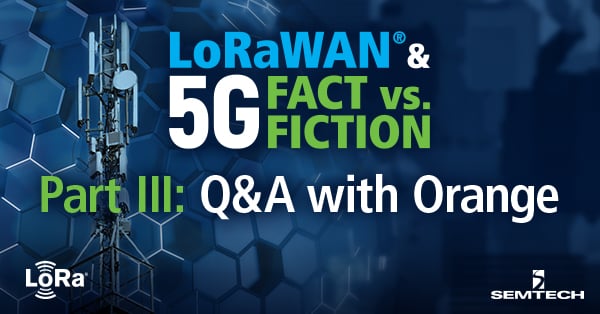 This is the third blog in an ongoing series about LoRa® devices and the LoRaWAN® protocol, and its capabilities to transform next-generation networking applications built on 5G. This blog series follows Semtech's "5G Fact vs. Fiction, and How LoRaWAN Plays a Role" webinar, featuring Charter Communications, MultiTech and Orange, and moderated by Beecham Research, and addresses some of the pressing topics offered by the audience during the webinar's Q&A. Read the introduction to the new series in part one, and explore large scale LoRaWAN networks in part two, featuring MultiTech.

In part three below, Ronan Le Bras, Head of Technology Strategy at Orange, and Rémi Lorrain, Director of LoRaWAN Networks for Semtech, discuss Cellular devices, network management, regional deployment differences, and roaming/satellite communication.
Can one manage devices based on the LoRaWAN protocol and Cellular (e.g., NB-IoT, LTE-M) on the same device management platform? If so, is there an integrated access mechanism for both types of networks (such as a unified API)?
Ronan Le Bras, Orange: A first level of integration is already feasible and done by many players including Orange. Orange's unified platform, Live Objects, collects data from devices on our LoRaWAN networks as well as Cellular devices, from LTE-M and NB-IoT, to 2G through SMS. Currently, this is done by supporting protocols such as MQTT over IP for Cellular and integrating LoRa devices via decoder. We are exploring ways to automate this process to reduce the cost of end-to-end integration, especially for basic devices and use cases supported over multiple access networks. This includes APIs and other methods to make these networks more accessible.
If multiple operators manage networks in the same city or area, how does one prevent networking collisions with LoRaWAN?
Ronan Le Bras, Orange: The 868MHz ISM band in Europe is
a shared band for not only other LoRaWAN network operators, but also other low power wide area network (LPWAN) systems and point-to-point applications such as garage doors. When deploying in a city or on an industrial campus, it is necessary to measure the real usage of the available channels to select the best option and continuously monitor its usage over the lifetime of the network. If some channels deteriorate over time, it may be necessary to change the channel plan. This is possible with LoRaWAN as the system is bi-directional. Moving from eight to 16 channels is also a good way to lower the interference. In addition, the LoRaWAN protocol supports key features to manage this situation, including uplink macro diversity, frame repetition and other schemes at the application layer to help overcome spectrum. The end goal is to ensure that the end-to-end service-level agreement (SLA) can be implemented even if the single link SLA is lower.


If multiple operators manage networks in the same city or area, how does one prevent networking collisions with LoRaWAN?What are the differences or challenges of implementing LoRaWAN networks in different regions worldwide?
Rémi Lorrain, Semtech: As with the licensed spectrum, unlicensed band rollout requires obtaining country-based regulatory approval for a LoRaWAN operator to deploy private or public networks. In China, Europe and the Americas, the situation is simplified by the fact that one regulation framework is shared across multiple countries. This can be more complicated in the Middle East and Africa where country-per-country regulatory clearance is required. According to the LoRa Alliance®, LoRaWAN is currently deployed in more than 160 countries and is in compliance with nearly all regulatory requirements. The LoRa Alliance has developed a regulatory work group in connection with regulators around the world to meet and accommodate local requirements. Apart from regulatory differences, the LoRaWAN standard is the same in every country; only the frequency plan may vary.
What is the status of LoRaWAN roaming and expansion on satellites?
Rémi Lorrain, Semtech: LoRaWAN roaming was specified more than two years ago. Today, multiple LoRaWAN networks are connected through roaming with real use cases. LoRa Alliance members are currently collaborating on accelerating roaming interconnections in Europe; Bouygues, Swisscom, KPN, Proximus, Digita, and other LoRaWAN network operators have set up roaming interconnections, and Actility has built a carrier grade LoRaWAN roaming hub connecting more than 15 networks in Europe.
In regards to satellite communication, LoRaWAN is ready to support gateway and device to satellite communications. Multiple projects are ongoing, led by LoRa Alliance members such as Fleet Space. More satellite projects are expected in the coming years.
Subscribe to the Semtech blog to stay up to date with new releases in the series, keep up with industry trends and gain access to the latest on Semtech's comprehensive product portfolio.
Semtech, the Semtech logo and LoRa are registered trademarks or service marks of Semtech Corporation or its affiliates.