Introducing the LoRaWAN® & 5G Fact vs. Fiction Series
13 May 2020 / by Remi Lorrain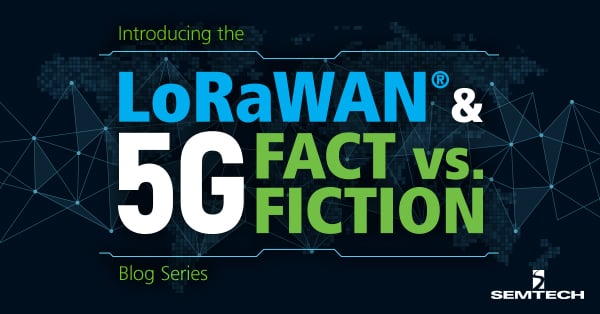 We're well into 2020, and the promise of 5G networking is continuing to lead conversations across the wireless industry. However, as 5G deployments increase, we also see a rise in alternative low power technologies to offer flexible, cost effective power and low bandwidth options for these so-called massive Internet of Things (IoT) deployments. In particular, market demand for solutions based on Semtech's LoRa® devices and the LoRaWAN® protocol is continuing to increase, including those helping to combat the global COVID-19 outbreak. It has become clear that as 4G and 5G will target low latency and high throughput applications in the near future, LoRa and LoRaWAN-based applications will make up a larger portion of the massive IoT space, led by mobile operators, unlicensed spectrum operators and enterprises across private rollouts. The market is heading toward a Multi-Radio Access Network (Multi-RAN) strategy leveraging complementary standards, including 4G, 5G, LoRaWAN, and others such as Wi-Fi 6.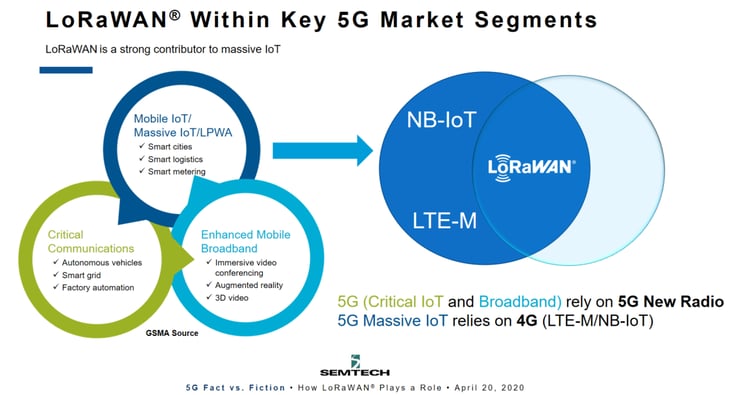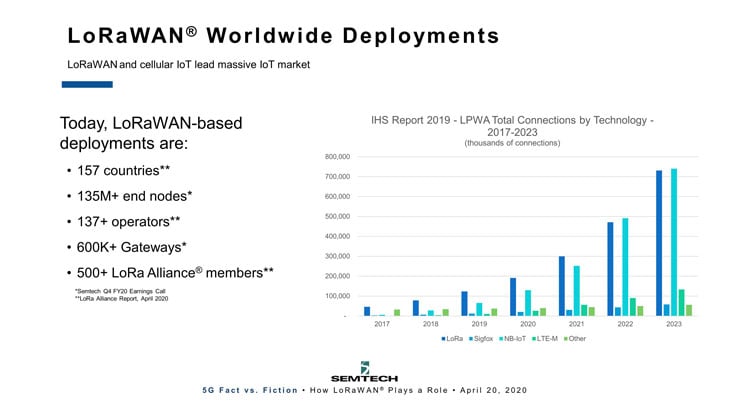 LoRaWAN: the Ideal Complement for Massive IoT Networking
LoRaWAN networks are a leading choice to support massive IoT use cases, and have become a de facto standard with analysts expecting LoRaWAN and Cellular IoT to account for more than 80 percent of the global low power wide area network (LPWAN) market by 2023.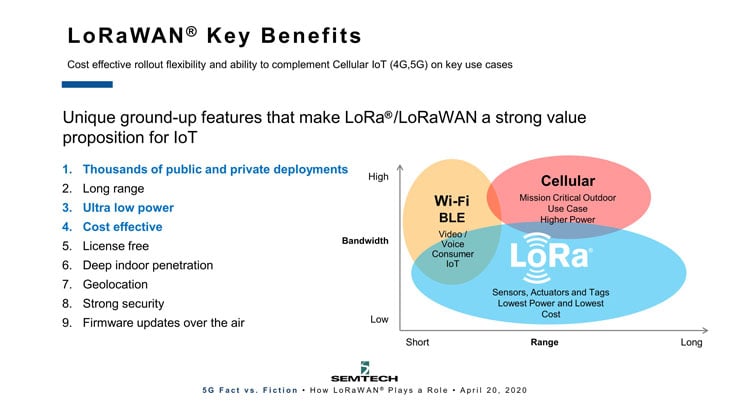 There are many advantages in using LoRa-based applications to remotely monitor everything from assets in transit, temperatures of refrigerators or even water leaks in the home. LoRa-based use cases are expected to continue to grow and solve many specific problems that are unable to be addressed with broadband 5G. The biggest factors driving the use of the LoRaWAN protocol are its ultra-low power capabilities, the cost effective network architecture and last mile expansion, with no need to own a licensed spectrum. As a result, enterprises and operators can deploy LoRaWAN networks in any country with any business model (public, private or hybrid).
LoRaWAN & 5G: Fact vs. Fiction
On April 20, 2020, Semtech hosted "5G Fact vs. Fiction, and How LoRaWAN Plays a Role" webinar, partnering with global IoT leaders: Orange (Ronan Lebras), Charter Communications (Wael Guibene), and MultiTech (Daniel Quant), and moderated by Robin Duke-Woolley from Beecham Research. We had an outstanding participation with 1,600+ registrants from around the globe.
Watch the webinar here, on-demand:
On the webinar, we took the opportunity to clarify common 5G misconceptions with each speaker shared compelling use cases about LoRaWAN and 5G, and how these leading protocols easily combine to meet all IoT segments.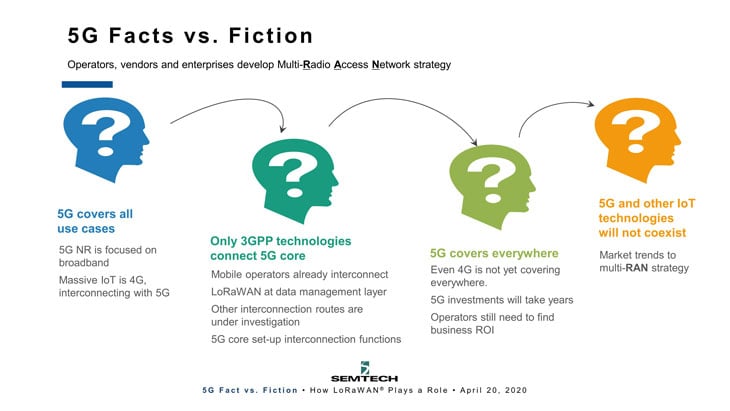 Introducing a New 5G Blog Series
Finally, we received more than 80 questions on the topic, and over the next several months on the Semtech blog, we will publish a new series answering these topics and shedding some light on the topic of LoRaWAN and 5G. Join us for 'LoRaWAN & 5G: a Fact vs. Fiction Deep Dive.' Blog posts as part of this series will feature the expert insight into the world of next-generation networking, with topics addressed by the webinar's speakers, senior IoT experts from Orange, MultiTech, Charter Communications, and Semtech.
Subscribe to the Semtech blog to stay up to date with new releases in the series, as well as keep up with industry trends and gain access to the latest on Semtech's comprehensive product portfolio.
Semtech, the Semtech logo and LoRa are registered trademarks or service marks of Semtech Corporation or its affiliates.