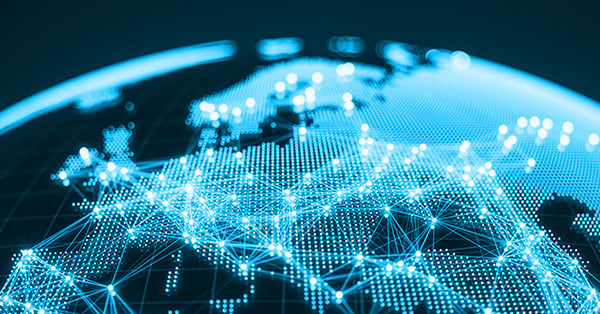 14 December 2018 / by Joseph Knapp
The name of Semtech's radio modulation technology of low-power, wide area networks, "LoRa®" comes from the extremely long-range data links the technology enables. The distances LoRa signals can travel exceed 700km. Generally, however, LoRa communications range from up to three miles (five kilometers) in urban areas, and up to 10 miles (15km) in more rural areas.
Operating at the physical layer, LoRa enables devices to translate data into RF signals, sending messages over the air using chirp spread spectrum communications and the license-free radio bands. A key characteristic of solutions built for the Internet of Things (IoT) that use devices built with LoRa chipsets is their ultra-low power requirements. Sensors and other devices built with LoRa chips can last for up to 10 years on a single battery.
In turn, LoRaWAN® is fast becoming the de facto standard for LPWAN deployments. Managed by the LoRa Alliance®, the LoRaWAN standard is an asynchronous software protocol which uses the LoRa physical layer. By using LoRa and LoRaWAN, very large-scale flexible networks are possible.
Learn More
The LoRa Ecosystem
Supported by networks around the globe, the Internet of Things is changing our world. This video explores the ecosystem and ever-increasing number of LoRa-based use cases. Browse a selection of featured LoRa ecosystem companies on our website.
Amazon Sidewalk
Amazon Sidewalk is enabling new services that benefit everyone like helping to locate lost items, extending the working range of smart devices, and providing limitless possibilities for developer and community innovation.
LoRa is the one of the foundational technology powering Amazon Sidewalk to provide an extremely long-range wireless reach, creating a true community network for devices. For those just getting started, this blog post might be helpful.
Learn more about Amazon Sidewalk and what you can do with it here.
LoRa Modulation Technology and LoRaWAN Protocol
Learn about the LoRa modulation technology and how it is used in conjunction with the LoRaWAN standard to create very large-scale networks and deploy an IoT solution.
What Can I Do With LoRa?
LoRa allows you to create IoT solutions for a wide variety of use cases.
Solutions with LoRa devices and the LoRaWAN standard have been deployed in a wide variety of use cases around the world. In Africa, they are being used to combat the poaching of wildlife, while in Calgary and Glasgow, they are being used to manage entire cities, in regard to everything from monitoring air quality to public transportation.
On a smaller scale, LoRa and LoRaWAN are being used to maximize the efficient use of office space. These solutions are even being used to simply determine the number of people in a given location, answering such questions as: "Is there room on the bus for more people?" and "How long is the line in the cafeteria?"
Elsewhere, LoRa and LoRaWAN are being used for smart water metering. In still other places, they are being used to manage traffic congestion related to people looking for a place to park, be it on the street or in a private garage.
So, what can you do with LoRa? Almost anything!
How Do I Implement LoRa?
1. Identify and understand your use case.
What you want to achieve with your solution will influence how you build and deploy it.
2. Understand the technology.
A very-long-range communications technology, LoRa devices can connect thousands of devices (such as sensors, actuators and tags), both deep indoors and over very long distances, all while supporting an incredibly long battery life in those devices – up to ten years or more.
For a quick introduction to the protocol, watch The LoRaWAN Network Protocol Overview video.
For more information about the technology and how it works, check out the Learning Center. Here, you will find a wealth of education and training opportunities. If you're just starting out with LoRa and LoRaWAN, work through the free Academy for LoRaWAN, which offers a foundational understanding of LoRa devices and the LoRaWAN standard.
If you're already familiar, and want to start building solutions, check out our Hands-on Labs. Here, you'll find step-by-step walk-throughs to help you get your solutions up and running quickly.
3. Select the right hardware for your region and use case.
When it comes to radio gateways, you will likely want to deploy pico cells for indoor applications, and macro cells for outdoor applications.
Semtech's LoRa Connect™ SX127x family of chips was launched in 2013 and has been widely used in a number of industries. It features Gen 1 LoRa IP and a flexible modem and packet engine set, making it suitable for LoRaWAN or proprietary protocols. LoRa Connect SX126x devices were introduced in 2018 and feature Gen 2 LoRa IP in a smaller 4x4 mm package and drastically improved power efficiency. With their reworked RF front-end architecture, they can be used worldwide and are typically a better choice for new designs. Semtech has also introduced LoRa Connect LR1121. With Gen 3 LoRa IP and state-of-the art performance, the LR1121 adds dual-band capability and pin compatibility to other devices in the LoRa Edge™ portfolio, in which GNSS and Wi-Fi passive scanners are available.
For more information about selecting a chip, watch Semtech's video Selecting the Right LoRa IC for Your Application.
4. Prototype and build your devices.
You'll probably also be interested in the How to Build & Deploy a Network Using the LoRaWAN Protocol lab, which walks you through the end-to-end deployment of a LoRaWAN network, from building a device and a gateway that feature LoRa, to building and deploying a network using the ChipStack network server, which leverages the LoRaWAN standard.
Best of all, it's completely free!
Of course, you can always start from scratch, adding a chip and an MCU to a circuit board and building from there, or you can start with one of the many reference boards from a variety of manufacturers.
For more information about building a sensor, watch LoRaWAN Sensors (Part 1), and for information about joining a device and communicating with your network, watch LoRaWAN Sensors (Part 2).
For more hands-on videos, visit our video library.
For a hands-on guide, visit LoRa on-premise.
How Do I Test LoRa?
Testing LoRa-based Devices
As Sebastien Lebreton explains in his blog post (Expert Series: Testing Devices Featuring LoRa [How To]), "decent test coverage can be obtained with only a few tests. Rest assured, it will not be all that expensive or time-consuming."
Getting Devices Certified
The LoRa Alliance only promotes devices that have been LoRaWAN CertifiedCM.
To be certified, devices using LoRaWAN must pass a comprehensive and rigorous suite of tests to ensure they meet quality and performance standards. There is now a way to prepare devices to meet these standards prior to sending them for formal certification.
The LoRaWAN Certification Test Tool (LCTT) is available to LoRa Alliance members across the globe. The LCTT is a "pre-test" tool designed to be used by device manufacturers to ensure their devices meet the requirements for performance and compatibility with LoRaWAN networks. The key benefit of this tool is that full testing devices, including regression testing and debugging, can be done prior to submitting for formal certification. Device manufacturers can save time and money by pre-testing their devices before sending them for certification.
Once the pre-testing is complete and devices are ready for market, it is important that device manufacturers have their devices officially certified. Fortunately, there are several LoRa Alliance Authorized Test Houses around the globe that can validate and certify devices for sale as LoRaWAN-compatible.
For more information about certification, contact the LoRa Alliance.
Testing Tools
In addition to the LoRaWAN Certification Test Tool, several test equipment suppliers offer measurement tools that can be very helpful in testing LoRa-based devices:
Anritsu MT8870A Universal Wireless Test Set
Rohde & Schwarz LoRa Test Solutions
RWC5020B Tester for LoRa / LoRaWAN​
Semtech, the Semtech logo and LoRa are registered trademarks or service marks of Semtech Corporation or its subsidiaries.