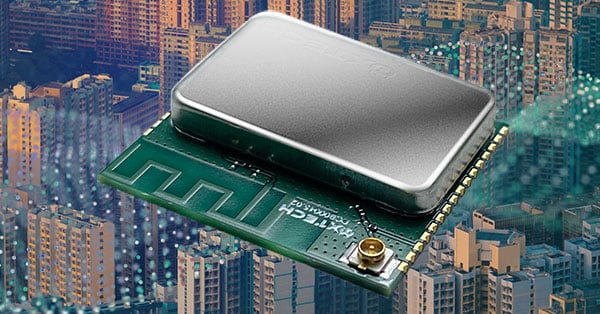 Oxit Oxtech Multi-Connectivity Module for Connecting to LoRa®-enabled Networks on AWS
06 September 2023 / by Raphael Atayi
Earlier this year, Amazon opened their Amazon Sidewalk network to the public. With Sidewalk signal already covering over 90% of the U.S. population leveraging LoRa's long range technology, Amazon Sidewalk offers LoRa as one of its connectivity options for device makers to connect LPWAN IoT devices into the sidewalk, enabling a new class of devices with long range community coverage. In areas of the U.S. where Sidewalk coverage is unavailable, or outside the U.S., devices using the new Oxit module can connect to any compatible LoRaWAN® network, enabling AWS customers to connect their device to any compatible AWS IoT Core for LoRaWAN or integrated public network. In addition, LoRaWAN technology not only enables customers to connect to an alternative public LoRaWAN network, but also deploy a gateway utilizing LoRaWAN and create a network anywhere.
The challenge until now has been a single device that is configurable to connect to either the Amazon Sidewalk Network or a LoRaWAN network. This is where the new Oxit OxTech Multi-Connectivity Module comes into play. Based on Semtech's SX1262 transceiver, the module supports a hybrid LoRaWAN and Amazon Sidewalk software stack on the device, which enables a single hardware SKU to be built which can connect to either Amazon Sidewalk or a LoRaWAN network.
Building a solution with the OxTech module is simplified through AWS IoT Core. AWS IoT Core has three features which enable customers to build end-to-end solutions: AWS IoT Core for LoRaWAN private networks, AWS IoT Core for LoRaWAN public networks (supporting Everynet today) and AWS IoT Core for Sidewalk. Once customers register their devices in AWS IoT Core, they can immediately get the device online if they are in range of a Sidewalk gateway, or reach any compatible LoRaWAN network, depending on how they configure the new module.
Using a device based on the Oxit module with AWS IoT Core gives customers a single IoT cloud endpoint on one device with the ability to choose the best network based on coverage and use cases. AWS IoT Core lets you connect billions of IoT devices and route trillions of messages to Amazon Web Services (AWS) without managing infrastructure. Being able to use both networks for applications gives diverse network options and reliable coverage, opening a breadth of opportunities for applications across the enterprise space, whether it is tracking the geolocation of assets across a warehouse, yard, or the country. Building owners can now deploy IoT devices for leak detection, temperature, door open/close, and many others simply and reliably across their fleet knowing that connectivity is not a barrier to deployment.
Get started by procuring your OxTech Multi-Connectivity Module and connecting to AWS IoT Core today.
Semtech, the Semtech logo and LoRa are registered trademarks or service marks of Semtech Corporation or its subsidiaries.