LoRa®: Delivering Internet of Things Capabilities Worldwide
07 February 2022 / by Remi Lorrain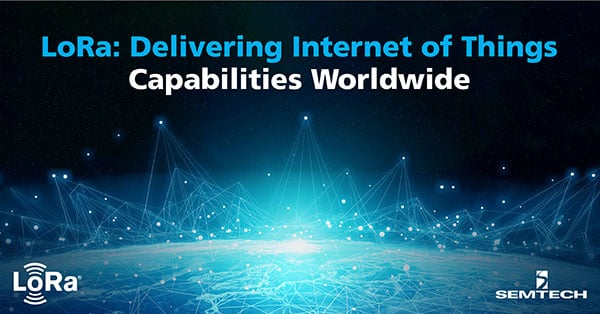 Estimates suggest that only 10% of the world's surface has terrestrial connectivity. To establish a truly connected planet with ubiquitous coverage for massive Internet of Things (IoT) deployments, we need to complement terrestrial networks with satellite connectivity, expanding coverage for demanding verticals. The LoRa Alliance® recently upgraded its guidelines to include Long Range Frequency Hopping Spread Spectrum (LR-FHSS) data rates for the LoRaWAN® standard. The LR-FHSS features significantly increase network capacity and reduce interference, facilitating new deployment opportunities across the globe.
Semtech recently announced the ability to upgrade LoRa® integrated circuits and gateways with LR-FHSS enabling reliable low power data links from sensors to satellites and bolstering satellite connectivity.
LR-FHSS enables satellite to connect easily vast remote areas around the globe, supporting millions of end nodes and delivering a new level of reliability for IoT services – hence satellite companies can achieve a faster return on its investment. New LoRa-enabled satellite services are expected to bring lower price points for satellite IoT connectivity to the market, opening huge opportunities across key industries including logistics, asset tracking, transportation, utilities, agriculture, and maritime. LR-FHSS is an important step in the global expansion of the LoRaWAN standard. The enablement of direct device to satellite communications revolutionizes the industry with affordable ubiquitous connectivity for remote areas.
Furthermore, as smart cities proliferate globally, the new high-capacity capability is a step for Semtech's LoRa platform toward establishing trustable massive IoT deployments in densely populated areas.
High capacity and ubiquitous connectivity will both concur to the new paradigm of pervasive IoT for a smarter and more secure planet.
LoRaWAN®: Enhancing Global Connectivity
LoRaWAN networks are now capable of easily and cost-effectively bridging terrestrial networks with worldwide satellite connectivity.
An initiative demonstrating the LoRaWAN standard's ability to improve satellite connectivity is the recent collaboration between Eutelsat Communications, Senet, TrakAssure, and Wyld Networks rolling-out a LoRaWAN Low Earth Orbit (LEO) satellite constellation (Eutelsat Low Earth Orbit for Objects (ELO)) to bring seamlessly integrated and interoperable terrestrial and satellite LoRaWAN network IoT connectivity to customers across the globe. Through platform integrations, innovative sensor and hardware design, collaborative service delivery and compelling pricing, the companies are targeting the global supply chain, including container logistics and related asset tracking. End-to-end managed network services delivered through this collaboration will provide a new level of visibility into supply chain operations.
Moreover, EchoStar Mobile is leveraging the LoRaWAN standard to create pan-European satellite connectivity via a low latency direct sensor. The ultimate goal is to create in 2022 the first low cost, satellite-based, real-time, bidirectional IoT connectivity service. The collaboration is expected to achieve complementary satellite and terrestrial LoRaWAN network connectivity for customers who require global coverage from land to sea to air.
Additionally, Lacuna Space further increases the coverage and resilience of LoRaWAN connectivity. It aims to fully leverage the LoRaWAN standard in the unlicensed band maintaining very low power consumption capabilities – this, in turn, enables affordable and simple satellite IoT platforms, and expects commercial services within the first half of 2022.
LoRa: To the Moon and Back
A message enabled by LoRa was bounced off the moon for the first time on October 5, 2021, by Lacuna Space, using the Dwingeloo radio telescope. The signal traveled a staggering distance of 730,360 km, the furthest distance a LoRa modulated message has ever traveled. The Dwingeloo radio telescope, operated by the CAMRAS foundation, has a history of being used in amateur radio experiments and is now often used for moon bounces, but this was the first time a data message was bounced using a small RF chip. For a short moment, the entire message was in space, in between the Earth and the Moon.
Even More Satellite News from the Ecosystem
Dubai Electricity and Water Authority (DEWA)'s new nanosatellite provides another compelling example of expanding terrestrial LoRa-enabled connectivity to space: the project will improve the efficiency and effectiveness of DEWA operations and support digitizing energy networks, water distribution and transmission networks.
Swarm Technologies, which was recently acquired by spaceflight company SpaceX, has integrated Semtech's LoRa devices into its connectivity solution that enables two-way communications to and from its LEO satellites. LoRa technology is well suited for long distance, low power and wide area coverage applications and has opened up new IoT use cases for Swarm in logistics, agriculture, connected cars, and energy.
Another example of LoRa integration into satellite networks comes from IoT provider FOSSA systems, which recently started to deploy its LEO satellite constellation always leveraging LoRa to provide a low power and affordable IoT global solution.
Visit this page to learn more about how LoRa seamlessly connects our planet.
Semtech, LoRa and the LoRa logo are registered trademarks or service marks of Semtech Corporation or its affiliates.