Lacuna Space Shoots for the Stars with LoRaWAN®
09 September 2019 / by Remi Lorrain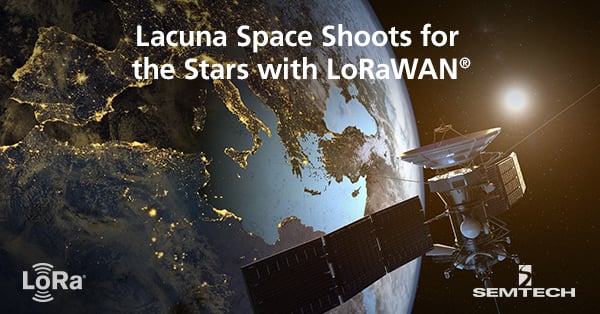 Semtech's LoRa® devices and the LoRaWAN® protocol offer several advantages for the Internet of Things (IoT) that have enabled it to lead in a competitive marketplace. Perhaps the most important of these advantages is LoRa devices' unique capacity for long-range data communication. A single LoRa-based gateway provides deep indoor connectivity in underground or city environments, and connectivity to LoRa-enabled end nodes from up to 30 miles away in rural environments. This is especially important in parts of the world where Cellular connectivity is scarce or nonexistent. In places such as these, LoRaWAN-based networking and LoRa-enabled end nodes provide the quickest to deploy and most cost-efficient option for IoT connectivity, enabling smarter solutions that could not otherwise exist.
Despite this, there remain areas of the world where a combination of geographical remoteness and/or environmental characteristics make the cost effective deployment of any terrestrial IoT network (or even supporting power hungry sensors) a challenge, for example, in the northernmost reaches of the Arctic or deep in the Sahara. That is, until now, thanks to the work of Lacuna Space, an innovative provider of IoT solutions and small satellite technology that recently concluded the first phase of testing in its plan to provide LoRaWAN-based coverage to sensors anywhere on Earth via satellite.

Providing Out-of-this-World Connectivity
Lacuna Space, located in the United Kingdom, is a provider of connectivity solutions enabling IoT solution providers with simple and reliable data connections to sensors and mobile equipment. Lacuna's goal is to enable seamless global coverage without the complexity, cost and power requirements of roaming across different terrestrial networks. Leveraging the low power characteristics of LoRaWAN, Lacuna enables customers to connect sensors that communicate for up to five years on a single battery. This is regardless of where those sensors are located, unlocking their ability to provide a vast range of services from asset tracking and monitoring, to smart energy management and smart agriculture. The sky quite literally is the limit.
With an eye to the future, Lacuna is in the process of proving support for customers' requirements of interoperability, flexibility and above all, speed. At January's The Things Conference in Amsterdam, Lacuna announced the formation of a LoRa-based space network, a non-profit foundation through which Lacuna Space will enable other satellite operators to fly its LoRa-enabled satellite gateways, and leverage each other's satellite infrastructure to provide global coverage. All messages are encrypted and messages detected by one satellite, but intended for another operator are seamlessly relayed. According to Lacuna, the system works "a bit like roaming on mobile phones, but the gateways roam rather than the users."
We Have Liftoff: Putting a LoRa-based Gateway into Orbit
Over the last two years, Lacuna has been collaborating with Semtech to help reach its goal of supplying LoRaWAN-based connectivity to all corners of the globe. Lacuna's first satellite launch of the year took place April 1, 2019 from the Satish Dhawan Space Centre in India, where it shared a ride to low Earth orbit with EMISAT and 27 other satellites. Currently, Lacuna's LoRa-based space gateways sit aboard 6U CubeSat satellites, a couple of which are provided by Nano Avionics. Lacuna is pleased to announce that the satellites and space gateways out-performed expectations during the initial commissioning phase.
According to Thomas Telkamp, Lacuna CTO, test sensors deployed in countries ranging from South Africa, the Netherlands, U.K., Slovenia, U.S., India, Japan, and even remote Reunion Island in the Indian Ocean, were able to communicate effectively with the space gateways. A further three LoRa-equipped satellites launched in the fourth quarter of the 2019 fiscal year, with another set to join the "Lacuna Constellation" before this year's end, enhancing the overall performance of the network. Importantly, this includes Lacuna's novel adaptive radio system, which enables signal detection from even the most remote sensors. Finally, Lacuna aims to perform extensive demonstrations of the network toward the end of the year, thanks in part to funding and support from the European Space Agency and U.K. Space Agency.
Space used to be called the final frontier, and until now, that has been the case for the IoT. With Lacuna all of that has changed and we cannot wait to see what happens next…
LoRaWAN-based networks facilitate the interoperability of connected devices, helping to accelerate the IoT revolution. Public, shared, private, or enterprise-focused, these networks enable freedom of innovation by system integrators worldwide. Looking to learn more about network providers such as Lacuna Space? Explore an expansive list of LoRaWAN-based network providers on the Semtech website.
Stay connected with the latest updates on LoRa-based deployments in space by following Lacuna Space on Twitter and LinkedIn.
Explore LoRa-based use cases and real world deployments by vertical market on the Semtech website.
Semtech, the Semtech logo, LoRa, and LoRaWAN are registered trademarks or service marks of Semtech Corporation or its affiliates.