Fighting Wildfires and Combating Climate Change With LoRaWAN®
04 January 2022 / by Raphael Atayi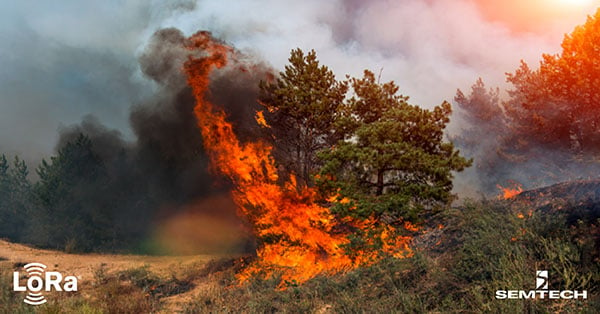 The devastation caused by wildfires makes headlines every year, and continues to worsen. Wildfires cause not only enormous humanitarian and economic hardship, but also have a massive environmental impact. In addition to destroying animal and plant life, wildfires emit between 5 and 30 tons of carbon per hectare. All of the land that burns globally in an average year adds 13 billion metric tons of additional carbon in the atmosphere annually, a significant contribution to climate change.
When fires start in remote regions, they can quickly spread out of control before anyone notices. Traditional fire monitoring systems rely on ground-based cameras or satellite imaging to see smoke or flames and alert local firefighters, but by the time they detect them, it's often too late. Potentially arresting a wildfire requires a sophisticated early detection system and a reliable means of transferring that information from remote areas.
Dryad and Swarm: Partnering to Detect and Fight Fires
Berlin-based Dryad Networks, whose mission is to fight wildfires and their impact on climate change, is addressing the need for ultra early detection. They have partnered with Swarm, an Internet of Things (IoT) connectivity services provider, to transfer Dryad's data out of remote areas to enable faster response.
Dryad's solar-powered sensing system, Silvanet, uses AI to detect abnormal patterns of gas in the air. Dryad's sensors are able to detect a new fire within 30 to 60 minutes, depending on sensor placement.
Once a fire is detected, the detection signal must be relayed from extremely remote sites back to the fire brigades who can quickly intervene. Swarm enables Dryad to deploy the Silvanet solution even in the most remote locations where there is no mobile network coverage. Swarm's constellation of 120 satellites covers every point on Earth, enabling data transmission from even the most remote corners of the world. Dryad pairs their own proprietary mesh network, which uses the LoRaWAN® standard, with Swarm satellite modems to create a reliable connectivity system that can operate anywhere.
Silvanet is not limited to wildfire detection. Since the LoRaWAN standard is supported by the Silvanet Mesh and Border Gateways, the solar-powered large-scale mesh network can be used to connect many third party sensors using LoRaWAN and can utilize the Silvanet Mesh network to relay sensor data to the Cloud. Environmental data sensors measuring soil moisture, ozone concentration, tree growth, and sap flow can provide key data supporting health and growth monitoring of trees, helping the forestry industry to better manage their key asset: the forest. Silvanet aims to become the core network infrastructure for the digitalization of the forestry industry, which has been lagging behind with adoption of IoT technology, primarily due to lack of network coverage.
Silvanet: The Details Behind Detection
The low power, native geolocation, low network deployment and module cost of LoRaWAN make it the ideal standard on which to base Dryad's Silvanet. Silvanet includes three main components.
The Silvanet Mesh Gateway extends the Silvanet Network to large deployments beyond the reach of the standard single-hop direct connection between sensors and gateways in standard LoRaWAN networks. The architecture uses a multihop mesh network of gateways interconnected with Semtech's LoRa® devices and each serving as a standard LoRaWAN network gateway to Silvanet Wildfire Sensors and third party sensors. The Mesh Gateways are placed in the forest, forming a mesh network with a typical distance of 2-6km depending on topology and physical placement of the Mesh Gateways. The Mesh Gateway uses a LoRa radio to communicate with other Mesh Gateways or a Border Gateway, and does not require direct 4G/LTE radio or Ethernet connectivity which ensures low power consumption supported by the built-in solar panel.

The Silvanet Border Gateway is placed at the border of the target forest area, typically in a house or near a village. The Border Gateway communicates with the Silvanet Cloud Platform, relaying messages from Wildfire Sensors. The built-in LTE radio provides wireless connectivity (using 4G/LTE-M with 2G/GPRS fallback) or uses the built-in Ethernet adapter via a wired Internet For remote deployments where there is no mobile network coverage and no access to power, the Silvanet Border Gateway has built-in support for satellite uplink using the SWARM satellite network. It can be operated on power or powered by a solar cell.

The Silvanet Wildfire Sensor is designed to detect forest fires during the early stages (even during the smoldering phase, within the first 60 minutes) and to monitor the microclimate, measuring temperature, humidity and air pressure. The sensor combines ultra-low-power air quality sensing with a precise gas sensing mode. It detects hydrogen, carbon monoxide, carbon dioxide, and other gases at the ppm level with built-in artificial intelligence in order to reliably detect a fire and avoid false positives. The sensor uses LoRaWAN connectivity for wireless data transmission and can run maintenance-free for 10-15 years without the need of batteries, avoiding the use of lithium and other toxic materials.
IoT Solutions Combat Climate Change
Our planet's conditions are changing rapidly due to the destructive forces of climate change. Combating climate change's devastating effects, including the intensification of wildfires, is imperative to humanity's future. Sophisticated IoT offerings like Semtech's LoRa can address these issues by providing efficient, seamless and easy to adopt solutions. To explore Semtech's offerings that help our environment become smarter and protect our planet, visit this page.