LoRaWAN® Protocol Expands Network Capacity with New Long Range – Frequency Hopping Spread Spectrum Technology
30 November 2020 / by Tuofu Lu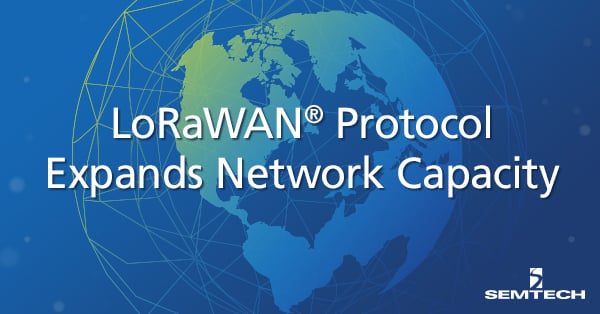 The LoRa Alliance®, an open, non-profit global association that develops, maintains and promotes the LoRaWAN® protocol for low power wide area networks (LPWANs), has expanded its guidelines to include Long Range - Frequency Hopping Spread Spectrum (LR-FHSS) data rates. The LR-FHSS rates significantly increases network capacity and robustness to interference – opening the door to new deployment opportunities across the globe.
Similar to Wi-Fi over the past two decades where available frequency bands (2.4GHz, 5GHz and very recently 6GHz) and channel bandwidths (20MHz, 40MHz, 80MHz, and 160MHz) have expanded to support exponential growth, the introduction of the new LR-FHSS data rates will continue the rapid expansion of LoRaWAN networks worldwide. Presently, according to the LoRa Alliance, LoRaWAN networks have been deployed in 162 countries by 148 network operators. The use of the open LoRaWAN protocol for the Internet of Things (IoT) applications continues to increase at an amazing pace. Incorporating the new LR-FHSS technology into the LoRaWAN protocol future-proofs network capacity while maintaining its low power consumption capabilities.
LR-FHSS features high interference resistance that alleviate packet collisions by increasing spectral efficiency with the ability for uplink frequency hopping modulation. This is accomplished by breaking up each data packet being sent from an end node into small pieces (each piece is around 50 millisecond long) and randomly spreading them over a defined frequency bandwidth which includes 137kHz, 336kHz and 1.523MHz depending on the region. In addition, LR-FHSS uses redundant physical headers on different frequencies to further improve the modulation robustness to in-band interferers.
LR-FHSS modulation will be supported on Semtech SX1261, SX1262 and LoRa Edge™ (LR1110) transceivers, and LoRa® chip licensees. LR-FHSS demodulation will be supported on Semtech SX1301-based V2.1 gateway that now has increased capacity for millions of LR-FHSS uplinks per day. Semtech expects to make evaluation software and tools available around January 2021 for customers who sign the Technology Adoption Program (TAP) evaluation licenses.
LR-FHSS Enables Satellite IoT Services
There are still many places in the world without Cellular or Wi-Fi signals. Satellite companies are filling connectivity gaps and addressing global challenges by integrating terrestrial connectivity via LoRaWAN networks with satellite communications to gather data from remote sensors – especially in hard to reach areas. Real time monitoring for wildlife conservation in Africa, smart agriculture solutions to improve crop yield and tracking global distribution assets to improve supply chain efficiency are some of the use cases.
LR-FHSS enables satellite to connect vast remote areas around the globe. It is the key to providing direct data links from end nodes to satellites by leveraging either the Industrial, Scientific and Medical (ISM) unlicensed band or a licensed spectrum. LR-FHSS can support millions of end nodes and delivers a new level of reliability for IoT services – enabling satellite companies to achieve a faster return on its investment.
LR-FHSS Expands Capacity for Terrestrial LoRaWAN Networks
As adoption of the LoRaWAN protocol continues its rapid growth, the number of end nodes and gateways will expand significantly. More and more demand for LoRaWAN network capacity will arise.
Trackers, smart buildings, smart streets, smart homes, and smart communities are among the many emerging use cases. In addition, longer and more frequent messages are coming from these new use cases (more "chatty" devices). As a result, the amount of LoRa modulation signals in the air is expected to increase significantly.
Adding more gateways to meet the growth of a LoRaWAN network is one solution. The new LR-FHSS modulation provides an additional boost to expand network capacity and increase robustness. As described earlier, LR-FHSS achieves this by utilizing its expanded frequency bandwidth, carrying out frequency hopping and using redundant physical headers on different frequencies.
Adding LR-FHSS to an existing LoRaWAN network can help expand capacity without the need to replace the existing network infrastructure. LoRa modulation and LR-FHSS modulation can co-exist at the same time. Switching between LoRa modulation and LR-FHSS modulation at an end node requires a single ADR command from the network server. Furthermore, gateways with LoRa modulation and gateways with LR-FHSS modulation can co-exist in the same LoRaWAN network. The addition of LR-FHSS could also help free up LoRa modulation channels; for example, one could replace SF10, SF11 and SF12 with LR-FHSS in a LoRaWAN network, significantly expanding the network capacity.
In summary, the new LR-FHSS data rates allow large payloads at high power and low data rates. This provides massive additional capacity for lowest data rate end nodes. With the increased capacity, an outdoor or indoor LoRaWAN network could add more end nodes and enable very "chatty" devices, such as electricity meters running DLMS/COSEM over LoRaWAN, or devices with external supply that transmit very frequently such as industrial sensors.
LR-FHSS Enables Enhanced Deep Indoor Coverage
Enhanced deep indoor coverage strengthens the LoRaWAN protocol's position as a leading technology of choice for the rapidly growing global smart metering market. LR-FHSS allows for significantly more deep indoor end nodes on the same network infrastructure, improving scalability for large IoT projects.
Smart metering is one of the most adopted and growing market applications for applications leveraging the LoRaWAN protocol due to its unique long range, low power capabilities that offer several advantages for battery-powered meters. IHS Markit forecasts that smart meters and utility applications connected via LPWAN technologies will total more than 300 million by 2023.
LR-FHSS Resolves Any Regional Dwell Time Limitations
LR-FHSS and its frequency hopping ability resolves any data packet dwell time limitations required by regulators in some countries, for example, in the U.S. where the FCC has applied a 400 millisecond limitation to allowed dwell time.
As a result of this limitation, previously the minimum allowable data rate available for the LoRaWAN protocol in the U.S. was SF10, and only 11 bytes of payload can be used at that data rate. The new LR-FHSS data rates will support the equivalent of the current SF10, SF11 and SF12 data rates. Devices can go down to either 325b/s with a payload of 125 bytes, or 162b/s with a payload of 50 bytes.
LR-FHSS Maximizes Capacity for Licensed Band Owners and Spectrum Constrained Regions
Every company that owns at least 150KHz of licensed spectrum can now build a high QoS LoRaWAN network with plenty of capacity, and generate good return on investment.
LR-FHSS also provides massive additional capacity for lowest data rate end-devices for regions (such as India) where many LoRa modulation channels cannot be allocated.
Read the announcement on LR-FHSS to learn more.
Semtech, the Semtech logo and LoRa are registered trademarks or service marks of Semtech Corporation or its affiliates