Cisco Delivers Remote Monitoring Of Assets With LoRaWAN®
02 November 2020 / by Marc Pégulu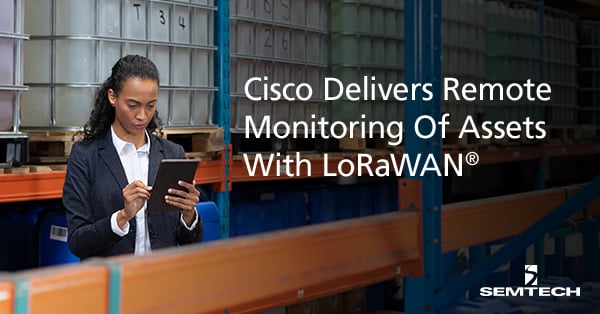 Enterprises are typically challenged with sensor solutions that monitor assets and facilities. Solutions today are not pre-integrated with the underlying network, causing long deployment cycles and difficulty to scale. They can have multiple dashboards and interfaces, requiring more time and resources to identify problems and business-impacting trends.
Cisco recently introduced Industrial Asset Vision, a simple and secure all-in-one asset and facilities management solution. It is a complete full-stack product including all hardware and software components – from the sensors, to the gateway and Cloud-native dashboard – integrated, secure and ready to deploy. It is based on LoRaWAN® and delivered as a Cloud SaaS offer.
"The LoRaWAN protocol delivers secure, reliable, cost-effective, and long range wireless connectivity for outdoor and indoor industrial environments," said Samuel Pasquier, Director Product Management, Cisco Industrial IoT Networking Portfolio. "Cisco is pleased to continue its longstanding relationship with Semtech as we both expand Internet of Things (IoT) market opportunities deep into the enterprise and drive more adoption of solutions leveraging the LoRaWAN protocol."
Using sensors featuring Semtech's LoRa® chipsets, Industrial Asset Vision enables users to identify opportunities and issues that could affect operations, worker safety and revenue. The application provides powerful visibility across a business by asset and location to create automated reporting, role-based access and insights with flexible alerts using email or mobile notifications – all in a single pane of glass. It even include the status of the gateway itself.
Monitoring and Tracking Assets Should Be Simple
The entire solution – from sensor to gateway – deploys in minutes. The solution uses simple QR codes requiring little technical expertise and eliminating the need for expensive service contracts. Users gain holistic and actionable insights in an easy-to-use dashboard, providing a single view of asset and facility health across all associated sensors, along with the status of the network itself.
Cisco's Industrial Asset Vision brings together operational technology (OT) and information technology (IT) requirements for a better understanding of the collective status of a field or remote asset. The simplicity of onboarding remote Internet of Things (IoT) sensors and gateways, with the backing of Cisco network security and connectivity capabilities, makes this solution IT-friendly. The ease of retrieving asset insights creates a higher level of comfort for OT and helps them make more timely business decisions.
Cisco utilizes its IXM gateway that leverages the LoRaWAN protocol for its IoT connectivity. Designed to wirelessly connect battery operated 'things' to the Internet, the LoRaWAN protocol is the widely adopted low power, wide area networking (LPWAN) protocol for IoT applications across the globe, managed by the LoRa Alliance®, of which Cisco and Semtech are founding members. With its geolocation capabilities, the Cisco gateway tracks and monitors assets and locations to improve logistics, prevent theft and enhance operational efficiency. The solution is hosted on Cisco's public Cloud that is globally accessible and provides increased scale and elasticity.
Common Use Cases
Industrial Asset Vision delivers a clear picture into how assets are performing using their telemetry and geolocation data with support for plant and geographic information system (GIS) map views, defined geofenced areas, overlay assets, and location breadcrumbs. Gain a clear picture of your industrial assets by monitoring:
Equipment – Industrial equipment is often located in some of the harshest and most remote locations while doing the toughest jobs. It is not uncommon for equipment to appear to be working, but that could be a false sense of security if instead it was vibrating more than normal or running hotter than expected. These machines can be better managed with data to monitor physical locations of equipment, the surrounding environment and insights into the equipment's working status.
Warehouse and Facility – There is a lot of movement between goods, workers and equipment in plants, delivery centers, industrial picking, and packing areas. As such, knowing the location of various assets, such as workers, inventory and parts, greatly improves the overall security and safety of the entire facility and work environment. It also speeds up the ability to manage any movement of the products by having the right picking or packing equipment nearby and the ability to locate inventory or spare parts.
Refrigeration – Often, products must be stored in climate-controlled facilities so knowing the temperature and humidity as well as detecting dangerous water leaks are important to the condition of both the product and the warehouses. When environmental and equipment measurement data is readily available, decisions can be made that improves the compliance and safety of perishable products that are in the cold rooms as well as the operational efficiency of the workers and facility.
IoT-enabled asset and facility monitoring solutions use sensors to collect data for location awareness and to provide new operational insights to deliver goods and services more efficiently at a lower cost. Cisco's simple gateway deployment and Cloud-native management, integrated with sensors now replace siloed legacy systems with automated asset management solutions to remotely monitor physical assets such as equipment, product and people securely, at scale.
Learn more about Cisco's Industrial Asset Vision solution in the press release.
Semtech, the Semtech logo and LoRa are registered trademarks or service marks of Semtech Corporation or its affiliates.