5G - The Slicing and Dicing of IoT?
14 May 2019 / by Jaap Groot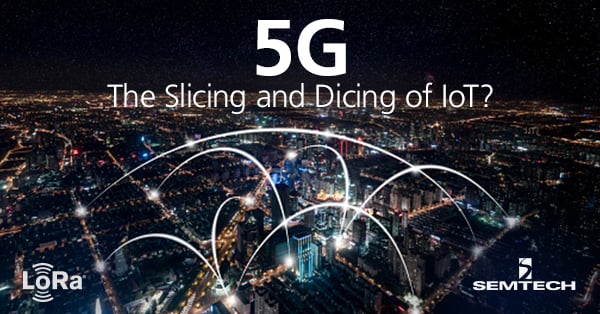 The new buzzword in the wireless industry is 5G and it is often used in relation to the Internet of Things (IoT). This has contributed to some confusion as IoT has been broadly gaining traction in the "things" market leveraging a wide range of connectivity options, including Cellular, LoRaWAN® and Wi-Fi, a pattern that looks sure to continue. With 5G expected to rapidly become a reality through the deployment of initial networks by Cellular operators around the globe, we believe clear positioning is required to allow enterprises and consumers to drive the IoT market to its full potential.
Market Opportunity for 5G
One of the main reasons to enhance 4G, initially positioned as long-term evolution (LTE), is that 4G networks are rapidly becoming congested. More powerful smartphones and competitively priced data plans are continuing to increase mobile data usage, forcing the hand of Cellular operators to relieve pressure on existing networks. Due to this stress, operators are looking to move to 5G; otherwise, the current mobile network experience will worsen.
The recent 5G Opportunity Report by Opensignal shows that in 77 countries studied, 4G download speeds vary 5-fold between fastest and slowest network hours of the day. Cellular operators want to deliver an optimal customer experience and leverage their investments in licensed spectrum, thereby making 5G attractive due to its more efficient use of this valuable asset. 5G makes use of much higher frequencies, providing much more capacity than the existing LTE frequencies and while 3.4 GHz - 3.8 GHz channels will be the most popular globally, millimeter wave (mmWave) frequencies, available now in North America, will support even greater capacities and higher speeds. However this higher capacity comes at a cost as these higher frequency bands will prove more challenging to deploy as they are limited by line-of-sight (and thus lacking rural coverage) and can be easily blocked (such as by a wall or simply a hand holding a smartphone). That said, once the industry overcomes these challenges it will pave the way for a consistent, smooth mobile experience without the peaks and valleys in speed we see today.
Supplementing the IoT Market Beyond 5G
How does this 5G evolution relate to IoT, where the majority of sensors do not need high bandwidth and only communicate a few times daily? IoT is not an exclusive market for Cellular operators. Many solutions today are powered by unlicensed alternatives like Wi-Fi and Semtech's LoRa® devices and wireless radio frequency technology (LoRa Technology). To underscore the importance of Wi-Fi, the European Parliament recently expressed their favor of the unlicensed band, given it is available today, reliable and cost effective. This is exactly what we at Semtech see in IoT as well; many smart cities, Industry 4.0-focused enterprises, facility management companies, and even Cellular operators have been deploying unlicensed band LoRa-based solutions. On the other hand, there are new players opting for access to the licensed band. Large international cable multiple system operators and industrial giants are showing the appetite to acquire spectrum and enter into the IoT market. 5G will also deploy in the unlicensed spectrum, although the MulteFire-driven initiatives could be prohibitive for cost-sensitive use cases and may take some time to come to market.
Choice of alternative technologies is key for the IoT to continue its rapid growth given the wide range of uses cases covered under this catch-all term; however, multiple options create the risk of fragmentation and can drive uncertainty. As Cellular operators look to the future, they are sunsetting 2G networks - and 3G in some regions - creating enormous challenges for connected objects. For example, a standard smart meter contract from a utility company has a term of up to 20 years. At the same time an average consumer changes their smart phone at least five times, a luxury that does not exist in IoT. The first step towards supporting this need for longevity has always been through standardization. The likes of 3GPP, Wi-Fi Alliance and LoRa Alliance® drive huge ecosystems to ensure solutions are certified, secure and widely available. The next step involves creating market acceptance by providing true value and ease of use for the business cases in question, especially in the consumer market.
In IoT we need to make a clear distinction between "critical" sensing use cases and "mass-scale" sensing use cases. Critical IoT use cases, estimated to be the smallest by volume in terms of overall IoT market share, consist of use cases requiring ultra-high reliability, very low latency and very high availability. Examples of critical IoT use cases include connected car, industrial robots, traffic safety, and healthcare solutions, which justify a higher total cost of ownership (TCO) and are most likely able to afford the licensed spectrum and related technology cost. The mass-scale IoT, however, is an order of magnitude larger in terms of market volume and most of its use cases focus on applications where sensors are battery powered. Here, use cases such as smart meters, agricultural cattle monitoring, building occupancy management, supply chain tracking, and smart home smoke detectors require much less data transmission and a very low TCO. Typically, solutions using the unlicensed band are much better adapted to allow for adequate return on investment and enable the market to control its own destiny. Moreover, the challenge for 5G to expand its network coverage to enable last-mile connectivity to support these use cases is cost prohibitive. Mobile network operators will continue to focus their investments to meet their licence commitments for enhanced mobile services, their core business.
Looking Ahead: What's Next for 5G?
So where does this take us in terms of 5G? For those a bit closer to the industry, so-called "slicing" could be the answer. In simple terms, this refers to IoT that only uses pieces of the overall network core necessary to drive down cost. In the end, a connected water meter does not need all the features currently deployed in a Cellular operation support system or business support system, as it is stationary for years and communicates very little data when compared with streaming a movie. From this perspective, it becomes rapidly clear why many industries, such as utilities, logistics and agriculture, would like to see disruptive innovations like LoRa Technology become an integral part of 5G. In the UK, Digital Catapult is collaborating with several innovative companies in a Future Networks Innovation Lab, to facilitate the adoption of Low Power Wide Area Networks (LPWANs), such as LoRa Technology, and 5G in the UK.
Whether the complement of unlicensed and licensed technology will drive a Cloud integration into or above the core network, or "sliced and diced" into the 5G standard for ubiquitous coverage, remains to be seen.
Want to stay up to date with the latest news, resources and more for LoRa Technology and IoT? Follow Semtech on LinkedIn.
Semtech, the Semtech logo, LoRa, and LoRaWAN are registered trademarks or service marks of Semtech Corporation or its affiliates.