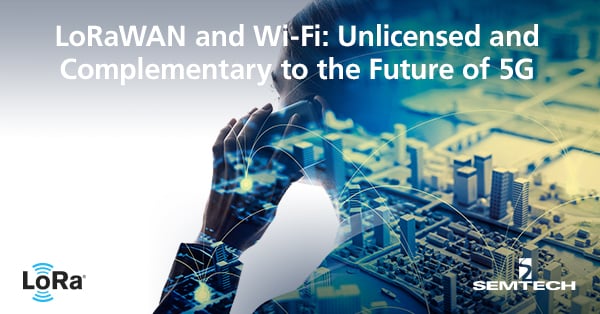 There can be no doubt that Wi-Fi and LoRaWAN® are very different networking protocols. Wi-Fi's technology excels at short to medium range, high throughput and low latency communication, while LoRaWAN-based networks serve long range communication with small amounts of data. Despite these differences, these two networking protocols share some very similar characteristics, address largely complementary use cases and are often used in very collaborative ways.
Based on my personal experience driving coordination between the LoRa Alliance® and Wireless Broadband Alliance, it is also clear that the two have very similar ecosystem structures, a similar capacity to bridge operator and private business models (aided by the use of unlicensed spectrum) and are being increasingly deployed to support massive Internet of Things (IoT) solutions. Finally, the two also share the same "agility," or cost efficient simplicity and business model disruption on last mile rollout.
Between them, LoRaWAN and Wi-Fi cover hundreds of uses cases, which are highly complementary to key market segments for 5G. Examples of these include enhanced mobile broadband, mission critical communication and massive IoT. Wi-Fi infrastructure providers have actively invested in ensuring that Wi-Fi continues to be complementary, something illustrated by the long-standing engagement between the Wi-Fi ecosystem and the 3GPP 5G specification process. The purpose of this blog is to make the case that it is now time for the LoRaWAN-based ecosystem to do the same.
5G Needs Unlicensed Technologies to Address All Use Cases
There is little doubt that 5G will play a major role in shaping how we interact with and use connected technologies in the future. However, as well as being transformative in functionality, 5G also represents a transformation of how traditional cellular networks interact with other communication technologies. Rather than being a simple evolution of 4G, 5G is the first version of new 3GPP specifications that open the standard to any type of communication technology - mobile, wired, fixed wireless, satellite, licensed, and unlicensed technologies such as Wi-Fi and LoRaWAN. Through this interoperability and versatility, 5G aims to provide value into many verticals. For many of these use cases, the increased bandwidth and performance of 5G is a "must have." However, some of the trade-off between cost, performance and ROI will make 5G connectivity "too much," creating a need for complementary "right size" technologies like LoRaWAN that can be easily integrated into solutions due to the interoperability that 5G supports. We can already see this happening in the market today, where technologies that leverage the unlicensed spectrum are increasingly seen by IoT solution providers as a necessary complement to the very high throughput services (up to 20 Gbps) enabled by 5G's millimeter wave spectrum (> 6 Ghz) for massive IoT.
Seamless Roaming between Wi-Fi and 4G Goes Unchallenged
It is also clear that customers and users are increasingly expecting this level of interoperability between different communication technologies, and that traditional operators are seizing the operational and costs efficiencies that interoperability can generate. Nowhere is this more clearly seen than in the coexistence of 4G and Wi-Fi today. Customers expect their devices to shift seamlessly to Wi-Fi hotspots to deliver an improved web surfing experience (illustrated by the more than 10 billion devices connecting to over 200 million public Wi-Fi access points around the globe today). Mobile network operators (MNOs) have also reaped the benefits of this interoperability, offloading more than 60 percent of global broadband traffic to Wi-Fi networks to improve customer experience and reduce network infrastructure costs.
How do Cellular IoT and LoRaWAN Work Together to Address 5G Massive IoT Use Cases?
As we move toward 5G and the ease of integration it will bring, I think we will see the increasingly rapid adoption of complementary technologies such as Semtech's LoRa® devices and the LoRaWAN protocol to complement the strengths of 5G for massive IoT, and provide a broader set of tools to support the use cases customers require.
Given my role working with the network operator community, perhaps the best illustration of this is a conversation I had last month with a personal contact at a major U.S. mobile operator who shared the operator's plan to rely entirely on 4G cellular for IoT deployments. I responded with an analogy, "close your eyes and imagine 2,000 sensors deployed throughout a building capturing temperature, humidity, room occupancy, etc. In hard to reach areas, do you really believe that embedding a SIM card in each sensor will be practical? Additionally, would the management of such a network be cost effective to operate in a building use case?" Suffice to say, it was a short conversation that culminated in a request for me to immediately plan a meeting with the operator's IoT team so they could learn more about LoRa and the LoRaWAN protocol.
This is an increasingly common pattern (and one that keeps me and the team very busy these days), and as a result more than 30 MNOs have already chosen to deploy LoRaWAN-based networks with 4G Long-term Evolution (LTE) and/or as complements to their existing Wi-Fi networks.
The Future of 5G with LoRaWAN and Wi-Fi
To summarize, 5G represents a huge step forward in the range of communication technologies that can be leveraged to address the almost infinite range of use cases the IoT enables. However, without easy access to the complementary capabilities of Wi-Fi and LoRaWAN, IoT solution providers will struggle to deliver the ROI that their customers demand. The solution is clear – interoperability with communication technologies like Wi-Fi and LoRaWAN that make use of the unlicensed spectrum to deliver low cost, highly efficient and secure connectivity for IoT devices. Furthermore, this model is proven as illustrated by Wi-Fi paving the way with both 3G and 4G. The moment is right for LoRaWAN and Wi-Fi to open a new era of collaboration for the future of IoT networking. One, where licensed and unlicensed technologies work in conjunction with 5G to deliver on the promise of the IoT!
In May, Semtech's Jaap Groot, Vice Chair of the LoRa Alliance, wrote a blog about 5G and how LoRa devices and the LoRaWAN protocol will play a key part. Read his blog here, and subscribe to Semtech's blog to stay up to date with the latest LoRa news and highlights from conferences around the globe.
Semtech, the Semtech logo, LoRa, and LoRaWAN are registered trademarks or service marks of Semtech Corporation or its affiliates.